06 Jan 2022 Morgan Hayze
Crypto Markets Tumble Amid Kazakhstan Internet Shutdown
The Primary Cause Of The Market Crash Is Bitcoin's Mining Hashrate 13% Drop
---
The total crypto market capitalization tumbled down eight percent in just 24 hours, as the total crypto market cap fell below $2.1 trillion for the first time in more than three months.
Looking at the three-month chart, the total crypto market cap reached a high of little over $3 trillion on November 9 but fell 30% to its current value. Nevertheless, the total crypto market cap increased 120% since a year ago.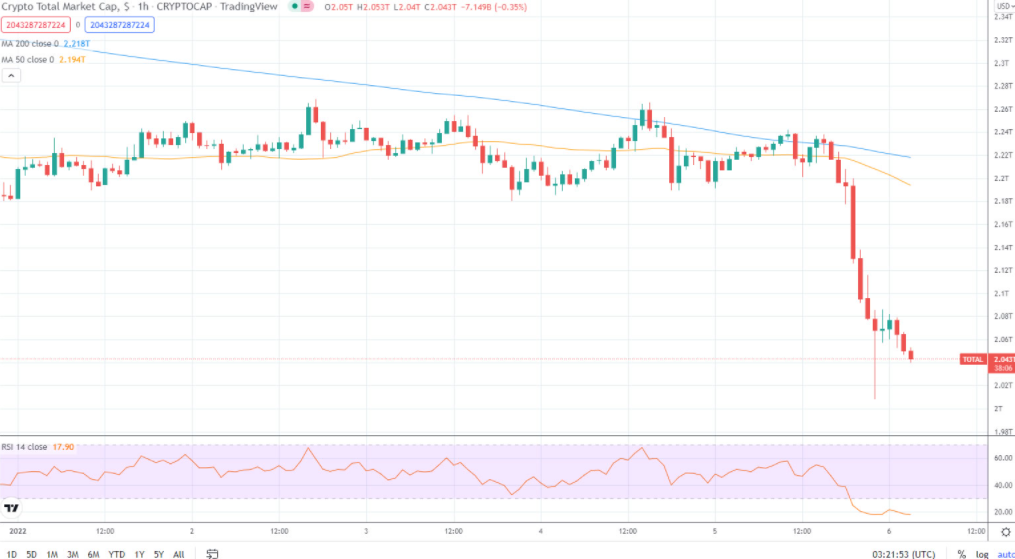 Source: TradingView
The big players - Bitcoin and Ethereum are the most prominent crypto projects on the red, with Bitcoin recording an 8% price decrease, while Ethereum is down 11% on the day. Other crypto projects like Solana, Polkadot, and Uniswap are all in the double-digit decrease realm, as Solana (SOL) dropped 11% to $148.
One of the biggest reasons behind the crash is the U.S. Federal Reserve's plans to stop the stimulus efforts by increasing interest rates in 2022.
Scott Minerd, Global Chief Investment Officer at Guggenheim Partners, noted that such an event is the "recipe for a financial accident."
"Fed minutes much more hawkish than I'd expected. #Fed seems intent on raising rates and shrinking the balance sheet simultaneously. Clearly the recipe for a financial accident," Minerd noted.
Another reason for the global crypto market crash is Kazakhstan's biggest telecommunications provider shut down access to the internet, leaving Kazakhstan's Bitcoin miners with no access to the blockchain.
Kazakhstan is currently the second-largest country, based on Bitcoin mining hashrate, and currently accounts for 18% of the network's hash activity. Indeed, the overall BTC hashrate fell 13.4% from roughly 205,000 petahash per second to 177,330 petahash per second.
"In practice, all the machines in Kazakhstan should be turned off because of the internet shutdown." Jaran Mellerud, a researcher at Arcane Research stated, emphasizing that despite the Internet shutdown, miners could mine without access to the internet.
However, hardware manufacturer Canaan is looking to expand crypto mining operations in Kazakhstan, announcing the deployment of over 10,000 AvalonMiner units in the country.
Bitcoin
Ethereum
Crypto Market
mining
btc
eth
Bitcoin mining
Ethereum news
Bitcoin price
cryptocurrencies
bitcoin news
cryptocurrency news
crypto news
Crypto Price
Ethereum Price
Market Capitalization