20 Jan 2023 Samantha McLauren
Cryptos Are Now The Second Most Widely-Owned Asset Class For Women
Despite 2022 Turning Out To Be A Tough Year For Cryptocurrencies, Women Increased Their Crypto Ownership From 29% In The Third Quarter Of 2022 To 34% In The Last Quarter
---
The last year failed to bring more women to owning traditional assets, but women owning cryptos actually exploded. It turns out that according to data from eToro, cryptos are now the second most widely-owned asset class for women, with cash being the preferred asset class.
The data eToro published was derived from around 10,000 global retail investors in 13 countries. The survey highlighted that crypto is "succeeding where traditional financial markets have sometimes failed,", with women crypto ownership expanding from 29% in Q3 of 2022 to 34% in Q4 of 2022. Over the course of the entire 2022, women owning cryptos expanded by 10%, starting the year at 24%.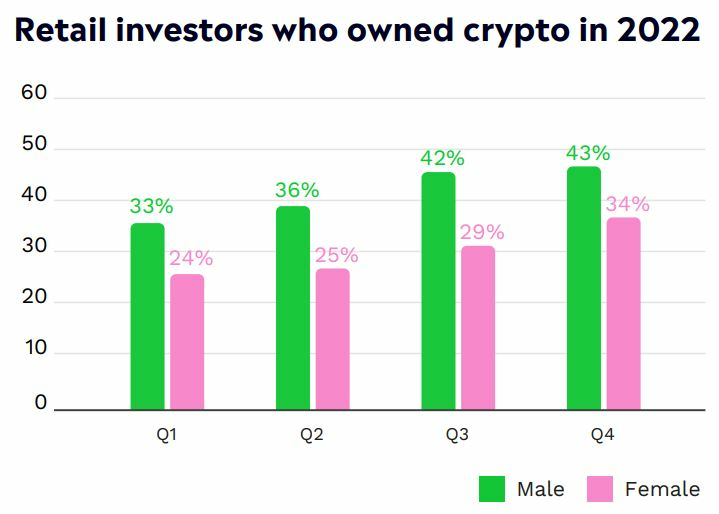 Source: eToro
Meanwhile, male ownership in the entire crypto landscape only increased by one percent in the same time period.
Despite being the asset class with the worst performance last year, overall global investor ownership in cryptocurrencies increased from 36% to 39% quarter over quarter. Older investors purchasing the dip in addition to women rushing in impacted the statistics. Retail cryptocurrency holders between the ages of 35 and 44, and 45 and 54 increased by 5% each, indicating that older investors are also acquiring cryptocurrency.
37% of those surveyed indicated they were taking advantage of the chance to earn large returns, while 34% said they believed in the power of blockchain and thought cryptocurrency was a transformative asset class. Businesses are beginning to invest in blockchain technology, in addition to retail investors who already do so. A total of 90% of the 603 organizations that took part in the study conducted by Casper Labs on January 12 found that they had previously used blockchain in some way.
eToro
crypto
cryptocurrencies
cryptocurrency news
crypto news
digital asset
Research
Crypto Assets
Survey