20 May 2022 Simon Briggs
Cryptos With Little To No Impact On The US Economy, According To Goldman Sachs
Meanwhile, The Largest Stablecoin To Date, Tether (USDT), Is Expanding Its US Treasury Holdings
---
The crypto space is still turbulent, especially after recently Terra (LUNA) and its TerraUSD (UST) stablecoin came crashing down. However, major banking institutions, in the face of Goldman Sachs, don't seem too worried about the risks cryptos may impose on traditional finance.
Goldman Sachs seems more worried about the impact of a major recession happening, with inflation soaring and growth decelerating. However, the crypto sector erasing almost $500 billion of its market cap in just seven days got to the attention of both lawmakers and households.
According to Goldman Sachs economists, the crypto sector and its size are still small to interact directly with the U.S. economy, as the overall U.S. household net worth stood at $150 trillion, while the crypto sector is floating around the $2 trillion mark, with its volatility issues.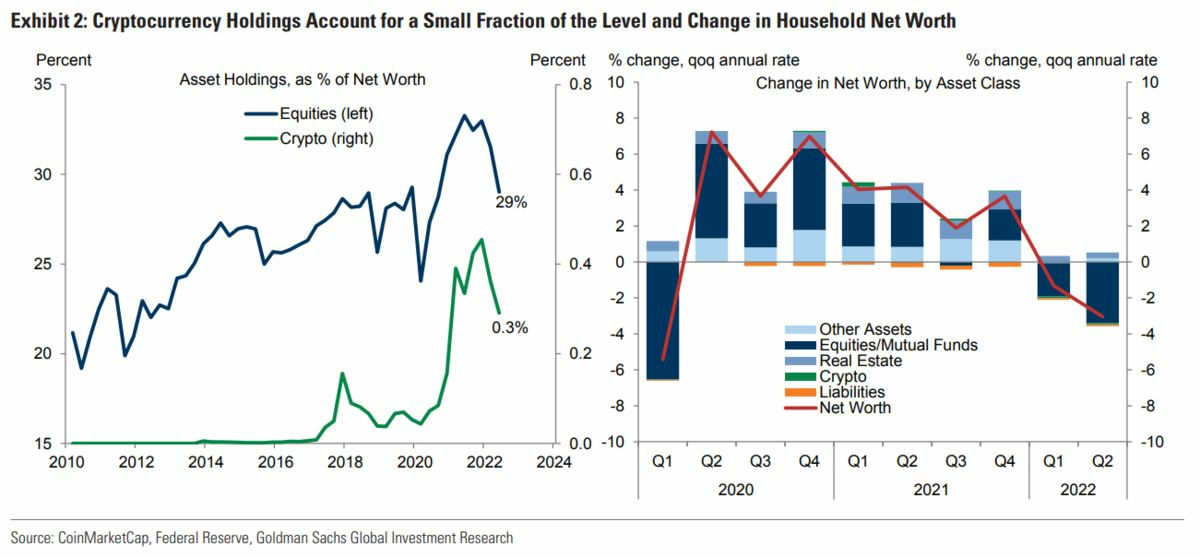 Source: CoinMarketCap
Jan Hatzius and the team of economists added that despite U.S. households owning a third of the crypto market, the size of cryptos is minute, compared to the overall household net worth.
"We, therefore, expect any drag on aggregate spending from the recent declines in cryptocurrency prices to be very small as well", the economists noted.
Are cryptos tied to traditional stocks or bonds?
Cryptocurrencies, considered as a hedge for inflation, moved in sync with the broader financial markets. Indeed, more than $7 trillion has been eroded from the U.S. equity market during the latest market correction, with economists evaluating the sell-off of both cryptos and equity markets to the broader economy.
Interestingly, Bloomberg reported that every U.S. dollar price decrease in the stock markets leads to a reduction of 3 cents in spending. Furthermore, the average U.S. household portfolio consists of 33% in stocks, while cryptos are only a 0.3% part.
"These patterns imply that equity price fluctuations are the main driver of changes in household net worth, while cryptocurrencies are only a marginal contributor. Cryptocurrency investors skew younger and male, a demographic group whose labor force participation has generally been less affected by wealth fluctuations," Goldman Sachs added.
Tether bulks up on U.S. treasury bonds
Despite the fallen trust in the stablecoin market due to the TerraUSD (UST) saga, Tether (USDT) decided to increase its US government debt holdings, while reducing the exposure to riskier assets.
The latest crypto havoc caused Tether to lose its 1:1 peg with the U.S. dollar, dropping to a low of 95 cents per Tether token. The latest concussions in the stablecoin realm pushed Tether to increase its holdings of Treasuries by over 13% to $39.2 billion. Tether also decreased short-term company debt exposure to around $20.1 billion in Q1 of 2020, or a decrease of around 17%.
Tether's CTO Paolo Ardoino added that the reserves of the stablecoin are totaling $82.4 billion as of March 31, with some $82.3 billion in liabilities.
Tether
cryptocurrency news
crypto news
economy
Stablecoin
US
Goldman Sachs