10 May 2022 Josphat Kariuki
Terra (LUNA) Plunges 50%, Investor Confidence In Jeopardy
Meanwhile, The LUNA Guard Foundation Looks To Restore Investor Confidence
---
Terra, one of the most promising projects in 2021, now experiences difficulties, as the market reacted to the bearish trend, pushing the token to sub-$30 territory.
The reason behind the plunge is in LUNA's side project – the U.S. dollar-pegged TerraUSD (UST) losing its dollar peg causing investor angst, while the broader crypto bearish momentum helped a lot to cut LUNA's price in half.
Terra Lab co-founder and CEO Do Kwon reacted to TerraUSD (UST) falling to sub-$0.99 levels, adding that "The LFG Council just voted to deploy 1.5B in capital (0.75B in BTC, 0.75B in UST) to allay market concerns around UST."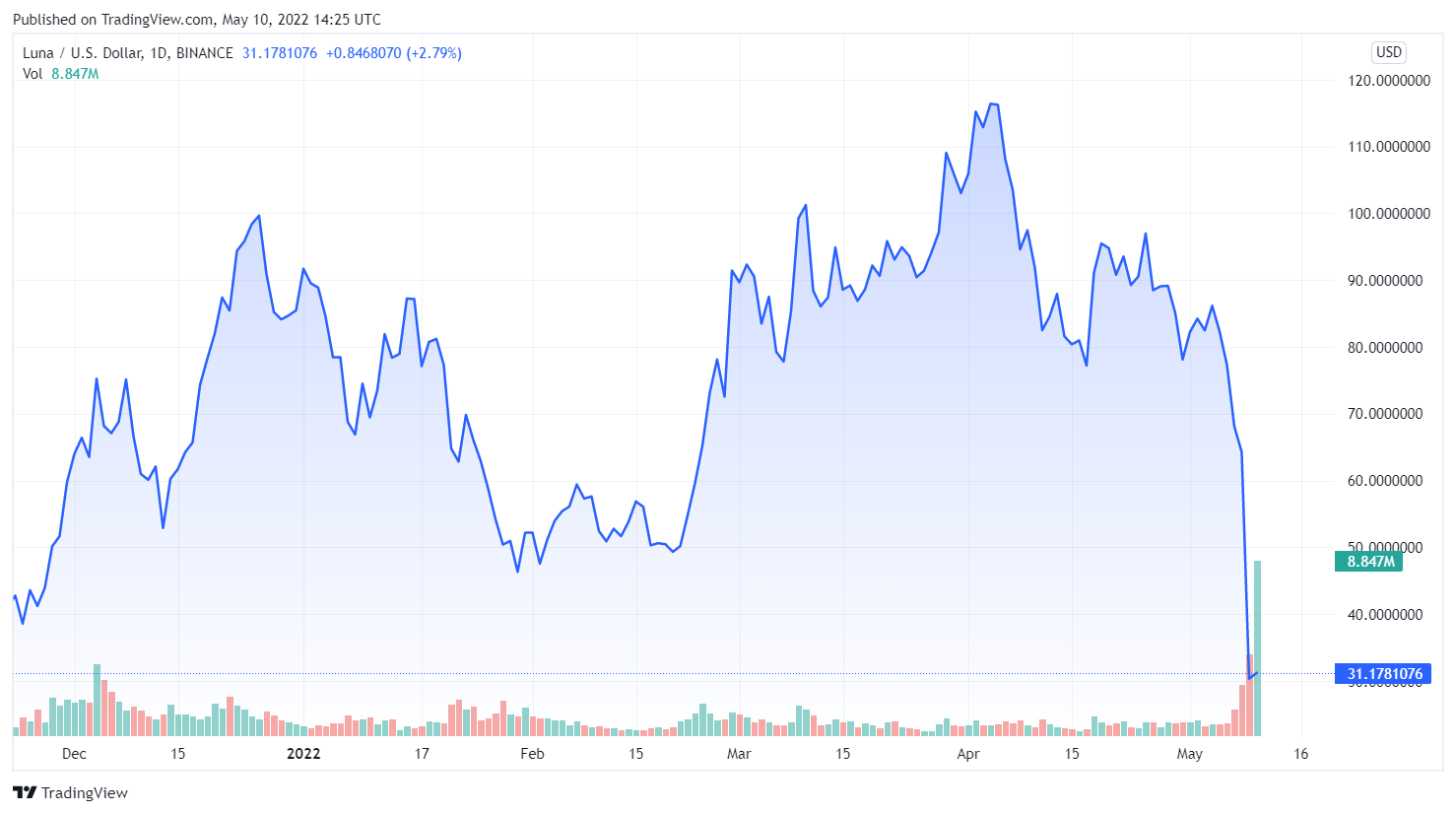 Source: TradingView
This is not the first time UST breaks its dollar peg, as back in September 2021, UST fell to an all-time low of $0.5376. This time UST fell to a morning low of $0.6134 before striking a high of $0.8486. The recovery, however, is still yet to come, as UST is hovering around $0.77 as of press time.
Other projects suffer too
The UST de-pegging impacted LUNA, but other cryptos also felt the plunge, as Anchor Protocol (ANC) plunged 49.1% after recording an all-time high in TVL of $17.15bn before the fall, only to reach $7.16bn today.
LUNA's plunge may induce lawmaker scrutiny
LUNA's 50% fall comes at a turbulent time for stablecoins, as they became a hot topic among lawmakers. In late 2021 the US Senate Committee on Banking, Housing, and Urban Affairs held a hearing on stablecoins. Lawmakers agree on the stance that stablecoins may tumble down the financial stability. Furthermore, the US Treasury called for stablecoins to fall under the remit of "federally insured depository institutions".
LUNA's downfall may fall in line with US Treasury representative Jean Nellie Liang's policy concerns about systemic risks, user protection, and illicit behavior.
LUNA price action
Terra's price currently sits at $32.15 per token. Looking at the trading volumes figures, however, the near future for the project seems bright. But in order to do so, Terra has to overcome the day's $41.75 pivot to target the First Major Resistance Level at $53.73.
If the rally intensifies, Luna may test the $70 resistance, as well as the Second Major Resistance Level at $77.28. If everything develops good, the Third Major Resistance Level sits at $112.86.
However, if LUNA doesn't succeed to move through the pivot point, the first major support Level would come into play at $18.77. In any case, LUNA has to stay afloat over $15, as the second support is located at $6,21.
Meanwhile, the technical indicators show that LUNA's outcome is rather bearish, as the token sits well below the 50-day EMA, currently at $70.88.
Crypto Market
crypto market monitoring
cryptocurrency news
crypto news
Crypto Price