06 Jul 2020 Anthony Lehrman
DeFi Projects Gain Popularity Among Leading Crypto Exchanges
DeFi Receives Recognition From Exchanges With Huobi Agreeing To Run Chainlink Node, And With The Recent Compound`s Listing On Coinbase
---
June 2020 remains in history as one of the greatest months for the decentralized finance sector (DeFi), with achievements like the Compound (COMP) listing on Coinbase Pro on June 23, and very significant boost of the entire sector. The upward going trend continues in July, as Huobi Global announced deployment of Chainlink`s node.

Huobi has become the first-ever crypto exchange to fully initialize a Chainlink node. The integration consists of Huobi allowing Chainlink external adapters to transmit price data across smart contracts through an API. Huobi would verify the data with unique data singing to ensure the transmitted Chainlink's information is truly genuine, coming directly from Huobi. The first oracles (connecting smart contracts to off-chain real world events information) to begin operations are BTC/ETH, BTC/USDT, ETH/USDT, and LINK/ETH.
The news was confirmed by Chainlink in a Twitter post, further noting that Huobi's Wallet app is currently exploiting a fully-functional live Chainlink node.
Meanwhile, another DeFi project is enjoying the benefits of cooperating with a large-scale exchange, as Compound (COMP) got listed on the Coinbase Pro exchange. Coinbase announced the news in a blog post, clarifying that full trading of the COMP/USD and COMP/BTC trading pairs will begin in stages, once "there is sufficient amount of COMP tokens on the platform, and when COMP meets the key metrics milestones."
As of press time, COMP has been enabled for full trading functionality, with the DeFi token passing through the four stages of preliminary criteria for full trading eligibility.
The welcoming activity boost in the DeFi ecosystem also positively impacted Ethereum's performance. Ethereum's price, however, is still lagging behind some of the on-chain metrics, which exploded in June. And while the crypto markets were rather calm, the DeFi sector hit new highs in the field of the total value of crypto collateral locked up (TVL).
The TVL of the DeFi sector, according to DeFi Pulse, surged to $1,86 billion. Also, over the past 30 days, the TVL of the DeFi sector jumped with 85%.
Most of the surge is accounted for projects like Compound and Balancer. Other DeFi projects like bZx managed to get themselves on the DeFi surge wave with planned upgrades. Also, Kyber Network's KNC token recorded a two-year high of little below $2 over the past couple of days, mostly due to the news that Kyber will release a Katalyst software update.
Meanwhile, ConsenSys published its monthly report, stating that currently, Ethereum has 8,035 operating nodes worldwide, which is an increase with 584 nodes from May. Unique Ethereum wallet addresses also increased, surpassing 100 million.
The DeFi ecosystem now accounts for 2,8% from all ETH in circulation, which equals to around 3,1 million Ethereum tokens. However, the price per ETH is still bearish, despite the 5-percent push during the past 24 hours. Currently, Ethereum shakes hands at $235.50.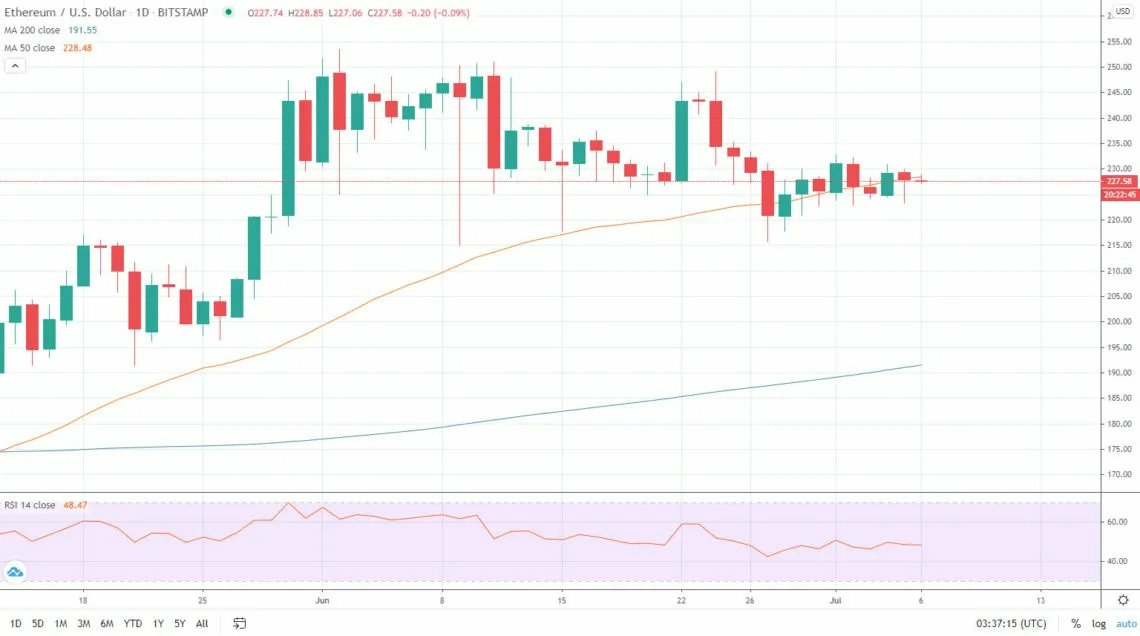 Source: TradingView
Ethereum
Huobi
Coinbase
Cryptocurrency
Crypto Market
Exchanges News
ConsenSys
crypto
eth
Ethereum news
Coinbase Pro
cryptocurrencies
exchange
etherium
consensus
ether
Exchanges
Defi
Chainlink