19 Aug 2020 Arjun Agarwal
DeFi Token REN Boosted With 10,000 BTC Tokenized On RenBTC
Ren Is The Second Most Popular Method For Bitcoin Tokenization
---
Shortly after the news that $449M worth of Bitcoin are held on the Ethereum blockchain, one of the inter-blockchain liquidity leaders – RenBTC, marked another milestone. According to data, RenBTC, which is the second most popular method of Bitcoin tokenization, reached 10,000 BTC locked on Ethereum's network (see graph below).
The data is from August 17, but at the time of writing, statistic shows that there was a drop, with current supply of locked tokens on the ETH network being 8,329 BTC. Total current market value is equal to $98,270,860.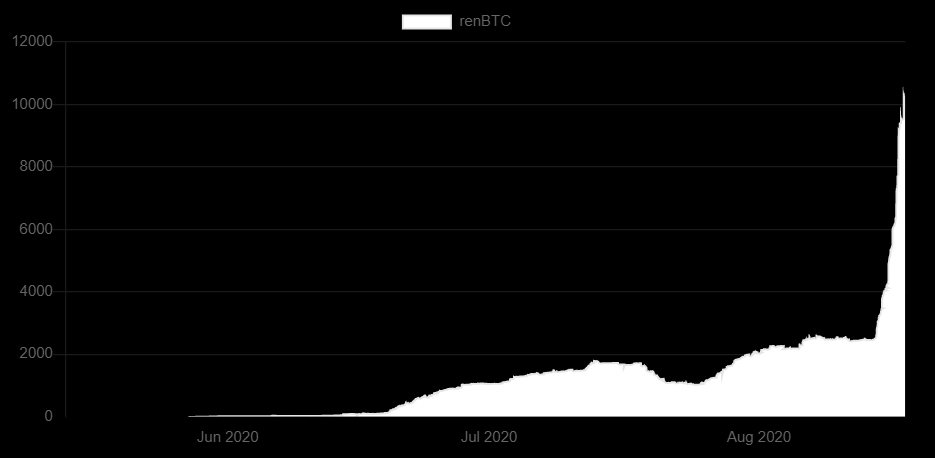 Source: Btconethereum
However, the gap between RenBTC and the current leader in tokenizing Bitcoin for use with DeFi protocols, WrappedBTC (wBTC) is still very significant. Looking at current data, wBTC is at 29,063 BTCs on the Ethereum network, with market value of $342,912,825 as of today.

In just one week, RenVM's total value locked (TVL) indicator surged over two times to reach a value of $175 million, according to data from Defipulse. Also, RenVM's native token – REN – also saw a massive boost in its price, gaining 245% since the start of August. REN started the month at $0.16065 and reached an all-time high of $0.566408 just 18 days later with exponential growth in trading volumes. Currently, it is the 35th-largest cryptocurrency аccording to CoinMarketCap, trading at $0.529359.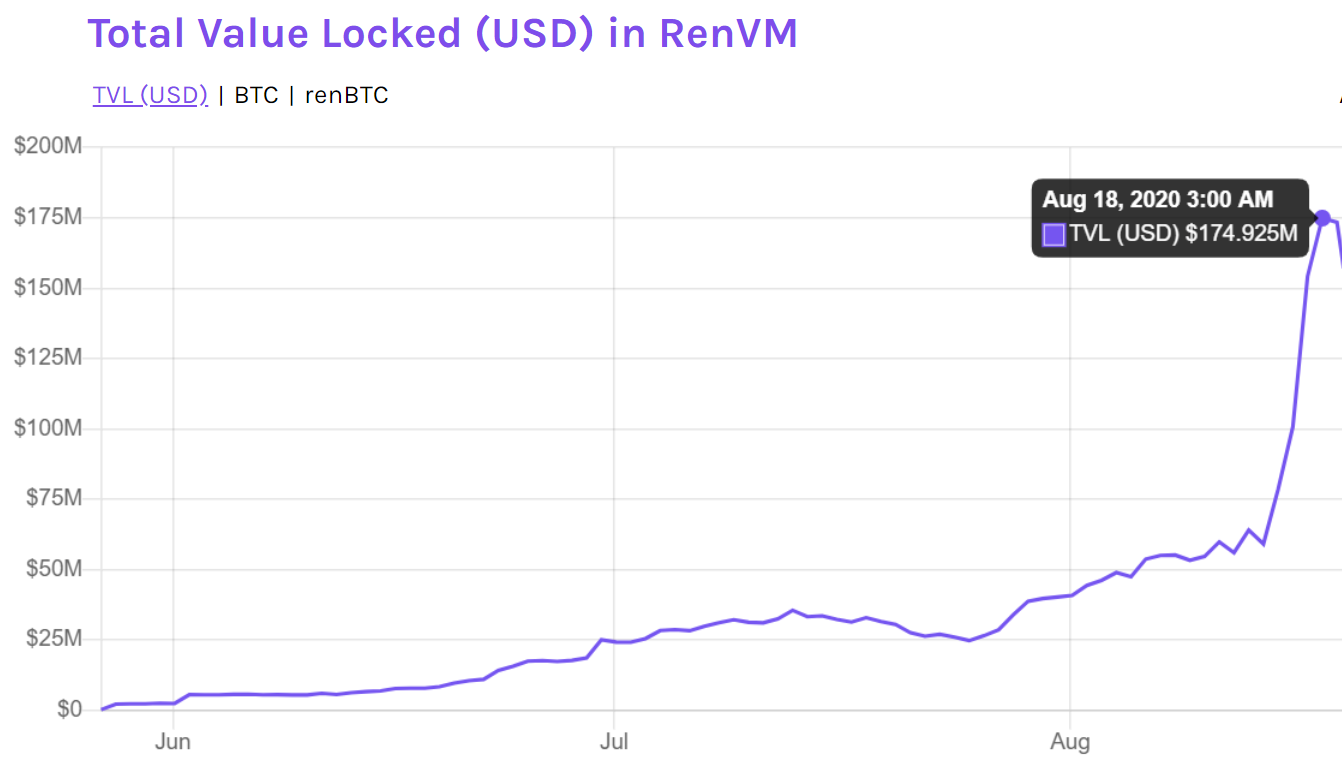 Source: Defi Pulse
The recent REN price surge indicates that more investors are researching the option to put their BTC possessions into more profitable projects. As Cryptobrowser.io reported this Monday, Bitcoin tokenization platforms combined together were responsible for over 38,000 BTC locked on Ethereum's blockchain. The total amount as of today is now 43,354 BTC, which is valued at over $513 million.
The exponential increase in Bitcoin tokenization created a rivalry between Bitcoin maximalists and Ethereum supporters about the total amount of tokenized BTC on Ethereum's network. Blockstream's CSO Samson Mow really sparked a flame on a podcast show, hosted by Peter McCormack. In the podcast, featuring the co-founder of Ethereum, Vitalik Buterin, Mow stated that tokenized Bitcoin only proves that the Ethereum ecosystem needs Bitcoin.
"The whole reason that Bitcoin is staying wrapped to be used on Ethereum is that it is stable and reliable. That's why it seems to be Ethereans prefer using wrapped Bitcoin to Ether to do their DeFi stuff.", Mow added.
Mow's stance received a wave of negativism, with YouTube channels like Bankless calling Mow's statement a "blatant lie". In a response video, the hosts behind Bankless noted that Bitcoin struggles with the same scaling and transaction fees problems as Ethereum, and the only way to tackle the scaling issue for Bitcoin is to be tokenized on Ethereum's blockchain. Many Ethereum fans also critiqued Samson Mow and reportedly turned off the podcast.
Bitcoin
Ethereum
Blockchain
Cryptocurrency
Crypto Market
Blockchain Application
btc
eth
crypto market monitoring
Ethereum news
bitcoins
cryptocurrencies
tokens
bitcoin news
cryptocurrency news
Defi