17 Nov 2022 Simon Briggs
DEX Protocols Increase In Revenue Despite FTX Collapse And CEX Exodus
It Turns Out That On-Chain Data Is In Favor Of Decentralized Exchanges As Centralized Entities Struggle For Liquidity
---
The FTX and Alameda crisis has put the entire crypto sector under immense stress, as Bitcoin and Ethereum recorder record amounts of exchange outflows. However, not all DApps are showing the same growth, mainly due to HODLers and a steady active user base.
The week after the FTX bankruptcy showed that three DeFi protocols had revenue above $1 million over the past seven days. Interestingly, Ethereum leads the pack in terms of on-chain earnings with over $8.5 million in total due to strong post-Merge fundamentals.
Right after Ethereum comes the OpenSea NFT marketplace, bringing in $1.5 million, while nine protocols and DeFi platforms earned more than $100,000.
Trading volumes also increase
The volatile crypto market has put its users in the condition of trading in record numbers. Indeed, Token Terminal's data shows that the daily trading volume of perpetual exchanges reached $5 billion, reminding itself of the trading volume surge induced by the LUNA and TerraUSD (UST) meltdown in May 2022. It turns out that the 14-day trading volumes surge, reached the milestone on November 8, before entering a cool-down mode.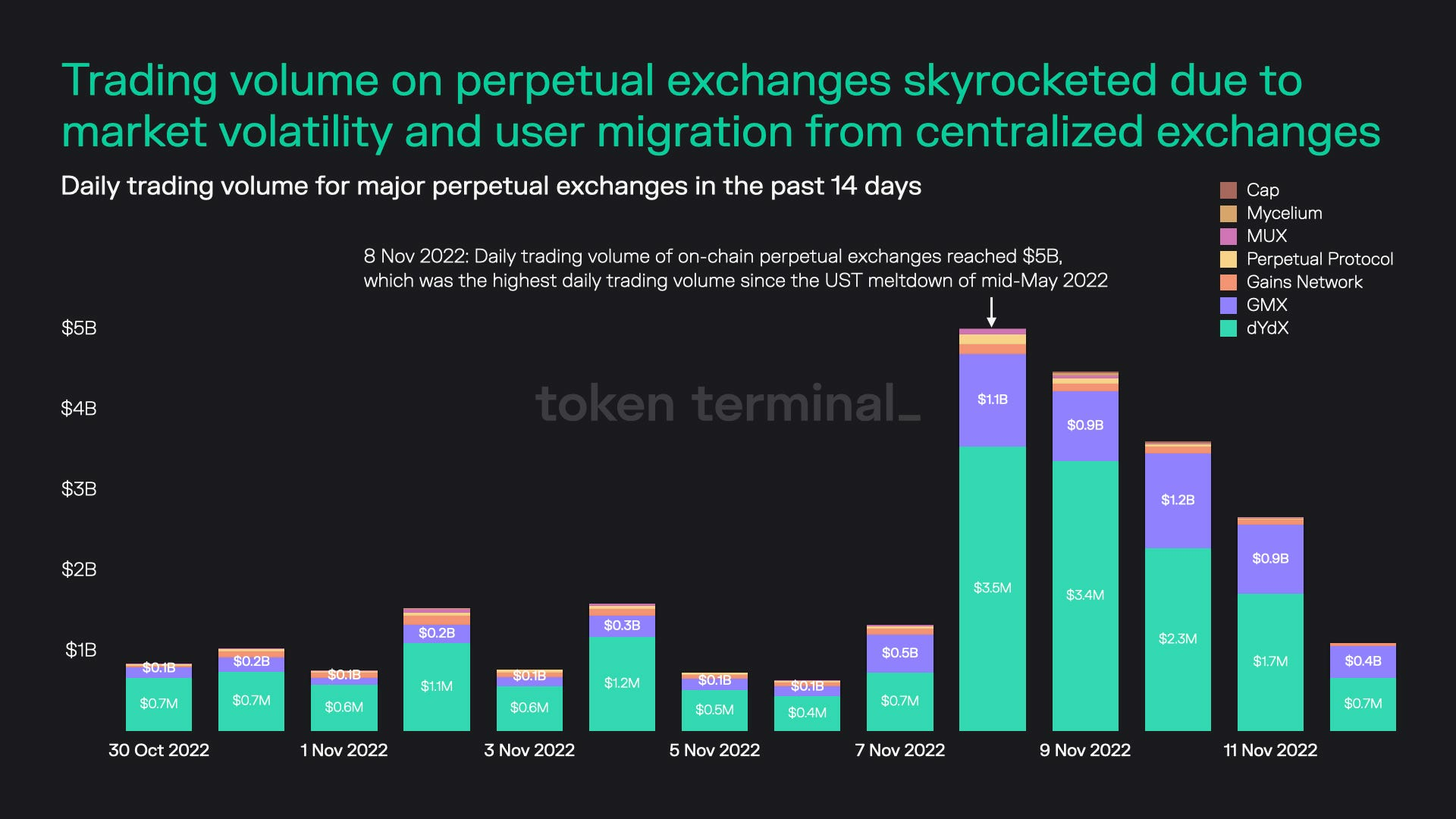 Source: Token Terminal
Nevertheless, the total value locked figure is still lagging behind trading volumes. It turns out that only seven of the DeFi protocols saw some TVL increase, with Gains Network, a perpetual exchange on Polygon, recording the largest seven-day increase at 17.3%, followed by Rocket Pool with a 13,6 percent TVL increase. The monthly chart, however, reveals that Rocket Pool, for example, is still 6.3% down, while Gamma Strategies blew past Gains Network's 37% increase to record a 30-day TVL change of +56.3%.
On the downside, the Ren interchain operability protocol, which partnered closely with Alameda, received quarterly funding and kept its treasury directly on FTX. Its TVL figures dropped 50% in the past seven days, reaching as low as $74 million on November 13.
What about blockchain revenues?
The turmoil in the crypto sector proved to be beneficial for blockchain revenues, which are rising amid a constant rate of daily active users. The data shows that blockchain revenues happen because transactions are happening at a more frequent pace among existing users.
However, blockchain revenues do not necessarily equal earnings. It turns out that only Ethereum's blockchain is recording positive revenue, while proof-of-stake (PoS) blockchains like Polygon, BNB Smart Chain, and Optimism all recorded negative earnings.
Bitcoin
Ethereum
Blockchain
Cryptocurrency exchange
decentralization
dex
decentralized
Defi
Decentralized Finance
Decentralized Exchange
Binance Smart Chain
Polygon