09 Jun 2021 Arjun Agarwal
Dogecoin Now Available For Trading On Revolut
The Meme Coin Is Gaining Traction Amid A Rollercoaster Price Action In The Crypto Sector
---
Dogecoin, or DOGE, is starting to gain the much-needed mainstream adoption, as UK-based Revolut announced out-of-the-blue that Dogecoin is now a part of its crypto trading-enabled platform.
The fintech company made its announcement on Twitter, emphasizing the interest among crypto holders for the now sixth-largest crypto to date.
"We're interrupting your regularly scheduled Token Tuesdays to bring you something new in the crypto world. There just aren't enough dogs in the Revolut app...but we're about to change that. Much Dogecoin. Such wow. How Revolut? We're letting the DOGEs out," Revolut's team added.
Revolut users can now buy, sell and hold DOGE, as well as 29 other crypto projects. The team behind the 2021 Deloitte 'Innovation in Banking' award declared that Dogecoin, with a market cap of over $40 billion, was among the top requests by users. Dogecoin's listing by Revolut comes amid more and more people opting to "challenger banks", instead of the big banks of old.
Meanwhile, Dogecoin, which started out as a joke among meme lovers, became a true market force after a wave of endorsement by public figures and entrepreneurs. Most notably, Tesla CEO Elon Musk sent "DOGE to the moon" with a series of supportive tweets about the meme coin. Pricewise, Dogecoin spent most of its time as a cryptocurrency with small-scale trading, but after Musk's support, its price skyrocketed 12,000% in just a year, currently trading at $0.33.
However, DOGE is still 55% below its all-time high value of $0.7376, which occurred on May 8, 2021.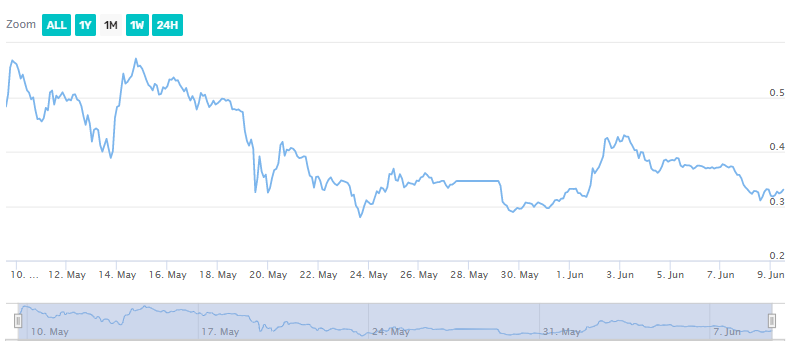 Source: CryptoBrowser
"We have just launched Dogecoin in-app. So now keen crypto customers and those new to the game can buy and sell this popular token," Revolut's head of crypto, Ed Cooper, said.
Meanwhile, Revolut started offering its customers the chance to buy and sell crypto on its platform. Previously, the platform only allowed customers to hold crypto on the app. Now, users can withdraw Bitcoin to an external wallet.
The company allowed trading cryptocurrencies on its app back in 2017. Last year the company reported a 2.5X increase in crypto activity over the previous year.
Dogecoin struck yet another great adoption last week, as Coinbase Pro, announced DOGE's listing on its platform. Coinbase later added support for DOGE on all of its platforms, while starting a $1.2 million Dogecoin giveaway.
The much anticipated "Coinbase Effect" on the crypto's price, however, didn't stop the token to plummet in sync with the rest of the sector amid May's rollercoaster ride for the world of cryptos.
Cryptocurrency
dogecoin
Coinbase Pro
coin
doge
cryptocurrency news
fintech news
crypto news
fintech
Crypto Price