03 Feb 2021 Anthony Lehrman
ETH 2.0 Becomes Third-Largest Staking Network Amid New ETH All-Time High
The Crypto Sector Broke From Its Downwards Trajectory With A Mini-Bull Run
---
The crypto sector experienced a wave of positive sentiment over the past 24 hours, which, in turn, resulted in Ethereum's 2.0 staking network becoming the third-largest staking network as of press time. However, the results come amid Ethereum 2.0 having just 2.09% of Ethereum's total supply locked in the smart contract.
Ethereum did a massive upwards price swing in the past 24 hours, pushing its price past the previous all-time high of $1,480 from February 2. Currently, Ethereum trades at $1,547.07, just a few dollars below its new all-time high of $1,567.61. The altcoin leader is making a second straight day of gains, adding 10% to its price in the past 24-hours, with a primary reason behind the upwards push being decentralized finance (DeFi).
DeFi apps and protocols have increased in popularity, locking in a record $30 billion in smart contracts. Maker, Aave, and Compound are the main culprits, locking $13 billion in their contracts. All of the big three projects are running on Ethereum's blockchain, which in turn makes Ethereum increase in popularity.
The latest Ethereum push is reflected on the ETH tokens, locked in the ETH 2.0 chain. As of press time, Ethereum's 2.0 chain has nearly 2.5 million ETH staked, which equals to a market capitalization of $3,6 billion.
However, Ethereum's latest price gains and locked tokens aren't close enough to the first in the staking rank – Polkadot. Polkadot recorded as much as 60% of its supply being put to staking, which results in $10.8 billion worth of locked tokens. Cardano (ADA) comes second with 71% of all ADA tokens being staked, totaling nearly $9.5 billion.
Meanwhile, since the start of 2021, Ethereum gained 70% over Bitcoin in the ETH/BTC trading pairs. Ethereum currently sits 5% from its January 25th local high of 0.045 BTC, which is the highest level Ethereum reached to Bitcoin since August 2018.
However, Ethereum's gains come amid a green market for almost the entire crypto sector. After a week of pump and dump scenarios, some of the most affected crypto projects were Dogecoin (DOGE) and Ripple (XRP). The current situation implies that the turbulence is now over and the crypto market is in a recovery mode.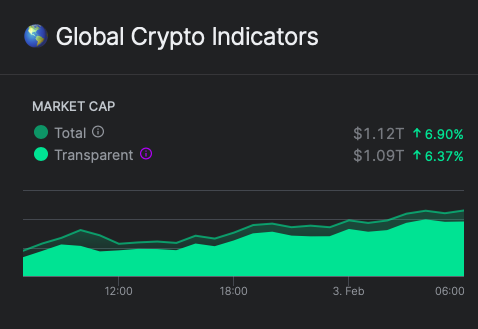 Source: Nomics
The total market capitalization is up nearly 7%, making the crypto sector worth $1.12 trillion. Apart from Ethereum, Bitcoin is also among the top market cap movers, as the two currencies make up 75% of the total market capitalization of the crypto industry.
Bitcoin, for example, made a 6,9% price increase in the past 24 hours, while trading volumes are up 5% in the same time period. However, the recent activity spike made Bitcoin move into the "Overbought" zone, while some technical indicators are also claiming that the industry leader is making an entry into the same area.
Ethereum
Cryptocurrency
Crypto Market
crypto market monitoring
Ethereum news
Ethereum Price
Ethereum 2.0