20 Nov 2020 Samantha McLauren
Ether Trades Above $500 Amid Possible ETH 2.0 Delay Announcement
Ethereum's Co-Founder Vitalik Butrein Noted That ETH 2.0 Would Take Up To 24 Months To Be Fully Active
---
The second-largest cryptocurrency by market capitalization, Ethereum, finally managed to surpass the key resistance value of $500 per ETH token. The current trading price of $506.73 is the highest level since July 18, 2018. Also, Bitcoin's runner-up made a 290% year-to-date price increase.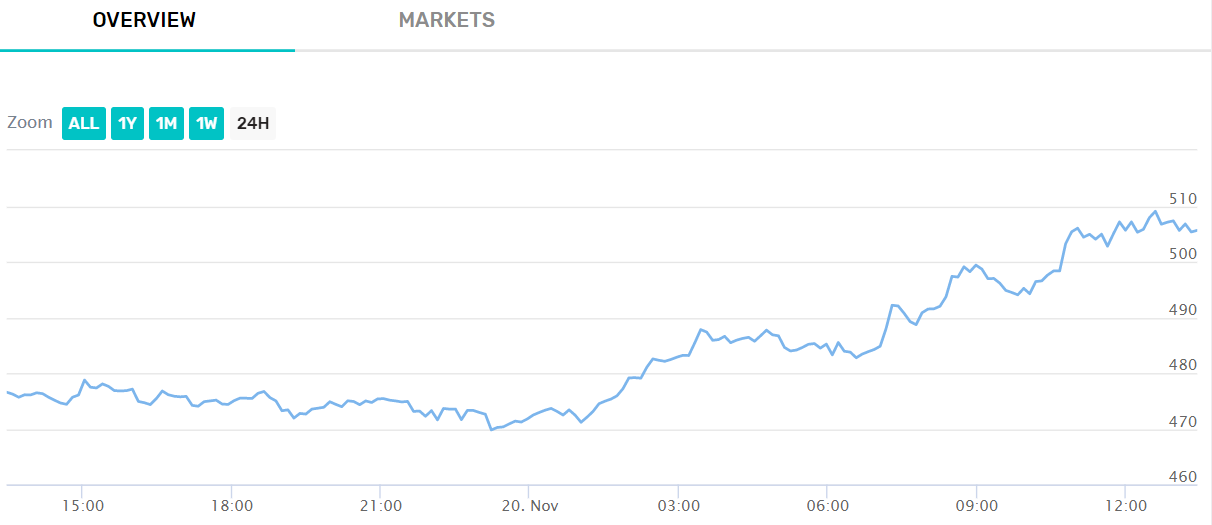 Source: CryptoBrowser
Ethereum's upwards price swings seems to be in line with Bitcoin's price gains, which skyrocketed the world's largest cryptocurrencies to levels, not seen after the late 2017 Bitcoin frenzy.
Nischal Shetty, CEO of Mumbai-based cryptocurrency exchange WazirX, explained that apart from the increased interest in the crypto market, the transition to ETH 2.0 and a proof-of-stake consensus algorithm are also moving forces for Ethereum's price rise.
"The belief is that it'll lead to a supply shortage of ether," Shetty said.
However, Ethereum is nowhere near its all-time high of $1,433. Compared to Bitcoin, which is only 10% apart from surpassing its all-time high, Ethereum needs over 180% in price gains.
However, Ethereum's co-founder Vitalik Buterin explained at an AMA session on Reddit that the transition to ETH 2.0 will take up to 24 months and is an ongoing process. In the session, Buterin stated his optimism that the 500,000 ETH needed to start the ETH 2.0 beacon chain would be gathered until December 1, but the rollout of the much-anticipated network upgrade "would keep Ethereum busy for the next couple of years."
"Realistically, for the next ~2 years, Ethereum will be an ecosystem under rapid transformation […] The Ethereum ecosystem has a resolute goal of being a stable and dependable system in the long run," Buterin noted.
Buterin also explained that the consensus algorithm change is not an easy task and requires an enormous amount of time. However, Ethereum's co-founder is confident that the transition would lead Ethereum into a new era, which would transform Ethereum into "a globally usable ecosystem for companies of all sectors and industries."
"The issuance schedule is ~4.7M per year for the next 1 – 2 years or however long it takes until the merge, and then ~0-2M per year minus burned fees (which could be even greater than the issuance!) once PoS is fully in place," Buterin concluded.
Meanwhile, ETH addresses holding at least 1 ETH reached an all-time high. According to data aggregator Glassnode, there are currently 1,170,598 addresses, holding at least one Ethereum token. However, Glassnode addresses the rise not only to the bullish market but also with the DeFi boom of the summer of 2020. According to DeFi Pulse, there are currently $13 billion locked in as collateral in the Ethereum-based DeFi lending protocols and decentralized exchanges.
Bitcoin
Ethereum
Cryptocurrency
Crypto Market
eth
crypto market monitoring
Ethereum news
cryptocurrencies
etherium
cryptocurrency news
Ethereum 2.0
PoS
Proof-of-Stake