28 Jul 2020 Samantha McLauren
Ethereum Futures Open Interest Exceeds $1 Billion, Reaching New All-Time High
The New All-Time High Value In Futures Open Interest Means Proportionally Increased Interest In The Crypto Sector
---
Ethereum managed to achieve another milestone, as the open interest futures contracts surpassed the $1 billion level. The milestone marks a complete recovery from the March market bloodbath, where the open interest futures dropped below $400 million. Prior the coronavirus spree the ETH open interest contracts were on the rise, reaching almost $900 million. However, as the COVID-19 crisis continued to take over, a large number of investors became more cautious and distanced themselves.
The news about Ethereum's open interest contracts surpassing $1 billion was first made public by market analyzers from Skew. The analysis shows that more professional traders joined the crypto race, but Ethereum has a long way before coming close to Bitcoin in terms of open interest. Bitcoin still retains the leading position in open futures contracts, with the crypto leader surpassing $4 billion in open interest as of July 21, 2020. However, the Bitcoin's futures open interest climbs up two times slower than its rival Ethereum.

Data from Skew also shows that Ethereum futures contracts spiked 30% since June 20, 2020, with an increase from $800 million to $1,1 billion, as of press time.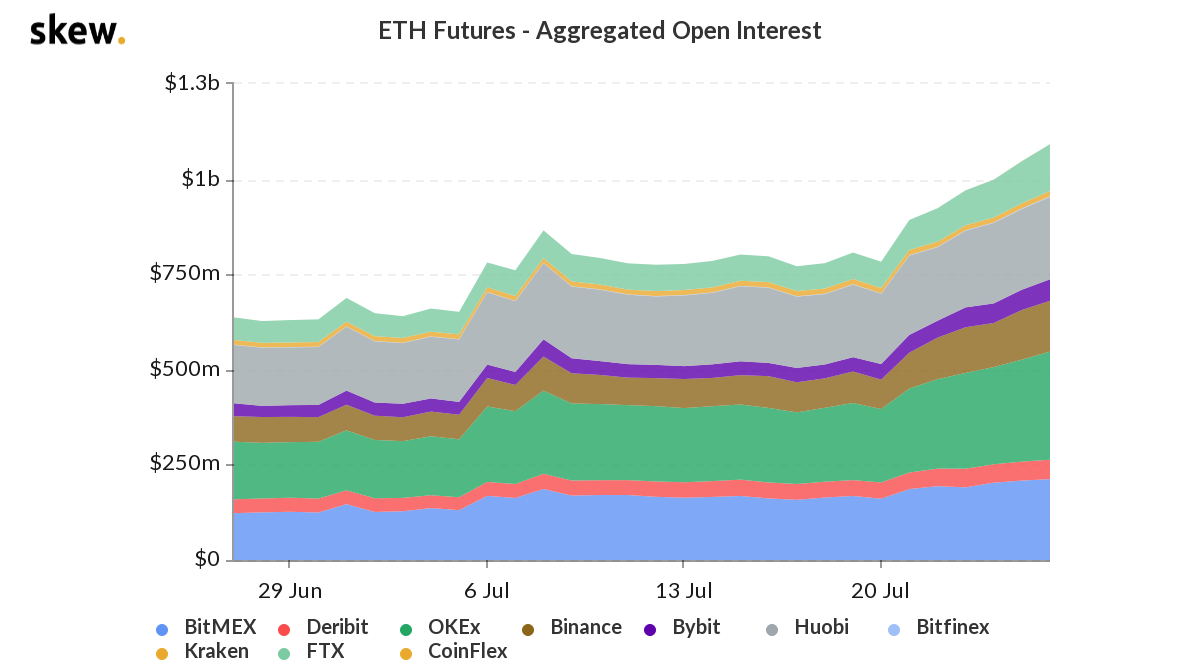 Source: Skew
Futures contracts are usually a domain of high-profile traders and investors, showing their support for the future of the altcoin leader. They resemble a pre-determined agreement to buy or sell an asset at a specified price and time points. Traders bet on a price fluctuation to happen at the time of contract settlement. Open interest indicates the total value of unsettled futures contracts at a given time point. Open interest is a key metric in evaluating the raw amounts of sellers and buyers of futures contracts.
Interestingly, one of the largest crypto exchanges to date, OKEx, is leading the pack of large-scale futures open interest with over $290 million, while Huobi and BitMEX are holding over $200 million in open interest futures contracts. Also, Huobi announced the launch of ETH options trading on its platform in Q3 of 2020.
Meanwhile, the milestone may be a direct circumstance of Ethereum preparing for its long-awaited ETH 2.0 algorithm update. Ethereum developers announced the release of a validator launchpad for ETH 2.0. As the crypto community franticly prepares for the scheduled for August 4 testnet release, developers launched the "Medalla" multiclient testnet validator, which comes before Phase 0 of migrating to a Proof-of-Stake (PoS) algorithm.
According to Ethereum developers, users need to put at least 32 ETH stake for running a validating node. However, to successfully launch Medalla, the testnet has to collect at least 524,288 ETH. Trustnode announced that a third of that amount is already collected.
The ETH 2.0 update would address one of the biggest hurdles in front of Ethereum – improving transaction speeds. According to Etherscan, Ethereum's network reached a peak of 165,711 pending transactions on July 22.
Migrating to ETH 2.0 may resolve the bottleneck that is caused on transactions speed, as the Proof-of-Stake (PoS) algorithm will enable a second layer of scalability for the world's second-largest cryptocurrency.
Bitcoin
Ethereum
Huobi
Cryptocurrency
Crypto Market
Exchanges News
eth
crypto market monitoring
Ethereum news
Bitcoin price
exchange
bitcoin news
ether
Ethereum Price
BitMEX
Coronavirus
Ethereum 2.0
PoS
Proof-of-Stake