28 Apr 2021 Marsha Tusk
Ethereum Hits A New All-Time High Over $2,700, Covering Last Week's Losses
Ethereum's Total Market Capitalization Has Grown And It Is Now Equal To PayPal's
---
Ethereum, dubbed as the altcoin leader, managed to mitigate the downwards push from last week, which tumbled the ETH price to around $2,000. However, with three strong days of trading, coinciding with a strong push throughout Asian trading hours, Bitcoin's runner-up reached an all-time high of $2,709.31, according to data from Cryptobrowser.io.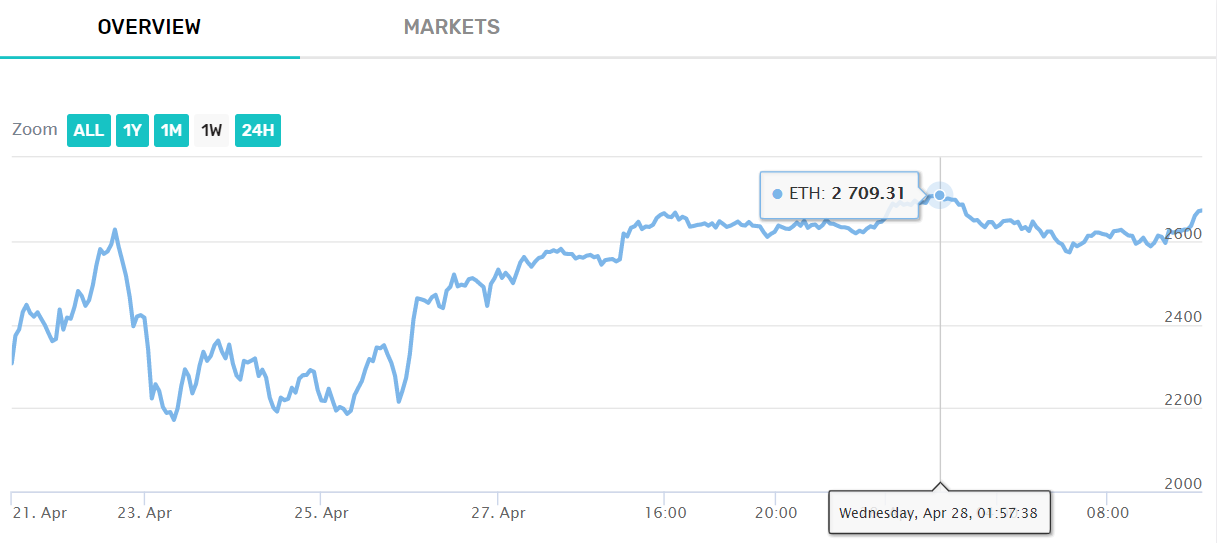 Source: CryptoBrowser.io
The upwards push increased Ethereum's price by 7 percent, before a correction occurred, pushing prices down to a current level of $2,672.91 per ETH.
Looking at the weekly gains, however, it seems that Ethereum overcame the bearish momentum and added almost 13% to its value from a week ago. Ethereum is one of the only two crypto projects that mark substantial weekly gains, with Uniswap adding 23% to its price, compared to last week.
Since the start of 2021, Ethereum managed to gain 258% over its price on January 1, 2021. In contrast, Bitcoin only managed to secure a 90% price increase in 2021.
The key components for Ethereum's price success are large-scale investors and the DeFi ecosystem, which runs almost entirely on Ethereum's blockchain.
Ethereum received a welcoming upwards push by an announcement from the European Investment Bank, which declares the bank's plans of launching a digital bond sale on the Ethereum network. A total of 100 million euros in digital bonds would be issued in the sale, with participants like Societe Generale, Banco Santander, and Goldman Sachs at the front line of digital bond buying.
The announcement was coupled with another milestone for the DeFi community. The total number of users on Ethereum-based DeFi protocols breached 2 million, according to data from Dune Analytics.
On-chain indicators like the declining amount of ETH, held by exchanges, indicate that Ethereum holders are not prepared to sell, which is commonly referred as a bullish signal. Furthermore, the DeFi ecosystem is eating away a large portion of the Ethereum tokens held by exchanges due to increased ETH lock up. Currently, over 11 million ETH is locked in DeFi protocols, according to DeFi Pulse, which equals to over $29 billion, given Ethereum's current price point.
Meanwhile, Messari`s researcher Ryan Watkins noted that Ethereum may turn pivotal for modern finance.
"If Ethereum is successful, its economy may eventually grow so large its GDP surpasses that of the leading nation states. This would change everything we know about economics and politics," Watkins noted.
Ethereum's rise, however, didn't spark a global crypto upwards push, as it happened with Bitcoin and its behavior dominance over other crypto projects. For instance, Bitcoin still struggles to break above $55,000, fighting severe resistance. Binance Coin (BNB) jumped three percent, but still has an 8-percent loss to cover from the past week. Ripple (XRP) continues its decline, with yet another 3-percent slide into the red, after two bullish days. Dogecoin (DOGE) is up 11%, but the meme coin is still in a recovery mode, as the weekly losses are currently close to 15%.
Marketwise, the total market cap of the crypto sector is back over $2 trillion, after reaching a weekly low of $1.74 trillion on April 23. Bitcoin lost a part of its dominance and currently sits below the 50% mark, while Ethereum reached 14.7% market dominance.
Ethereum
Cryptocurrency
Crypto Market
eth
crypto market monitoring
Ethereum news
price
Ethereum Price
Prices