04 Jan 2021 Anthony Lehrman
Ethereum Went Up 35% Reaching $1,100, Then Retracted Below $1000
Meanwhile, Gas Fees Also Increased To $13 Per Transaction, Which Dwarfed Small-Scale Ethereum Transactions
---
The leader in altcoins, Ethereum, made a surprising 35% price surge surpassing the $1,000 to reach a daily high of $1,153.19. However, the second-largest cryptocurrency slipped and trades at $918.21 as of press time.
The price move is one of Ethereum's biggest daily price pumps in its history, adding $297.06 to its price over the past 24 hours, then retreating with close to 200%
Trading volumes also experienced a massive 165% increase over the past 24 hours, reaching over $66 billion.
The price pump was quickly noticed by traders and analysts, with Alex Krüger pointing out that the positive price movement of Ethereum mitigated the three-month negative price correlation with the world's biggest cryptocurrency – Bitcoin.
"Ethereum undid a three-month slide against bitcoin ... in one day," Krüger noted, adding that the price pump would lead to position adjustments.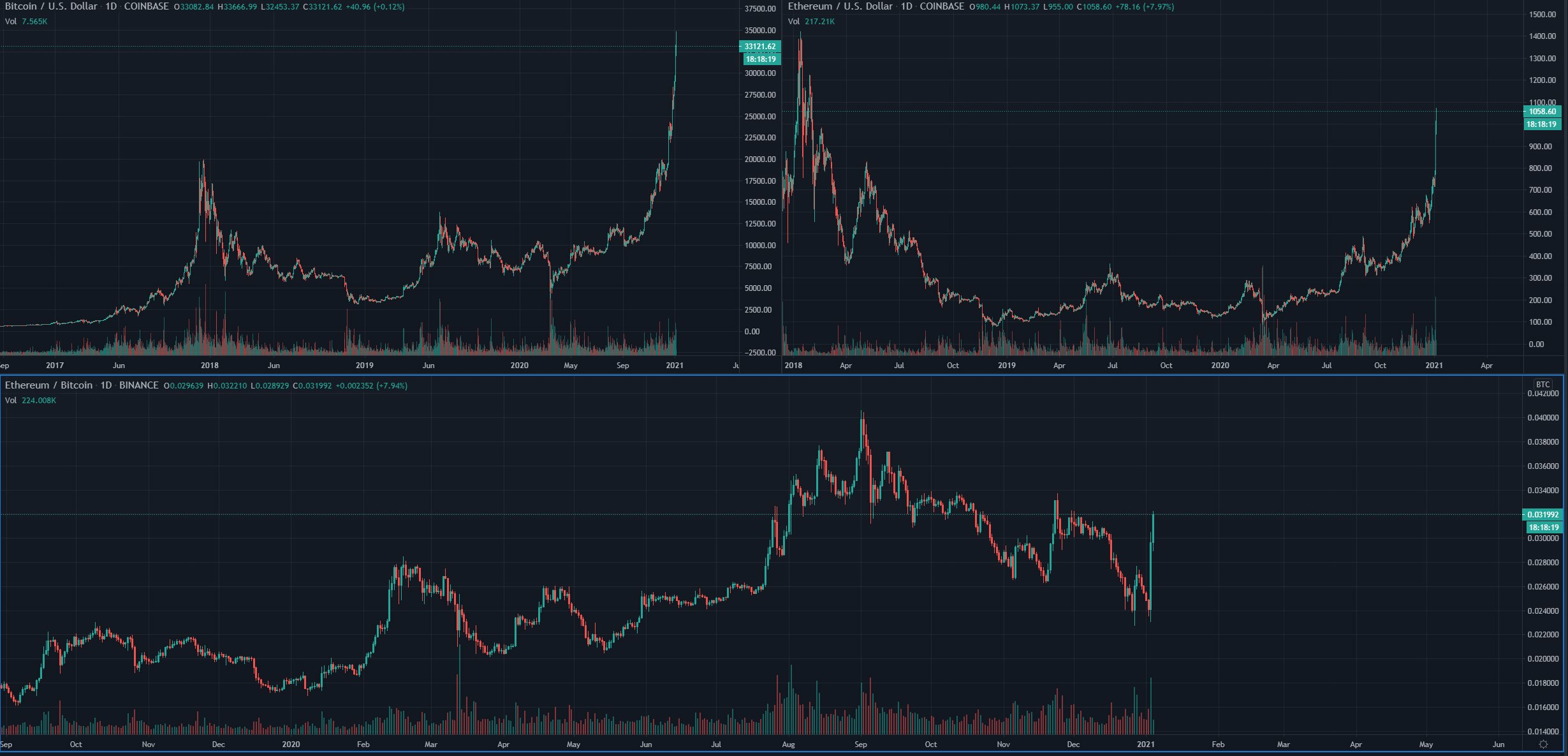 Source: TradingView
Ethereum's price increase also led to an increase in the market capitalization of the altcoin, which is currently over $104 billion, with a high of $131 billion. However, Ethereum is still far behind its all-time highs in both market cap and price. The now third-largest cryptocurrency to date, Tether (USDT) is with a five times lower market cap than Ethereum – a little over $21 billion.
The price pump made crypto analysts like Luke Martin bring the "altcoin season" mantra in the spotlights. Martin also noted that "you know it's altseason when you can long EOS and that swing actually starts outperforming ETH for the day."
"We are not in 2020 any more boys...this is alt season. Strap in. Move slow. And adjust that target just a little bit higher," Martin added.
The only high cap crypto assets that come close to Ethereum's price performance are Cardano (ADA) and VeChain (VET), although new assets are anticipated to fall under the spotlight soon.
The price moves by Ethereum, however, did include two side effects, one of them being the amount of staked ETH tokens in the ETH 2.0 beacon chain reaching over $2 billion worth. According to information on Ethereum's official launchpad, 2,209,794 ETH tokens are already staked in Ethereum 2.0's deposit contract, effectively eliminating them from circulation for at least 12 months. Users would be able to withdraw the staked ETH tokens as soon as ETH 2.0 enters Phase 1.5, which will merge the existing Ethereum chain with the new, Proof-of-Stake type of blockchain.
The other side effect is gas prices rising up as Ethereum's network is burdened by the increased ETH demand. The average transaction fees for Ethereum transactions reached a high of 13$, according to data from Bitinfocharts.com. The gas fees make smaller transactions on Ethereum's current blockchain economically unfeasible, which also affected the DeFi ecosystem – an ecosystem that runs on Ethereum's blockchain.
Ethereum
Altcoin News
Cryptocurrency
Ethereum news
cryptocurrencies
etherium
cryptocurrency news
market
Ethereum Price
Markets
cryptocurrency market