04 Apr 2022 Arjun Agarwal
Indonesia Records The Highest Crypto Adoption Rate To Date
Meanwhile, Almost Half Of Crypto Owners Purchased Coins In 2021, According To The SEC
---
Investors in Indonesia are massively switching to cryptos, according to a study from crypto exchange Gemini published on Monday. The "Global State of Crypto Report," revealed that 41 percent of Indonesians, aged between 18 and 75 years old with an income of more than $14,000 per year, own some form of crypto assets.
Feroze Medora, the interim managing director and director of trading at Gemini Asia Pacific, stated that "many investors in the country may look to crypto as an inflation hedge."
"Should the value of bitcoin, or any other chosen crypto, increase with time, this will protect the decreased purchasing power of a currency that results from the loss of its value," Mendosa added, emphasizing that Bitcoin gets its popularity by being perceived as a sort of "digital gold".
The survey also revealed that 61 percent of the respondents believe cryptocurrencies are the future form of money. In contrast, only 23 percent of respondents in developed countries like the US, France, and Germany are seeing cryptos as the future of money.
Indeed, crypto projects like Bitcoin, Ethereum, and Solana are seeing waves of adoption in Indonesia in the past few years. However, the Indonesian government is still banning cryptos as a medium of exchange in the country, but allows trading cryptos as commodities.
Furthermore, crypto investors in Indonesia have doubled to 12 million, according to Indonesia's Commodity Futures Trading Regulatory Agency (Bappepti). For comparison, Indonesia's stock market investors are "just" seven million.
However, Gemini's study was not "fully representative of the total population of the large and multicultural nation," according to Medora, as the $14,000 annual income cut-off sifts off only the high-income earners in Indonesia, since the country's per capita income sits at around $4,350 in 2021.
Medora also noted that crypto mobile apps made it easier for everyone to get access to the ecosystem. There is also a vast amount of educational materials online, "so these elements may have helped narrow and even tip the gender balance when it comes to crypto investing," according to Medora.
Half of crypto holders onboarded in 2021
Interestingly, the report from Gemini adds that almost half of all cryptocurrency owners in the United States, Latin America, and the Asia Pacific purchased the digital assets for the first time in 2021.
It turns out that inflation is the main driver for crypto adoption, due to concerns of currency devaluation.
Furthermore, Gemini noted that a massive 79% of reported crypto owners in 2021 said they chose to purchase the digital assets for their long-term investment potential. The currency devaluation against the U.S. dollar also brings a five-fold increase in the plans of owning crypto as a hedge against inflation.
The currency devaluation against the U.S. dollar is a big problem in India and Indonesia, as the Indian rupee has declined 17.5% against the dollar in the last five years, while the Indonesian rupiah depreciated 50% against the dollar between 2011 and 2020.
Crypto markets cool off
Despite crypto adoption continuing, the global crypto market seems to have settled after last week's massive bullish push with Bitcoin battling the $46,000 resistance level, sitting at $46,166.04, according to data from CryptoBrowser.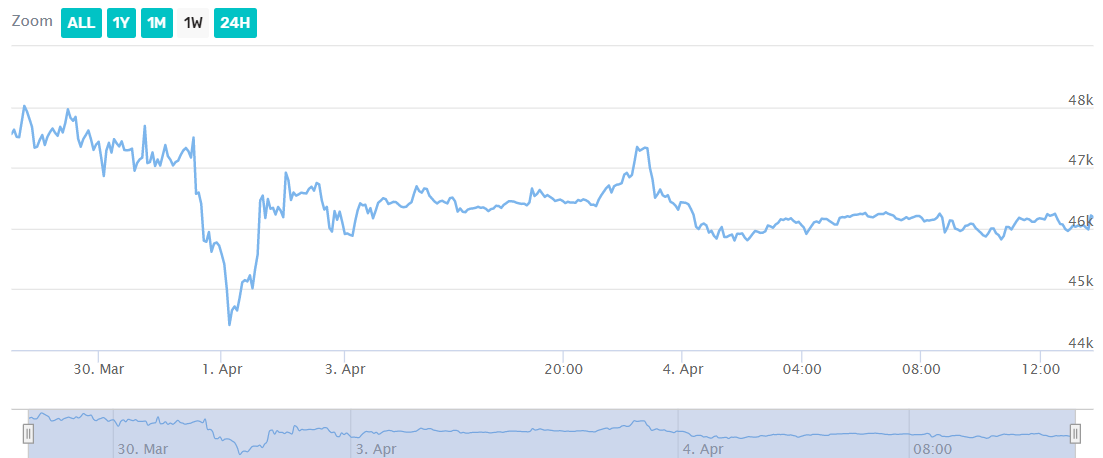 Source: CryptoBrowser
Ethereum is also trying to stay afloat of $3,500, but to no avail, as the second-largest crypto to date is still struggling to secure the price point, trading at $3,466.33.
The rest of the crypto sector is also seeing a small wave of retraction, with only several cryptos in the green – Cardano (ADA), Dogecoin, (DOGE), Shiba Inu (SHIB), and Stellar (XLM), for example.
SEC
Crypto Market
crypto market monitoring
cryptocurrencies
cryptocurrency news
crypto news
SEC
Security and Exchange Commission
Crypto Price
Adoption