05 Nov 2021 Arjun Agarwal
Solana (SOL) Flips Cardano (ADA) To Become The Fifth-Largest Crypto
The Main Reason Is The Decentralized Finance Applications Deployment On Solana, While Cardano Still Lags Behind
---
Cardano and Solana have been in a fierce battle to become the "Ethereum rival" and stand against the top smart contracts platform and altcoin leader to date. Both networks showcased that there is a need for diversification in the smart contract realm, but Solana (SOL) managed to push beyond just offering a smart contract functionality, while Cardano's development never really jumped past the smart contract deployment.
However, Cardano's smart contract functionality was deployed less than two months ago, leaving developers with no time to test and deploy their applications on the blockchain. But, despite lagging behind its competitors due to this delay, Cardano maintained its position as the second leading smart contracts platform. Meanwhile, Solana's rapid popularity surge managed to earn the project a position to fight against Cardano for the "Ethereum rival" title.
Cardano has been in the top three of the largest crypto projects by market capitalization, prior to Binance Coin (BNB) overtaking it for the third place. The push for Cardano came after the price per ADA token broke above $3, securing a market capitalization of over $75 billion, making it one of the most valuable cryptocurrencies in the market. However, the market retracted in September and October, pushing Cardano's price down to $1.97 as of press time, while market capitalization tumbled down to $65.7 billion.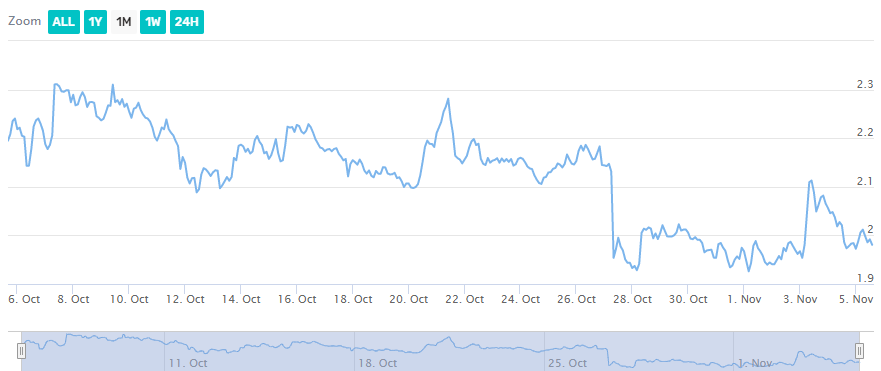 Source: CryptoBrowser
Solana (SOL), on the other hand, managed to record a profitable couple of months with the launch of its decentralized finance (DeFi) marketplace, which played into the high value of the asset.
Furthermore, community interest in Solana skyrocketed in the past three months, pushing both its price and market capitalization up. For instance, the latest bullish sentiment wave managed to push the price per SOL token to an all-time high of $250.47, before correcting slightly to a current price point of $234.03 per SOL. Solana's market capitalization also exploded, and currently clocks in at $70.5 billion.
The latest wave of positive price action pushed Solana past Cardano in the battle for the fifth place in the crypto rankings. According to experts, the trend may continue, since Solana is lightyears ahead of Cardano when it comes to decentralized finance, as developers are still struggling to get DApps and DEXes on the Cardano ecosystem.
In contrast, Solana secured $14 billion in TVL (total value locked) on the network, with over 37 billion total transactions to date. But the hopes of Cardano becoming a real Ethereum alternative in recent months still remains high.
Meanwhile, the altcoin leader and main DeFi platform, Ethereum, is enjoying an increased interest, especially when the second-largest crypto to date managed to record a new all-time high of $4,664.91 on November 3.
Ethereum
eth
coins
Ethereum news
Cardano
ADA coin
Cardano Price
altcoins
cryptocurrency news
crypto news
Crypto Price
Ethereum Price
Solana