07 Sep 2021 Morgan Hayze
Institutional Interest In Bitcoin Skyrockets, Is BTC Set For New All-Time High
Meanwhile, The Fear & Greed Index For Bitcoin Managed To Hit A Score Of 79 Today, Signaling "Extreme Greed"
---
A substantial jump in demand from retail and institutional investors managed to put Bitcoin in an excellent position to shoot past $52,000 for the first time in 4 months. However, institutional demand struggled during the first three weeks of August, so the world's largest crypto fell in a rollercoaster price ride with a monthly low of $42,848.69.
But, the latest weekly fund flows report, published by CoinShares, shows a sharp increase in institutional inflows of Bitcoin-related investment products, resulting in $59 million worth of institutional inflows last week.
Bitcoin's $59 million institutional inflow resembles a large portion of the entire crypto investment products inflows - $98 million during the last week. Ethereum (ETH), Solana (SOL), Cardano (ADA), Polkadot (DOT), and Ripple (XRP) joined Bitcoin in attracting institutional cash during the past 7 days.
"Bitcoin saw inflows totaling US$59m, marking a potential turnaround in sentiment amongst investors. This is the first inflows following an 8-week spell of outflows, the longest endured by any digital asset investment product. Solana remains the favorite with weekly inflows totaling US$13.2m last week, doubling its total inflows year-to-date. While AUM has grown from US$15m the previous week to US$44m last week," CoinShares reported.
Another interesting topic CoinShares highlighted, is that Bitcoin is slowly losing ground to altcoins in digital asset investment products inflows. It turns out altcoins hold 35% of the total digital asset investments market, as investors started diversifying their portfolios.
"Ethereum saw the third week of inflows totaling US$14.4m, while market share is at a record 28%, highlighting that while some investors have protocol concerns, its dominance is continuing to rise. Other altcoins, such as Cardano, Polkadot, and XRP all saw notable inflows of US$6.5m, US$2.7m, and US$1.2m respectively," CoinShares added.
Meanwhile, as investor interest pushed Bitcoin into a four-month high, the uptick created a market-wide buying pressure.
The buying pressure pushed Bitcoin's Fear & Greed Index into "Extreme Greed" territory. The index measures market sentiment and the "extreme greed" value often means that more and more investors are trying to get their hands on the world's largest crypto. But, as Bitcoin's total supply is only 18,809,250 BTC, the added demand pushes the price per BTC up, so the crypto market could be in for another upwards rally.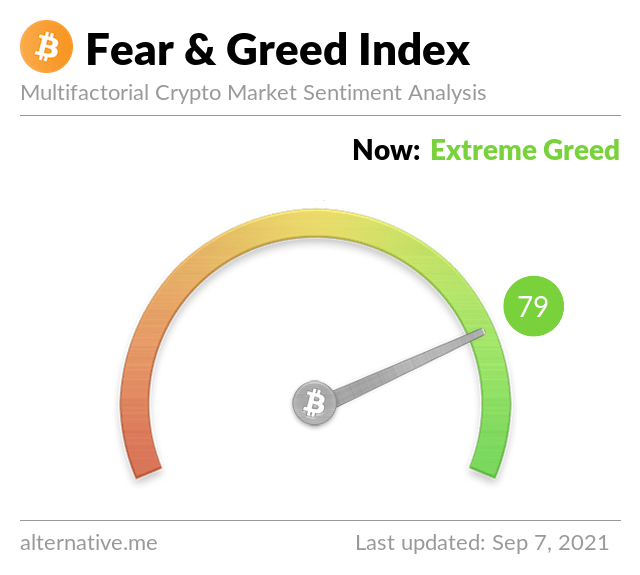 Source: Alternative.me
Тhe spike to Bitcoin's three-month high of $52,853.76 made market analysts believe that the price of the digital asset may reach $100,000 per BTC by the end of 2021. The statements are backed by accumulation patterns, pointing towards $100,000 as a possible endpoint for Bitcoin's yearly rally.
However, since its three-month high, the largest crypto to date lost some ground, trading at $49,046.17 per BTC as of press time.
Bitcoin
Cryptocurrency
btc
Bitcoin price
bitcoin news
cryptocurrency news
Crypto Price