09 Mar 2021 Anthony Lehrman
Bitcoin Breaks Above $52,000 Resistance, Analysts Predict $70,000+ Levels
Meanwhile, Institutional Support For Bitcoin Continues With The Launch Of A New Bitcoin-Focused Investment Company
---
Bitcoin, the world's largest cryptocurrency to date, seems to have jumped out of the sideways motion of the past couple of days, overcoming the crucial $52,000 resistance area to trade as high as $54,506.26 on March 9.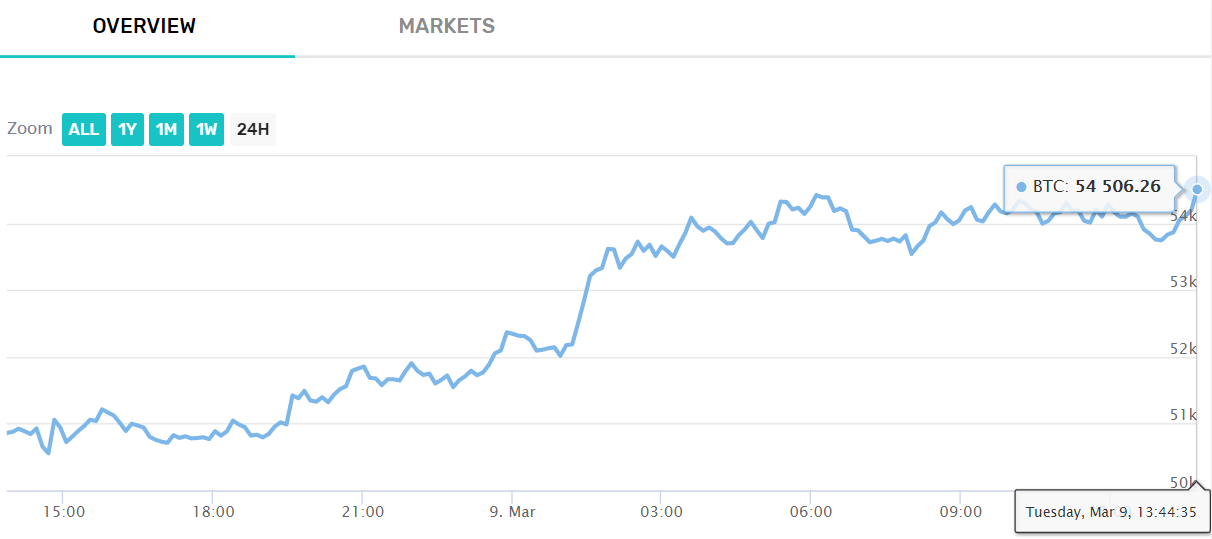 Source: CryptoBrowser.io
However, technical indicators are showing Bitcoin is still in a consolidation corridor, which may retrace the price per BTC back to around $53,500, which is still above the key resistance area. Currently, Bitcoin trades at $53,866.60 per coin, with a steady 15% increase in its trading volumes in the past 24 hours.
Furthermore, Bitcoin is back above $1 trillion in market capitalization, which is an 8 percent increase. Despite the bullish momentum, Bitcoin still sits 7.35% below its all-time high of $58,330.57, which happened on February 21.
The move above $50,000 would help Bitcoin bulls cement the $50,000 price mark as a key support zone. Market analysts like Die Welt's Holger Zchaepitz commented on the recent Bitcoin price gains, noting that "Bitcoin jumps >$54k aided by more signs of institutional interest in the largest cryptocurrency."
"Institutional interest sets the latest bull run apart from 2017's retail-driven surge, Goldman says. Much of the institutional demand has been driven by fears around asset devaluation," Zschaepitz added on Twitter.
Zschaepitz's opinion seems to be backed by one of the biggest industrial investment companies in Norway – Aker ASA. They announced the launch of a Bitcoin-focused investment company called Seetee. The company's sole investment asset would be Bitcoin, with a 1,170 BTC starting capital.
"Bit­coin can be ver­i­fied, di­vid­ed, re-as­sem­bled, stored, and trans­port­ed at vir­tu­al­ly no cost. It's the per­fect scarce digi­tal as­set by de­sign," Aker's chairman Kjell Inge Røkke stated in a letter to his shareholders. The project is backed by Ola Snøve, one of Norway's richest people, who invested ten percent of the initial Seetee capital and would be Seetee's Executive Chairman.
Meanwhile, both analysts and traders are signaling for a bullish wave, according to technical indicators like Bitcoin's Moving Average Convergence/Divergence (MACD). According to analysts, MACD behavior is about to repeat itself from when Bitcoin recorded its' all-time high in late February 2021. When looking into BTC`s future, some experts firmly stand behind the claim that BTC price can even exceed the $70,000 level in the upcoming months. This claim was made through utilization of Fibonacci levels.
Bitcoin
Cryptocurrency
Crypto Market
btc
crypto market monitoring
Bitcoin price
bitcoin news
bitcoin news today