05 Feb 2021 Samantha McLauren
January Marks A New ATH In Trading Volumes For Decentralized Exchanges
Meanwhile, Bitcoin Records Shortage On Crypto Exchanges Due To Large Quantity Purchases Made By Institutional Investors
---
The world of decentralized finance (DeFi) saw a massive boost in recognition аnd adoption in 2020, as trading volumes across the sector peaked in January 2021. According to data from Dune Analytics, trading volumes for the DeFi sector exploded to over $63 billion.
DeFi, as opposed to centralized exchanges has no central entity – decentralized exchanges rely on smart contracts for operation. However, using smart contracts is complex, and is often tied to Ethereum, as most of the DEXes operate on top of the altcoin leader's blockchain.
Nevertheless, interest in the sector appears to have endured a steady price increase, with trading volumes on decentralized exchanges spiking over 100% since their last all-time high in September 2020. During the "DeFi boom" of 2020, DEXes recorded a high of close to $30 billion.
Uniswap is the DEX leader, as the exchange`s trading volumes account for nearly half of the total trading volumes in the entire decentralized exchanges ecosystem with $30.13 billion, according to data from TheBlock. SushiSwap, 0x, and Bancor are next in the top DEXes by trading volumes, with Sushiswap controlling nearly a quarter of all trading volumes, while 0x and Bancor hold 7.25% and 7.1%, respectively.

Source: The Block
Meanwhile, the gains in trading volumes, seen in decentralized exchanges do not correspond the same way as the trading volume swings on centralized exchanges. The primary reason for the dissonance is Bitcoin supply levels on centralized exchanges hitting a low that has not been seen in the last two and a half years.
Data from Glassnode shows that the supply of Bitcoin and its price move in opposite directions. Since Bitcoin's stabilization from the COVID-19 market wipe in March, Bitcoin's price is in an almost constant price increase, while Bitcoin supply on exchanges is declining.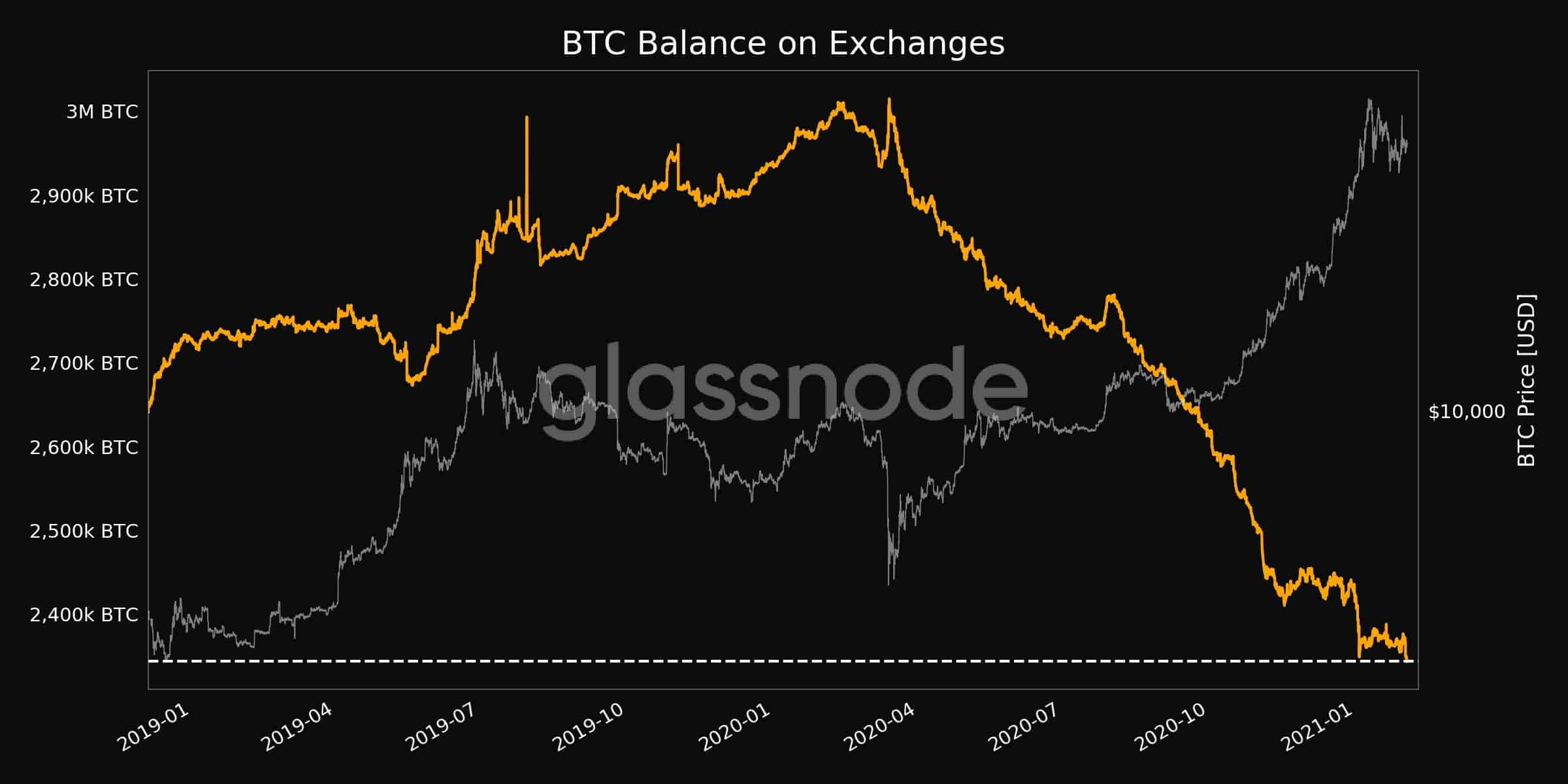 Source: Glassnode
Since the start of the supply drop, centralized exchanges lost track on 600,000 Bitcoins – from 3 million to 2,4 million total supply. The difference is worth $22,8 billion.
The primary reasons for the supply drop are the greed effect among traders who decide to hold Bitcoin, rather than put it in exchanges, and the increasing institutional investor interest. The investor interest is mainly due to companies entering into the crypto space via Bitcoin. And with companies like Grayscale, PayPal, and Square accumulating large amounts of Bitcoin, their actions cause a shortage of Bitcoin on crypto exchanges, which further drives the prices up.
Bitcoin
Cryptocurrency exchange
Exchanges News
trading
exchange
decentralization
Defi
Decentralized Exchange