06 Dec 2021 Anthony Lehrman
LUNA Reached Another ATH, Marking A 2700% Price Increase Since May
Furthermore, The Total Value Locked On The Terra Blockchain Soared To Nearly $14 Billion
---
The crypto sector is still trying to get afloat the bearish momentum from last week, which pushed most of the crypto projects down 10-20% over the past seven days.
Terra's native token - LUNA, on the other hand, is among the few cryptocurrencies, which marked a weekly price increase – almost 33%, to be precise.
Furthermore, LUNA managed to hit yet another all-time high today, reaching a price point of $77.94 on December 5, after making an impressive bullish cycle since the May 2021 massive sell-off.
The May sell-off was among the largest hits for the crypto community, but LUNA was among the worst-hit cryptocurrencies with 81% of its value evaporating and even knocking TerraUST (UST) off the peg.
Nevertheless, LUNA made a great recovery, adding a 2700% increase in value, with one of its prime contenders, ETH, having only a 270% increase since the crash.
According to data from CoinMarketCap, LUNA also managed to flip some of the most popular projects in the crypto space - the meme-inspired coins DOGE and Shiba Inu, as well as projects like Litecoin (LTC), Polygon (MATIC), TRON (TRX), Bitcoin Cash (BCH), and Stellar (XLM).
Currently, LUNA is the 10th largest cryptocurrency, with a price point of $63.38 a market cap of $24.8 billion.
Meanwhile, online crypto researcher Wu Blockchain emphasized that Terra's total value locked (TVL) has recently hit $13.92 billion.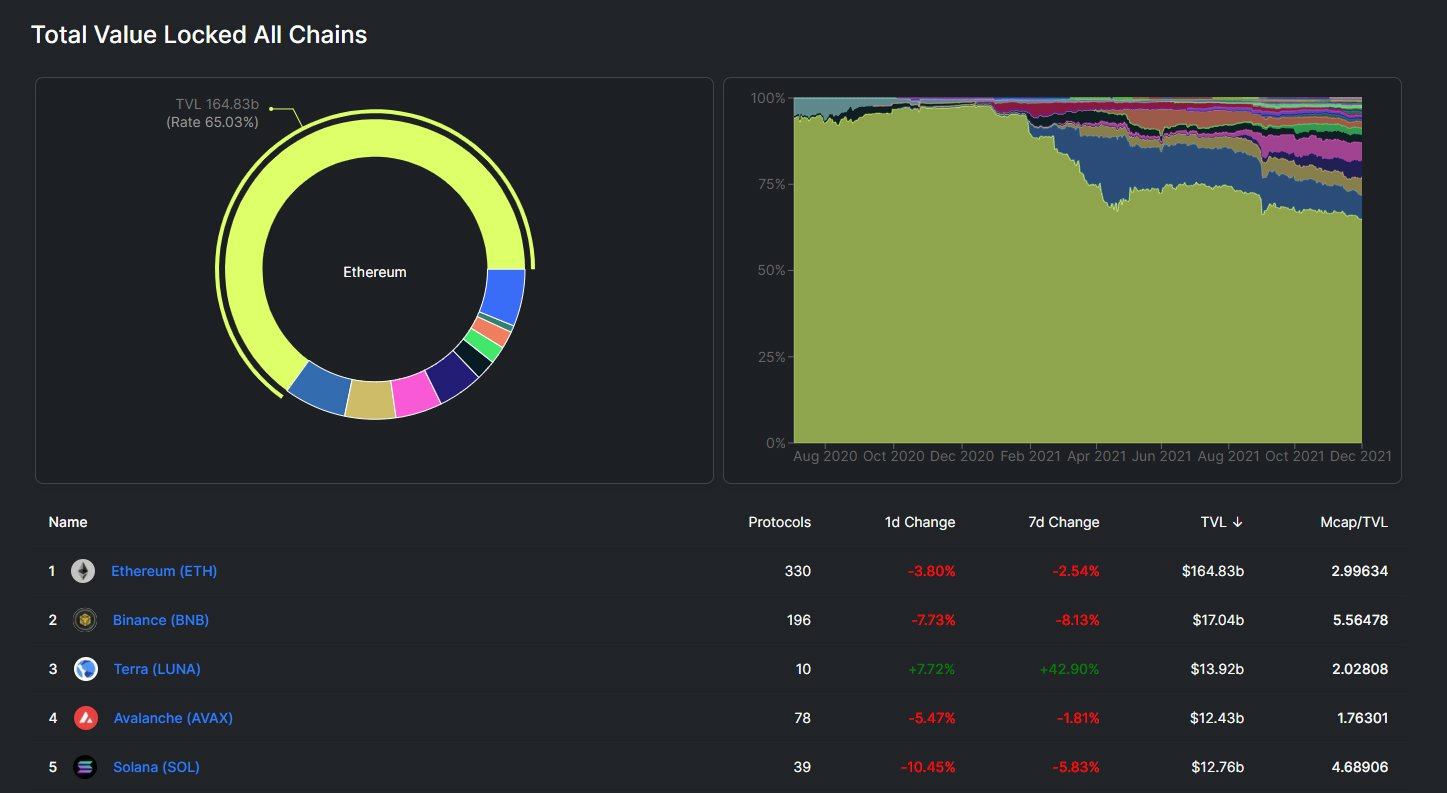 Source: DeFi Llama
"TVL on the Terra continues to hit new highs, surpassing Avalanche and Solana to rank third. In the past 7d, Terra-TVL has grown 42.9%. Terra Token Luna also quickly recovered the decline and set a new high." Wu Blockchain noted.
Meanwhile, the bearish trend in the crypto sector continues, as Bitcoin fell below $50,000 to trade at $48,003.43, dropping 16% off its price in the past seven days.
Ethereum, also dubbed as the largest DeFi blockchain to date, has also fallen down, but not so much as Bitcoin, recording only a 7.70% price decline and a current price point of $4,073.52.
The second-largest DeFi network, Binance Smart Chain (BSC), and its native Binance Coin (BNB) fell 8% to a current trading price of $565.51.
Cryptocurrency
token
cryptocurrency news
crypto news
Crypto Price
Market Capitalization
TVL