29 Sep 2021 Jane Whitmoore
Polygon Flipped Ethereum For Daily Active Addresses For The First Time
A Total Of 351,000 Active Addresses Were Recorded On MATIC, While Ethereum Stands At 326,000
---
Polygon managed to reach yet another milestone, surpassing Ethereum in terms of unique daily active addresses. The increase with Polygon is substantial, as on September 20, the total amount of daily active addresses sat below 200,000, while Ethereum was sitting around its current values.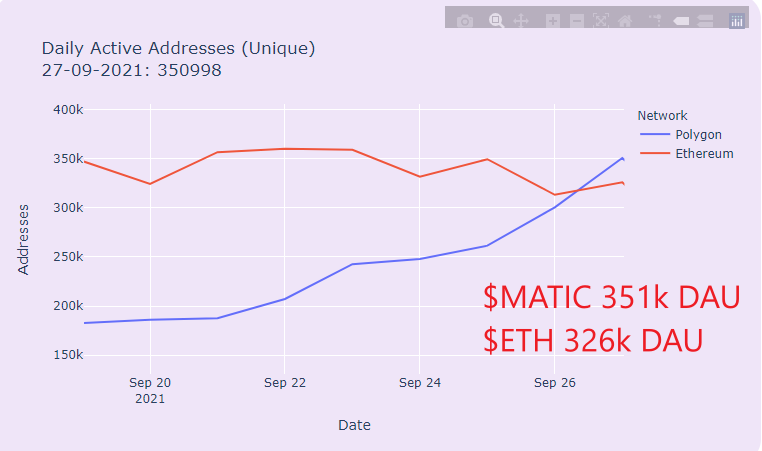 Source: DAU Polygon: Mihailo Bjelic Twitter
Polygon co-founder Mihailo Bjelic announced the news on Twitter, noting that the flip is "another huge milestone for Polygon.
"We eclipsed Ethereum L1 in daily active addresses for the first time! This is just the beginning. We are working round the clock to improve our tech, strengthen our ecosystem and increase adoption. Let's bring the world to Ethereum!" Bjelic wrote on Twitter.
However, Polygon is not a direct rival to Ethereum – rather, it is a Layer 2 protocol build to connect several Ethereum-compatible blockchains. Furthermore, the Polygon blockchain network underwent major development work in 2021 and has also seen major institutional fund inflows over the last few months, with billionaire Mark Cuban being among the top investors.
Another great thing about Polygon's blockchain is the reduced gas fees and network transaction speeds.
The news about Polygon's achievement quickly pumped its price and mitigated the consequences of last week's downwards push. However, the network's MATIC token is still shy of its weekly high of $1.24, currently trading at $1.09 per MATIC.
Meanwhile, the adoptions from Cuban, Ernst and Young, Cream Finance, and Set Protocol helped MATIC to make a huge leap in its price. The slight drop in the token's price tag is still not potent enough to erase MATIC's gains since the start of 2021. MATIC started the year with a base price of $0.018 per token and skyrocketed to its all-time high of $2.68 on May 18, 2021.
Since MATIC's all-time high, the price per token slowly subsided to $0.6434 in July, before jumping permanently above $1 until the present day.
Ethereum
Blockchain
Ethereum news
crypto news
Blockchain News
Polygon