29 Oct 2021 Simon Briggs
Memecoins In A Fierce Battle Amid ETH All-Time High
Shiba Inu And Dogecoin's Battle For The Ninth Place In The Crypto Rankings Pushed SHIB's Price Up By 142% Weekly
---
Two of the most popular crypto projects to date, Shiba Inu (SHIB) and Dogecoin (DOGE) entangled in a fierce price tango, as popularity surges managed to rearrange the market capitalization rankings.
However, since the price per asset increased dramatically, especially on SHIB's side, the price jumps can lead to data deviations. According to Coinbase Pro, a correction in the maximum number of decimals that can be entered on the order form has to be performed, dropping from eight to seven.
The fix happens, as SHIB's price exploded, adding 140% to its price in just a week, despite a heavy 20% downwards correction after its all-time high of $0.00008616 on Oct. 28. In October, SHIB experienced almost a ten-fold price increase.
"Starting today 10/28 at 4 pm PT we will be updating our precision for SHIB-USD & SHIB-USDT order books. Precision will be reduced from .00000001 to .0000001. We will maintain this level unless the price of SHIB-USD drops below .00003. Updates will be posted here & via Status Page." Coinbased explained.
As of press time, Dogecoin regained its position as the ninth-largest crypto to date, but the differences in market capitalization between the two meme coin arch enemies are small and further shifts are to be expected. If the battle between DOGE and SHIB continues, they may be well heading towards Polkadot's position as the eighth-largest crypto to date with a market cap of $41,9 billion, while USD Coin (USDC) is a lesser threat to both coins with a market cap of $32,7 billion.
The battle of the meme coins comes amid Etherem seeing its price eclipse May 2021's peak value and set an all-time high of $4,400. The new high comes just nine days after Bitcoin managed to record its all-time high and 171 days after Ethereum reached its previous peak.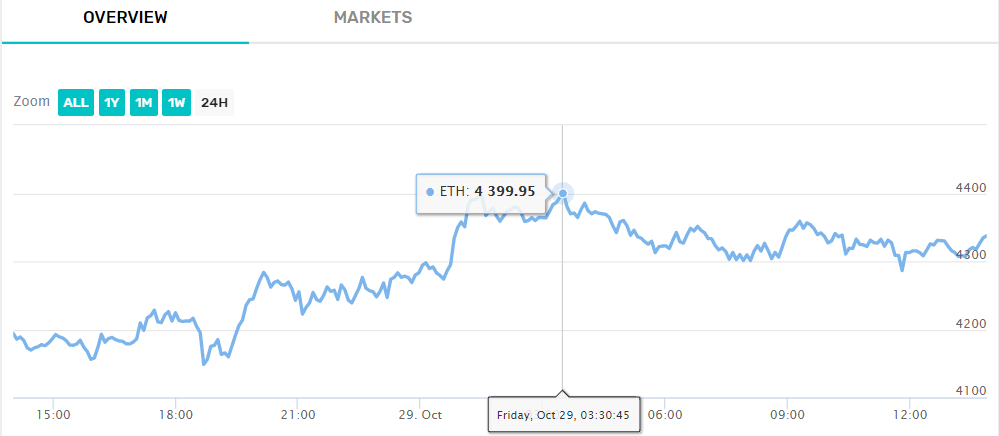 Source: CryptoBrowser.io
Furthermore, data from cryptobrowser.io shows that Ethereum made a price increase of over 50% in October alone, and managed to secure a market capitalization of $511 billion. A huge part of Ethereum's success is the fact that the vastly Ethereum-dependent DeFi sector is currently locking in over $100 billion in total value.
Experts believe that an altcoin season is imminent, following Bitcoin's recent rally.
Meanwhile, the altcoin season may be pushed back by the ongoing Bitcoin adoption, as business intelligence company MicroStrategy published its Q3 of 2021 report, highlighting that the company purchased a total of almost 9,000 Bitcoin.
With its latest acquisition, MicroStrategy now holds around 114,000 BTC, which makes it one of the largest enterprise Bitcoin holders to date. Furthermore, MicroStrategy's value increased exponentially, especially with Bitcoin's latest bullish rally.
Michael J. Saylor, CEO of MicroStrategy noted that "MicroStrategy delivered strong third-quarter results that demonstrated successful execution on both our operational and digital asset strategies."
"We also significantly expanded our BTC holdings in the quarter, adding nearly 9,000 bitcoins to our holdings after successfully raising capital in the quarter through our at-the-market equity offering. MicroStrategy is the world's largest publicly traded corporate owner of BTC with over 114,000 bitcoins. We will continue to evaluate opportunities to raise additional capital to execute on our bitcoin strategy," Saylor added.
However, MicroStrategy is not the only large-scale business holding BTC. Several other companies including Tesla, Meitu, and Square expanded their BTC portfolio significantly in the first three quarters of 2021, with Tesla even considering adding Bitcoin back to its list of payment methods.
Ethereum
Altcoin News
Cryptocurrency
dogecoin
Ethereum news
altcoins
dogecoin cryptocurrency
cryptocurrency news
shitcoin
Shiba Inu