29 Jan 2020 Marsha Tusk
OneCoin Allegedly Used Fake Reviews To Lure Victims
According To New Research, The Accused Of Being A Ponzi Scheme OneCoin Project Used Counterfeit Accounts On Global Review Platforms Such As Quora And Trustpilot
---
OneCoin, believed to be one of the largest Ponzi schemes in the history of the crypto sector, helped themselves through "inauthentic" profiles on Quora and TrustPilot in order to boost their online reputation. The project launched the illicit campaign at the same time as OneCoin's founder – Ruja Ignatova, disappeared. Ruja abandoned the project on October 25th, 2017
In March 2019 (almost two years later), New York prosecutors arrested one of OneCoin's "top leaders." The investigators confirmed that OneCoin illicitly took possession of over $4 billion, mostly invested from Chinese customers. The arrested Konstantin Ignatov, as well as the self-proclaimed "cryptoqueen" Ruja Ignatova, received accusations of wire frauds, money laundering, and securities fraud.
OneCoin's attorney at law, Mark Scott, also received accusations for laundering over $400 million worth of OneCoin tokens in the state of New York. Meanwhile, several nations took action to protect customers and investors from the fraudulent Ponzi scheme.
The Digital Forensic Research Lab (DFRLab) conducted review research, only to find out 90 percent of the 579 reviews for OneCoin were positive. Strangely, over 400 reviews "emerged" on sites like TrustPilot and Quora in just a month. However, there were still one-star reviews, but due to the high volume of positive reviews, the number of low score reviews was benign.
Although the research lab didn't clarify if the reviews were utterly "inauthentic," TrustPilot's user interface showed "signs of fluctuations of positive reviews, strictly associated with OneCoin." Furthermore, DFRLab concluded that most of the reviewer profiles were without a profile picture or biographic info.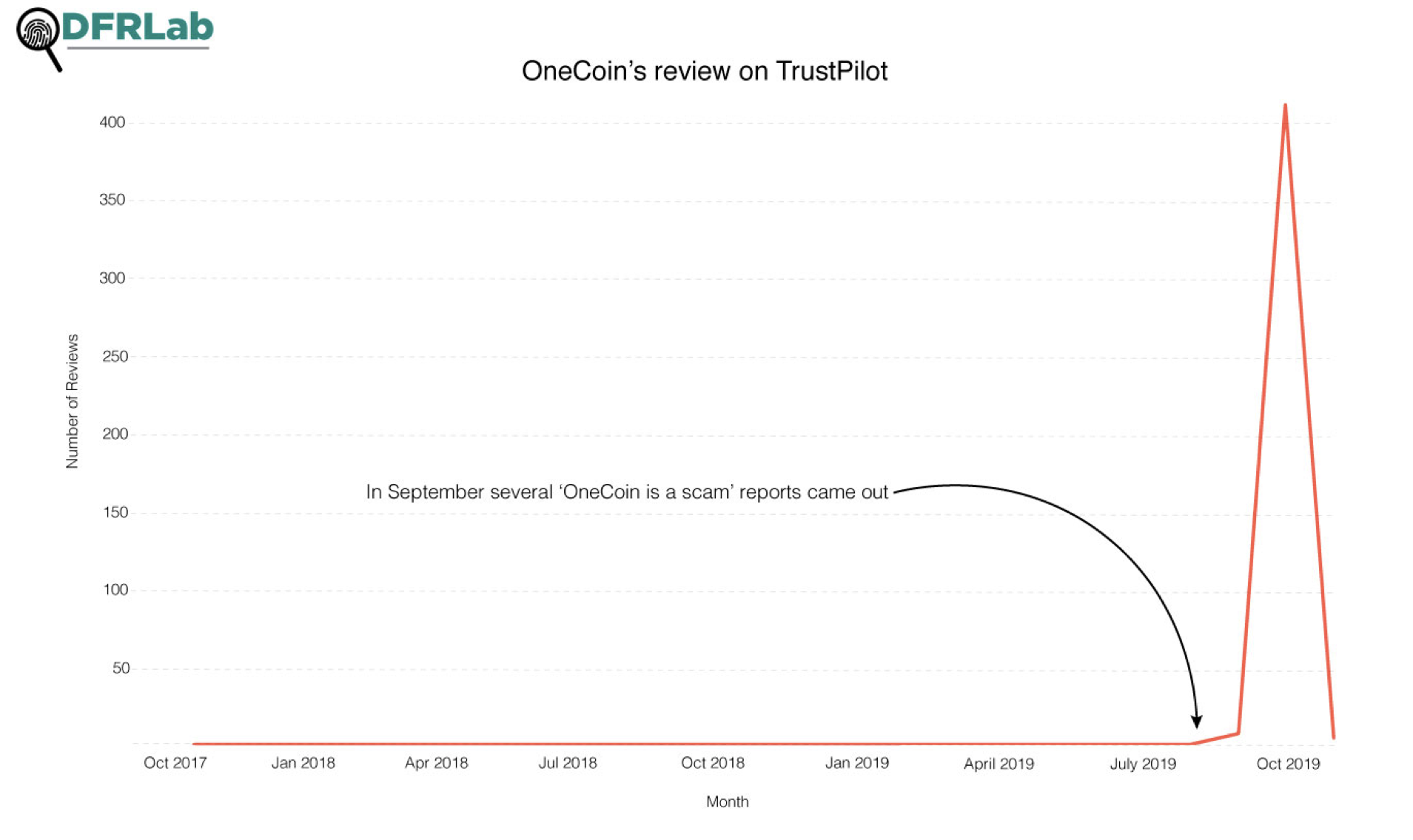 Source: DFRLab
"It is worth noting that most of the fake profiles showed exclusive interest in the project or OneCoin-related topics," the report reads. Furthermore, the majority of profiles were disguised as crypto-savvy experts but never shared their thoughts on the future value and viability of OneCoin. Also, when doing a comparative search, the researcher found no evidence of likelihood between the users on the rating platforms and the users of other social media, which indicates the use of fake profiles.
Ruja Ignatova's OneCoin project, considered to be one of the largest crypto scams in history, gained traction by implementing a multi-level marketing (MLM) approach in victim luring. Following the strategy of companies like Herbalife or Amway, Ruja Ignatova set her own crypto empire before vanishing. The extensive branching of established MLM clients was OneCoin's ultimate attack target, as the Ponzi would rely on an already established network of individuals.
ICO news
Cryptocurrency
Scam News
Crypto Market
ICO
crypto
crypto market monitoring
scam
ponzi
scammer