21 Apr 2023 Jane Whitmoore
Only 8% Of Bitcoin Is Left For Mining, Experts Reveal
Meanwhile, Bitcoin Saw A Turbulent Couple Of Days, Falling Below $30,000
---
There is currently a serious Bitcoin shortage around the world, as only 8% of the total supply is still left for mining with 19.4 million BTC, or around 92% of the 21 million Bitcoin maximum, now in circulation. With more individuals becoming aware of the value and significance of cryptocurrencies, this scarcity presents a significant hurdle but also acts as a leverage point for the world's biggest crypto to date.
With a reliable 21 million supply cap, Bitcoin stands alone as a proof-of-work giant. Although many individuals are still unaware of Bitcoin's potential, soon everyone will understand how important it is to the financial system.
Less than 1% of people are thought to currently fully comprehend the worth and potential of Bitcoin. These people are taking advantage of the supply as much as they can, holding on to their money, and refusing to sell at any price. This commitment to digital currencies demonstrates confidence in their long-term value.
The demand for the small amount of Bitcoin still in circulation is anticipated to skyrocket as more people become aware of its worth and scarcity. As individuals and organizations from all around the world battle for the final 8% of the supply, the surge in demand may cause Bitcoin's price to rise considerably.
But will Bitcoin hold on?
Despite a rise of nearly 70% so far this year, the price of Bitcoin is still almost 60% behind its record high from November 2021. According to data from CoinDesk, the cryptocurrency is currently trading at a little under $28,500 on April 21, with prices breaching below $28,000 briefly before rebounding its current price point.
This week, Vetle Lunde, a senior analyst at K33 research, predicted that if Bitcoin continues to move in the same direction as it did following the 2018–2019 bad market, predicted that Bitcoin may reach as high as $45,000 within a month.
According to Lunde, there are many parallels between Bitcoin's year-to-date surge and its route to recovery during the 2018–2019 bad market.
A recent paper by Lunde reveals that it took Bitcoin roughly 370 days to reach the bottom from the cyclical high for both the most current bear market and the one that occurred between 2018 and 2019. According to Lunde, Bitcoin is down roughly 60% from its prior heights 510 days into both cycles.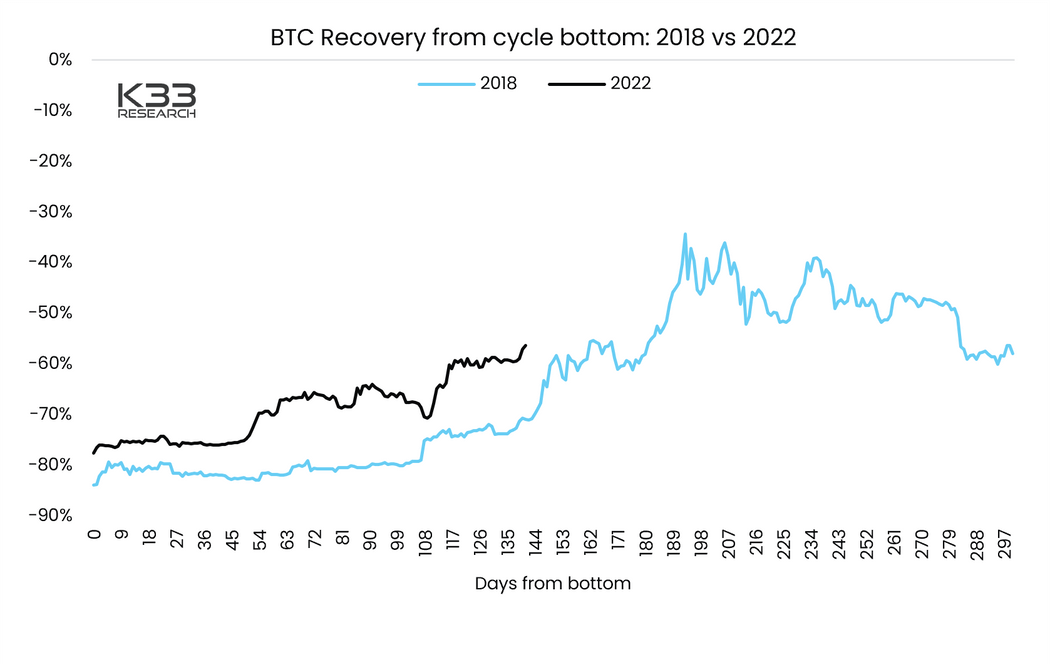 Source: K33 RESEARCH
556 days after hitting its 2017 peak of $19,752, Bitcoin's bear market rally peaked in June 2019 at $13,852. This year, if the cryptocurrency follows a similar pattern, it may rise as high as $45,000 on or around May 20, according to the analyst.
Bitcoin
mining
btc
Bitcoin mining
Bitcoin price
bitcoin news
cryptocurrency news
crypto news
Crypto Price