18 May 2020 Simon Briggs
Over $7 Billion Worth Of Stablecoins Are Now Under Ethereum's Hat
Is The Stablecoin Market Showing Signs Of True Adoption Of Ethereum-Based Products And Services?
---
Just two months before the much-anticipated ETH 2.0 network update, data from Ethereum monitoring service USDonEthereum.com shows that over $7,3 billion worth of stablecoins are currently circulating on the Ethereum's blockchain.
Stablecoin projects are designed to mitigate the volatility issues cryptocurrencies have, by pegging stablecoins to a single or a basket of cryptocurrencies. The most of the value stablecoins have on Ethereum's blockchain goes to Tether (USDT), as the leader in stablecoins currently has over $5,73 billion worth of USDT tokens operating under Ethereum's hat.
The second most-influential stablecoin on the Ethereum's network is USDCoin (USDC), with a total of $726 million worth of tokens. Paxos (PAX) is third with a little over $250 million, while BinanceUSD (BUSD) managed to secure $180 million of the total $7,3 billion stablecoin market share on Ethereum.
Other stablecoin projects include Gemini Dollar (GUSD), MakerDAO's DAI stablecoin, as well as Huobi USD (HUSD).
Ethereum, however, is still the most dominant altcoin, mostly due to its smart contract capabilities, which made stablecoin projects bloom after the 2018 crypto winter. Meanwhile, in 2019 the Decentralized Finance (DeFi) applications market proliferated and secured over a billion dollars, locked in DeFi apps until February 2020.
The most probable reason for the DeFi blooming is that Ethereum is freed from any fiat interference, as interest and loans are transferred solely on a decentralized ledger, which leads to a boost in the adoption of DeFi apps.
Gaining traction in 2019 and going strong in 2020, stablecoins managed to outperform regular cryptocurrencies. For example, Tether (USDT) jumped over Bitcoin Cash to claim the fourth place in the ranking of the best-performing cryptocurrencies.
And despite crypto prices stabilizing in the past week, Tether has always been targeted as a go-to "gateway" to the world of cryptocurrencies. Statistics show that in January 2019, USDT tokens on Ethereum's network were worth only $60 million, compared to the entire share of stablecoins, running on Ethereum, which roughly estimated at $835 million.
However, in April 2020, the share of USDT in Ethereum's stablecoin mix is now $4,4 billion out of the entire ETH stablecoin share of $5.9 billion. In just a month Tether gained $1,3 billion, which correlates with respective trading activities in the crypto sector.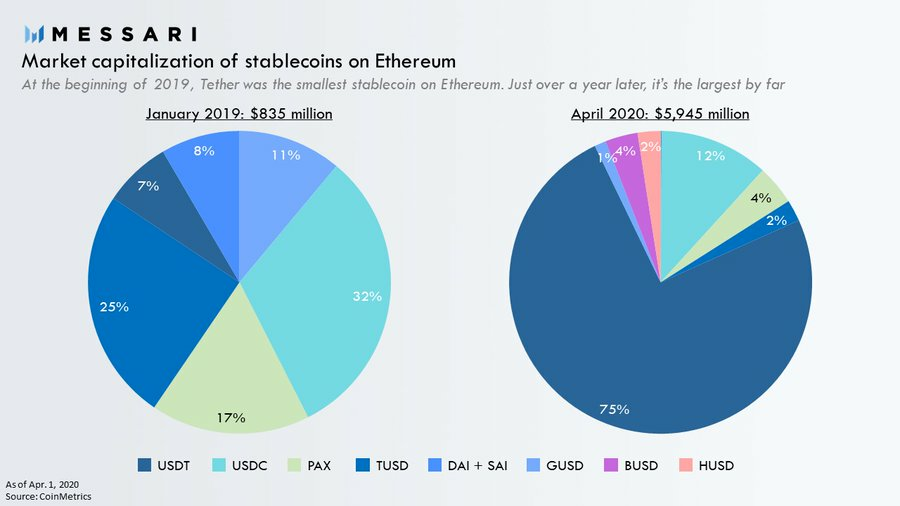 Source: Messari Twitter account
Tether is also constantly minting more and more tokens into circulation, as the demand for USDT increases. Crypto transactions watchdog WhaleAlert published a report, showing a fresh batch of 200 million USDT tokens entered into circulation on May 14. The minting spree also correlates with the 110% year-to-date market growth by the controversial stablecoin.
Ethereum
Blockchain
Tether
Blockchain Development
Blockchain Application
Gemini
eth
Ethereum news
market
maker
Gemini Dollar
Markets
USDT
USDC
Binance USD
Defi