20 Apr 2021 Anthony Lehrman
Polkadot And Cardano Step Up Their Staking Capitalization Dominance
Meanwhile, Projects Like Tezos (XTZ) Are Slipping Away From The Top Ten By Staked Capitalization
---
The recent downward motion done by the world's best-performing crypto assets to date, didn't stop projects like Cardano (ADA) and Polkadot (DOT) from increasing their dominance over other projects in terms of staked capitalization.
According to data from StakingRewards, Cardano is the top blockchain in staked capitalization, clocking in at around $27.3 billion worth of ADA tokens allocated for network security. The staked ADA tokens represent 73% of the entire circulating supply of ADA tokens, which are estimated at around $36.6 billion. According to StakingRewards, the current annual reward for staking ADA is estimated at around 7%.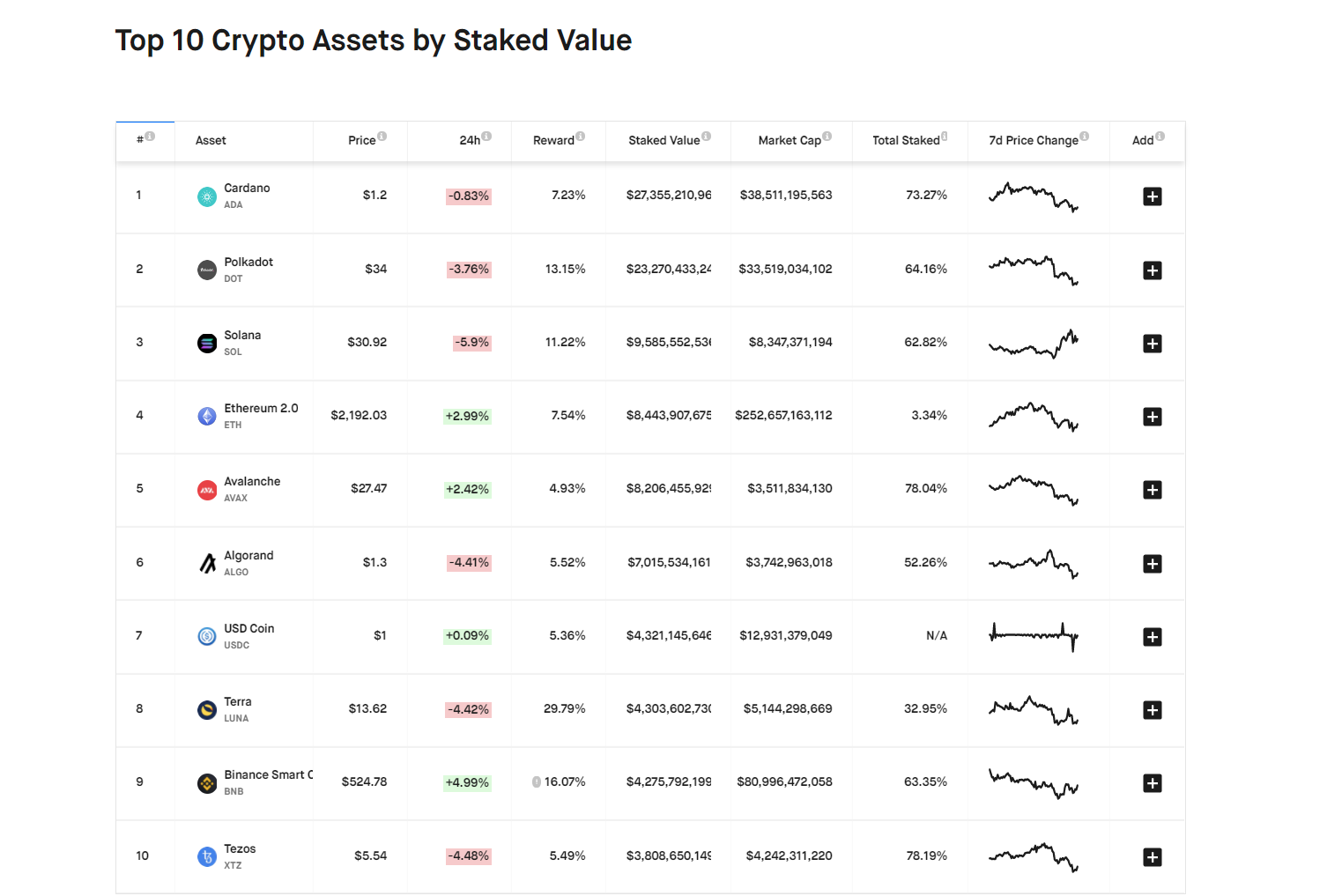 Source: StakingRewards
Polkadot (DOT) comes second in the staked capitalization ranking, securing $23.2 billion worth of DOT tokens locked in the blockchain. The locked amount is roughly 64% of the entire DOT in circulation while staking rewards for DOT are estimated to be almost double than Cardano's - around 13% annually.
When combined, Cardano and Polkadot are responsible for around 8% of the entire $620.6 billion staking market across the crypto sector.
Meanwhile, Solana (SOL) managed to surpass the long-awaited Ethereum 2.0 (ETH2) blockchain in third place, reaching $9.4 billion in SOL tokens staked. However, SOL staking and validation may be time-locked (vested) and removed from circulation, which may give an answer about the seemingly low market cap of $8 billion.
Tezos (XTZ), on the other hand, lost its title of being "The king of staking" and plummeted to the 11th spot in the ranking with a total staked capitalization of little over $3,5 billion, and a yield of 5.5% per annum. The rank shift is drastic, as in mid-December 2020 Tezos was ranked fourth in terms of staking. The project's total market capitalization, however, took a greater hit, as the project slumped to 27th place, according to Cryptobrowser's ranks.
The long-awaited Ethereum network upgrade, dubbed ETH 2.0, and its staking contracts are ranked as the fourth-largest staked asset with $8.2 billion. According to official data from ETH 2.0's launchpad, a total of 3.9 million ETH were locked into the Beacon Chain deposit contract. However, the 3.9 million ETH stake represents just 3.4% of Ethereum's total circulating supply, which means Ethereum's staked capitalization may continue to grow in recent months.
However, the Ethereum community is eager for the merge of the native Ethereum blockchain and the staking chain and the transition to a Proof-of-Stake consensus algorithm, which could boost staking rewards.
According to Eth2 researcher Justin Drake, the currency 7% annual staking reward may double to 14% and could jump to around 25% in the moments after the merge.
"Staking rewards likely to at least 2x with EVM gas fees. I expect ~25% staking APR immediately after the merge. More rewards → more staking → more economic security", Drake wrote on Twitter.
Ethereum
Cryptocurrency
Crypto Market
crypto market monitoring
Cardano
ADA coin
cryptocurrency news
Tezos
Ethereum 2.0
cryptocurrency market
Polkadot