19 Oct 2020 Simon Briggs
Polkadot Set To Outperform TRON, EOS, And ETH As Developer Activity Skyrockets
Furthermore, Polkadot Plans To Release A Wrapped BTC On Their Blockchain, Scheduled For February 2021
---
Developed by Ethereum co-founder Gavin Wood and Web3 Foundation's Technology Director Peter Czaban, Polkadot may become a major competitor to mainstream projects like Bitcoin and Ethereum. The core mechanism of Polkadot enables a user-friendly decentralized web, seamlessly connecting all blockchain networks.
According to a report by Outlier Ventures, the number of monthly active developers on Polkadot's network increased by 44%, while many of the protocols recorded negative developer activity. EOS and Bitcoin Cash, for example, dropped by 80% and 60%, respectively, in terms of monthly developer activity. In the meantime, the current crypto and altcoin leaders, Bitcoin and Ethereum marked a little less than 20% in developer activity decline.
With developer activity across the industry leaders declining, Polkadot aims to connect independent blockchains into a unified worldwide ecosystem. The problem with blockchain interoperability comes as private blockchains, oracles, public and permission-less networks tend to work without connections between them. Polkadot would serve as a bridge for decentralized apps, services, and institutions.
Polkadot's developers, however, don't rely on smart contracts. Instead, they can utilize their own blockchain, and choose preferred transaction speeds and costs. The feature is suitable for projects, which can't run with smart contracts infrastructure.
"We are going to see a lot of different innovative products that can't exist in a smart contract environment. Game blockchains, ensuring gamers don't cheat. Blockchains within consortia. They are difficult to deploy in a smart contract environment," Gavin Wood noted.
Dan Morehead, founder of Pantera Capital Management noted that Polkadot is trading at a tenth of Ethereum's value, as of press time, but has the chance to become a strong competitor to ETH. Furthermore, Polkadot's developers announced that their platform would add support for wrapped Bitcoin in the first months of 2021. The move comes as a direct competition to the wrapped Bitcoin on Ethereum's blockchain, which currently has over 142 thousand BTC, running on Ethereum.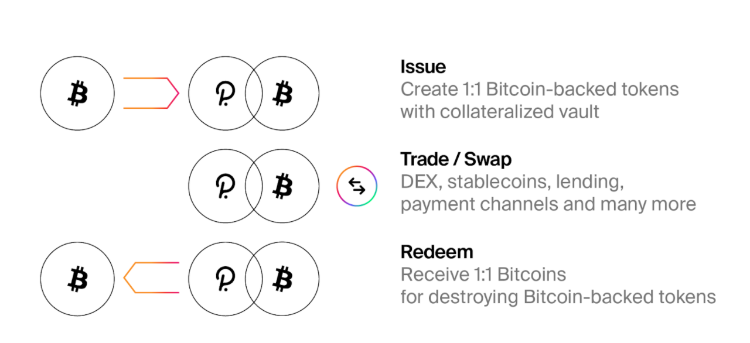 Source: Polkadot Network
The PolkaBTC system would rely on a Proof-of-Concept consensus algorithm, with an alpha version scheduled for November 2020, and a mainnet release scheduled for February 2021. According to an official press release, Polkadot's Bitcoin para chain would be "open and accessible to anyone."
"In the spirit of permissionless systems like Bitcoin, anyone can participate in operating the bridge: contrary to other approaches, you do not need permission or any additional token to become a maintainer and start earning fees", Polkadot noted.
Bitcoin
Ethereum
Blockchain
TRON
Cryptocurrency
Crypto Market
EOS
Blockchain Development
Blockchain Application
btc
eth
Smart contract
decentralization
dex
Smart Contracts
Blockchain technology
Pantera Capital
Polkadot