20 Aug 2021 Simon Briggs
Polygon Launches DAO To Bring DeFi Platforms Together
DeFi Big Players Like Chainlink, Aave, And Sushiswap Already Onboard
---
Ethereum layer-2 scaling solution Polygon announced its plans to "unite" DeFi platforms into a single decentralized autonomous organization (DAO), which spreads governance responsibilities across a distributed network rather than in the hands of a centralized authority.
According to Polygon's plans, a DAO would bring disparate DeFi platforms and services together via a shared architecture. In order to do so, Polygon would pump as much as $100 million, locked in its DeFi fund, to create and maintain the DAO, as well as to finance projects that users think can help push the DeFi industry forward.
Existing Polygon users may receive a "present" in the form of an airdrop of the new DAO governance token.
"Polygon's overarching intention is to decentralize specific internal decision-making and invite the community to have a say in the ongoing development of the Polygon DeFi sector," the company announced, adding that "the venture also intends to foster greater cross-collaboration and compatibility within community projects."
Decentralized oracle network Chainlink, Polygon-driven lending market Aave plus the Ethereum-based decentralized exchanges SushiSwap and QuickSwap are already onboard with the project.
However, as Polygon described, coordination mechanisms in a DAO have to be carefully tailored and experimented with. Currently, DAO membership happens to be low, despite Polygon deploying luring mechanisms like NFT airdrops for active members. In contrast, the overall number of daily active addresses continues to rise at a rapid pace, especially throughout the past several months, as visible in the graph below.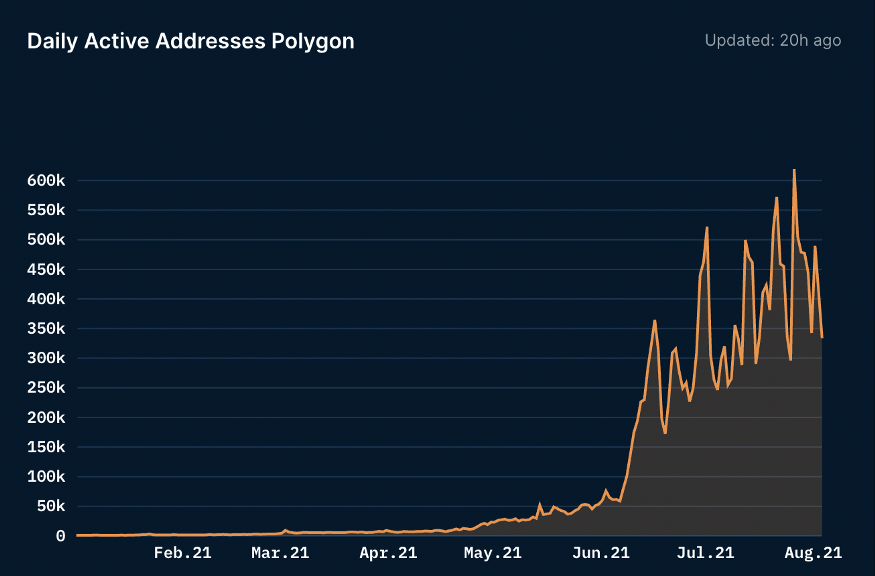 Source: Polygon
To combat low member activity, Polygon would roll out a proposal-making mechanism, where each committee member has to give at least one improvement proposal in the three-month tenure of each member in the council. If members fail to do so, their place in the committee would be given to another committee member. A total of three committees would be created – the first would be for Polygon-native projects, which would operate small grants of under $100,000. The second committee would include blue-chips like QuickSwap, Sushi, AAVE, and infrastructure providers like ChainLink and theGraph to help formalize the process via forum discussion and a snapshot signaling vote from the community.
The third and final committee would be for web3 development and supporting Polygon with cross-chain operational tools.
Polygon, which rebranded in February from Matic Network, a layer-2 scaling solution for Ethereum, managed to bring further tools for developers to tap into Ethereum's ecosystem in the form of dapps. Furthermore, last week Polygon announced its plans to do an M&A deal with fellow scaling solution Hermez for $250 million. Polygon would inject the Hermez token into its network via a swap, and integrate its transaction-rollup technology as a Polygon service.
Blockchain
Blockchain Development
Blockchain Application
decentralization
decentralized
Blockchain News
Defi
Decentralized Finance
Polygon