30 Jan 2023 Morgan Hayze
Polygon (MATIC) Adds 50% Since The Start Of 2023 Even After Massive Whale Sell-Off
It Turns Out That MATIC Outperformed Both Bitcoin And Ethereum In January 2023
---
So far 2023 has proven itself to be fruitful for the crypto sector, especially when the market leaders Bitcoin and Ethereum positioned themselves far above their accumulation lows of late 2022. And while the value of Bitcoin and Ethereum skyrocketed nearly 44% and 38% in the past 30 days, respectively, it is Polygon (MATIC) that recorded over 50% increase in its value.
Interestingly, the tenth-largest cryptocurrency by market capitalization – MATIC, seems to have surpassed its Layer-1 party – Ethereum, as the token reached a monthly high of $1.2, skyrocketing from a bottom near $0.7 per MATIC.
Interesting times ahead for Polygon
The Ethereum scalability solution – Polygon, is scheduled to undergo a heavy overhaul, as Polygon's zkEVM update now has an official date and will launch soon, according to Polygon co-founder Sandeep Nailwal.
The zkEVM update would streamline Polygon's transaction throughput by implementing zero-knowledge proofs to verify large batches of transactions. Mihailo Bjelic, co-founder of Polygon, even put Polygon and Ethereum next to transaction giants like Visa in terms of transaction processing speeds.
MATIC gains despite whale sell-off
Meanwhile, MATIC whales tried to ride the tidal wave in Polygon's token performance. For instance, one early holder sold 4.5 million tokens in exchange for 5.2 million DAI at an average price of $1.14. The tokens first got into the holder's wallet at a price point of $0.02 per token.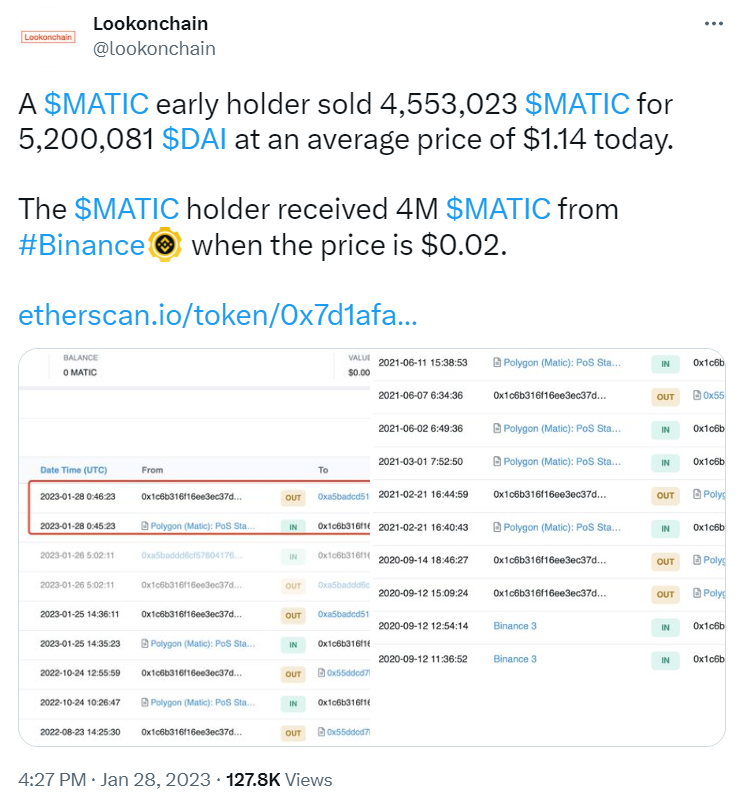 Source: Twitter
Experts believe that the primary reason behind such a move is the 50%+ price increase of MATIC, especially after a rollercoaster 2022 for the token – falling from a high slightly above $2 to a low of $0.3228 just six months later.
However, MATIC is still down almost 62 percent from its all-time high of $2.92 in December 2021. If MATIC was at this price point at the time of the transaction, the holder would have received $11.7 million in DAI stablecoin tokens.
Bitcoin
Ethereum
btc
eth
Ethereum news
Bitcoin price
bitcoin news
cryptocurrency news
crypto news
Crypto Price
Ethereum Price
Polygon