08 Jun 2020 Jane Whitmoore
Russian And Finland Exchanges - Top Choice For Illegal Bitcoin Activities
The Two Countries Reported 5,23% And 12,01% Of All Bitcoin Received From Illicit Actions, Respectively
---
CipherTrace, a blockchain analytics company, published a report, stating that Finland and Russia have become hotspots for hiding illicitly acquired cryptocurrencies.
According to the Cryptocurrency Crime and Anti-Money Laundering report by CypherTrace, since the start of 2020 approximately $1,36 billion worth of cryptocurrencies were stolen, or a result of hacking of fraudulent behavior. However, the company noted that the amount is still below 2019's $4.5 billion total.
"Three years in a row Finland ranks as the #1 place to store criminal BTC. Local cryptocurrency exchange LocalBitcoins, which is one of the largest P2P exchanges to date, accounts for 99 percent of the total illicitly acquired BTC in Finland.", the report states.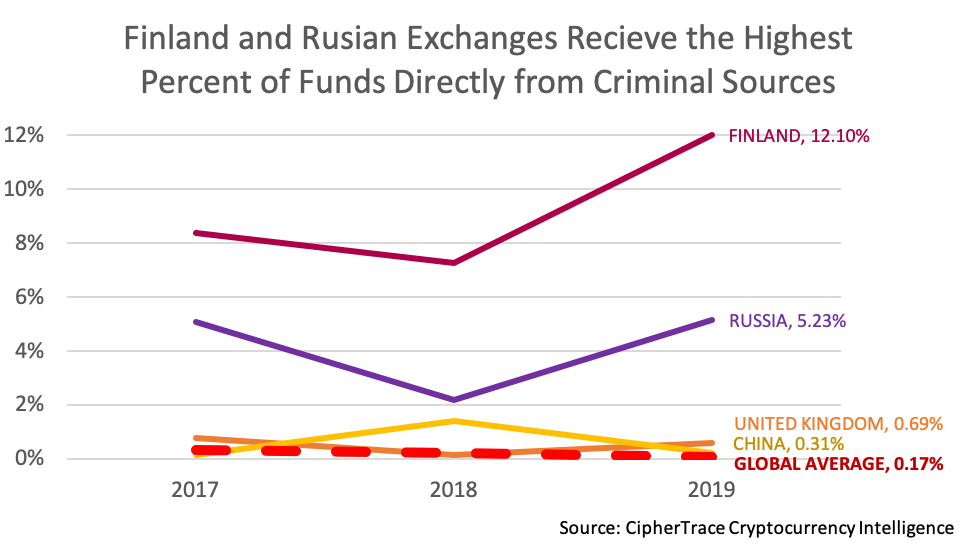 The report found an interesting link between crypto frauds and the recent COVID-19 virus outbreak. According to CipherTrace, the lockdown created an opportunity for large-scale phishing, as criminals lured victims directly in messenger platforms, requesting Bitcoin payments.
One of the mostly-traded crypto resources during the COVID-19 months were COVID-19 phishing sites, the report states.
The second-largest country in popularity, Russia, marked a 5,23% market share of all illicitly-obtained crypto funds. Over 86% of the criminal BTC in Russia came from the Russian Dark Web marketplace, Hydra Market.
Crypto exchanges in the United Kingdom ranked third in the country list. Interestingly, 31,2 percent of all U.K. transactions also came from Hydra Market. However, the numbers are down from 2018, where 57,6 percent of all illicitly-acquired crypto funds in the United Kingdom came from Hydra Market.
Further in the report, CipherTrace recorded 74% of all Bitcoin moved between exchanges is cross-border. The analytics company noted how important it is to have proper AML/CTF standards, like those of the Financial Action Task Force (FATF). It turns out criminals utilize the differences between regulatory compliance in jurisdictions to place arbitrages.
Bitcoin
Blockchain
Scam News
Exchanges News
Blockchain Development
Blockchain Development Company
Blockchain Application
btc
exchange
bitcoin news
Russia
Coronavirus
Finland