20 Dec 2021 Simon Briggs
Terra Is Now The Second-Biggest DeFi Platform, LUNA's Price Rallies
Terra's Total Value Locked (TVL) Reached Over $16 Billion, Overtaking Binance Smart Chain
---
The year 2022 is definitely going to be the year of decentralized finance, as the sector has grown to hold more than $250 billion in total value locked (TVL). And while Ethereum is still the leading blockchain for DeFi projects, several other projects have been battling for second place.
According to DeFi Llama, the competition for being Ethereum's runner-up just intensified, as Terra overtook Binance Smart Chain for second place with a TVL value of over $16 billion.
Terra managed to increase its lead to projects like Solana, Avalanche, and Tron in recent months, making it the fastest-growing DeFi platform on the market. Meanwhile, the Anchor protocol, a savings protocol that allows users to receive low-volatile yields when they deposit the UST algorithmic stablecoin, is now the biggest protocol running on Terra's blockchain with a TVL of over $7 billion.
The popularity surge affected positively Terra's native token – LUNA, which spiked over 30% over the past seven days, reaching a weekly high of $81.28 before settling to a current price of $74.93.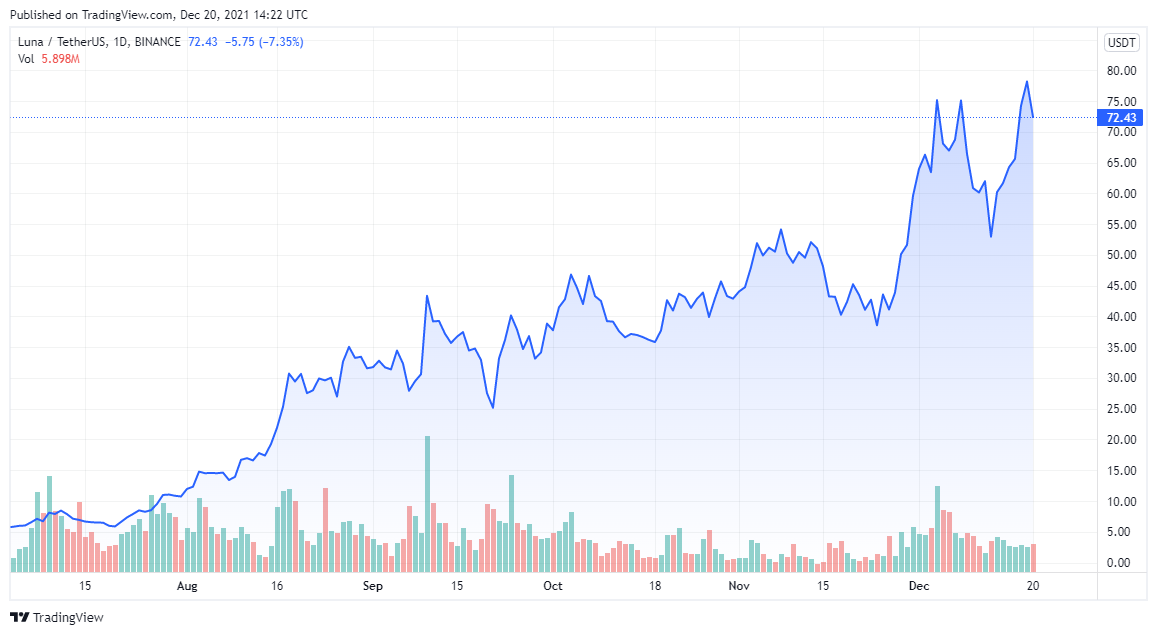 Source: TradingView
However, LUNA's gains when looking at the three-month chart, are wonderful, with the token recording a 180% price increase, making it one of the top performers amongst the leading cryptocurrencies.
Furthermore, LUNA is seemingly stepping on a bullish wave, as technical indicators show that the coin is currently performing excellently. For instance, LUNA's MACD line is above the neutral zone, while its RSI of 61 shows that it is heading into the oversold region.
Meanwhile, the performance of the majority of the leading cryptocurrencies in the past seven days has been negative. Bitcoin, for example, slipped below $46,000, recording a 5% price decrease from the past week. Ethereum's push below $4,000 also continues, with a drop from a weekly high of $4,110.37 to a current price of $3,792.58 after bouncing from a 7-day low of $3,664.72.
Terra's biggest rival – Binance and its native BNB coin followed suit, with the third-largest crypto to date dropping 6% of its price weekly, and with the momentum may be soon testing the $500 support zone.
Bitcoin
Ethereum
Bitcoin price
cryptocurrencies
cryptocurrency news
crypto news
Crypto Price
Ethereum Price
Defi
Decentralized Finance
Binance Smart Chain
BSC
TVL