02 Mar 2022 Anthony Lehrman
Terra's LUNA Token Surpasses Ethereum 2.0 For The Second-Largest PoS Network To Date
The Market Downtrend Flipped For LUNA On February 21 After Losing Over 100% Since The Start Of 2022
---
Terra's native blockchain token, LUNA, may turn into a real crypto market unicorn, after the token almost recovered from the sketchy start of the year, increasing its value by 90% after a strong rally in the past seven days.
LUNA is also inching to its all-time high of $103.33, which happened on December 27, 2021.
Nevertheless, LUNA's price rally, especially after the crypto sector took a beating after Russia invaded Ukraine, is remarkable. The uptrend also managed to skyrocket LUNA past Ethereum 2.0 to become the second-largest Proof-of-Stake (PoS) network by staking rewards.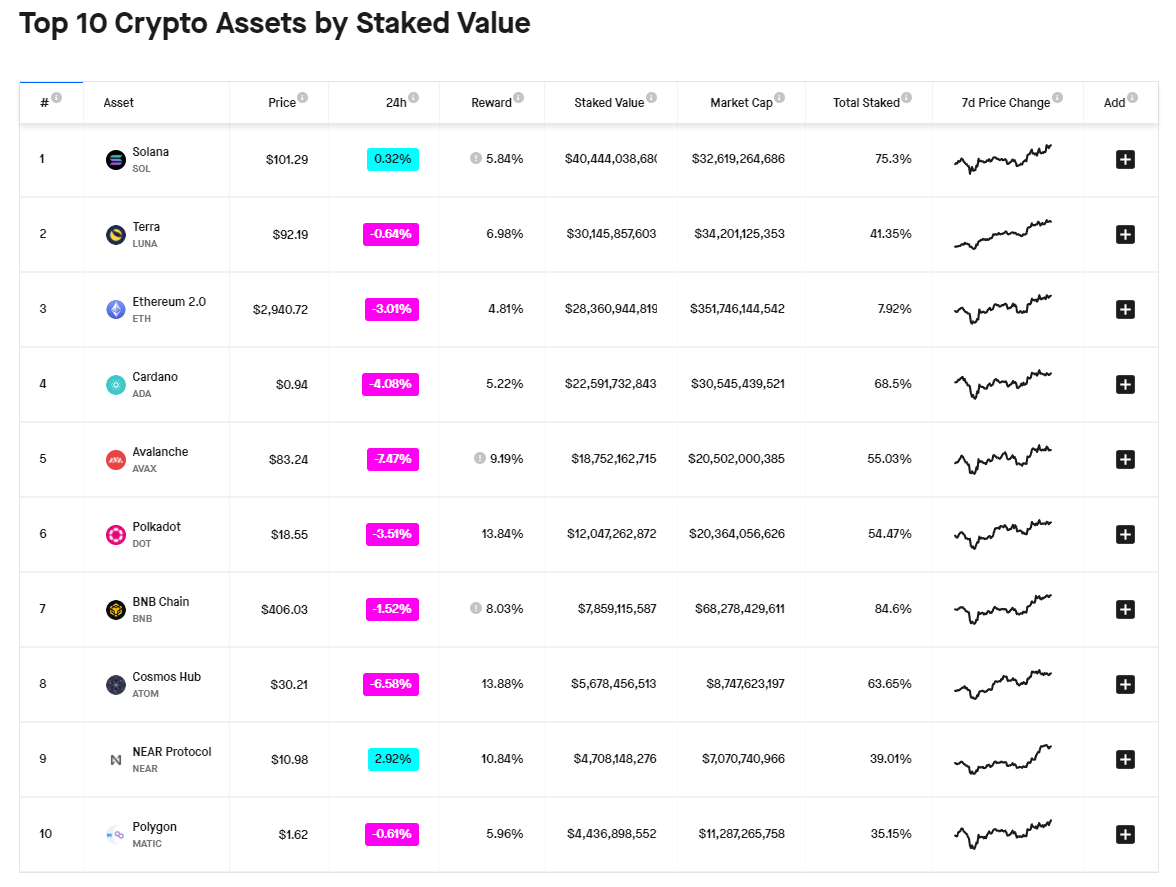 Source: Staking Rewards
Terra's price jump managed to push the project past giants like Solana (SOL), Cardano (ADA), and Avalanche (AVAX) to secure the spot as the seventh-largest crypto project to date.
It turns out the massive rally pushed users to stake their tokens on Terra's blockchain, resulting in over $30 billion staked, while Ethereum's 2.0 blockchain currently has little over $28 billion staked. The leader in staking, however, remains Solana (SOL) with over $40 billion worth of SOL tokens staked on its network.
Terra's gigantic price movement comes as the network is forming as a strong competitor to Ethereum in terms of DeFi protocols usage. However, Ethereum still has the upper hand in terms of total value locked (TVL) on DeFi protocols, currently standing at $115 billion, while Terra is second with $23.7 billion TVL.
Why has LUNA skyrocketed?
One of the primary reasons for LUNA's massive price jump is the announcement by Luna foundation Guard (LFG), which brought over-the-counter (OTC) sales of the LUNA cryptocurrency. The funds from the OTC sale would go towards "establishing a Bitcoin-denominated Forex Reserve for UST".
"Although the widespread adoption of UST as a consistently stable asset through market volatility should already refute this, a decentralized Reserve can provide an additional avenue to maintain the peg in contractionary cycles that reduces the reflexivity of the system." the announcement reads.
Indeed, Terra has been working on its TerraUSD (UST) stablecoin, which gathered enough momentum to be the fourth-largest stablecoin to date, behind market leaders like Tether (USDT), USD Coin (USDC), and Binance USD (BUSD). Currently, the market capitalization for UST is sitting at $13,158,227,473.
Terra bets strong on stablecoins since stablecoins have established themselves as the preferred medium of interacting with DeFi.
Terra flips both Cardano (ADA) and Ripple (XRP) overnight
Both Cardano and Ripple faced what seemed an inevitable crypto slump, following the concerns about the ongoing war conflict between Russia and Ukraine, which erased almost a third of the entire market capitalization of the crypto sector. And while some cryptos bled, LUNA thrived.
Cardano entered a bearish pattern, reaching a monthly low of $0.7528 amid the hardest crypto slump of February. Ripple also felt the pressure, but after a brief recovery, once the third-largest crypto fell to a low of $0.5923 per XRP token.
According to experts, one of XRP's biggest disadvantages over LUNA is the lack of DeFi capabilities. It turns out Terra's over $23 billion TVL is due to the work of only 21 dApps on its network.
Furthermore, Terra is hot on Ripple's heels for the sixth position in the top crypto rankings, since the market capitalization difference between the two projects is just $1,5 billion, and given Ripple's price performance, LUNA is set for another overtaking.
Crypto Market
crypto market monitoring
Ethereum news
cryptocurrencies
cryptocurrency news
crypto news
Ethereum 2.0