09 Jul 2019
The $40 Million Stolen From Binance Are Under Surveillance
Chainalisys reported that used wallet address during the hack have been identified
---
One of the most prominent hacker attacks for 2019, which took place on 7th May damaged the reputation of the world`s largest exchange platform, Binance. The attack caught the attention of the entire crypto and blockchain industry, awaiting the possible cash-out of the 7000 BTC stolen from the platform.
The current value of the 7000 BTC is now in excess of $80 million USD dollars. The information that was published by Chainalisys indicated that the crypto loot has been intact since the theft and it is divided into seven crypto wallets. The transparency that the blockchain technology provides is believed to be a serious obstacle for the hackers to withdraw or exchange the 7000 Bitcoins without being left unnoticed.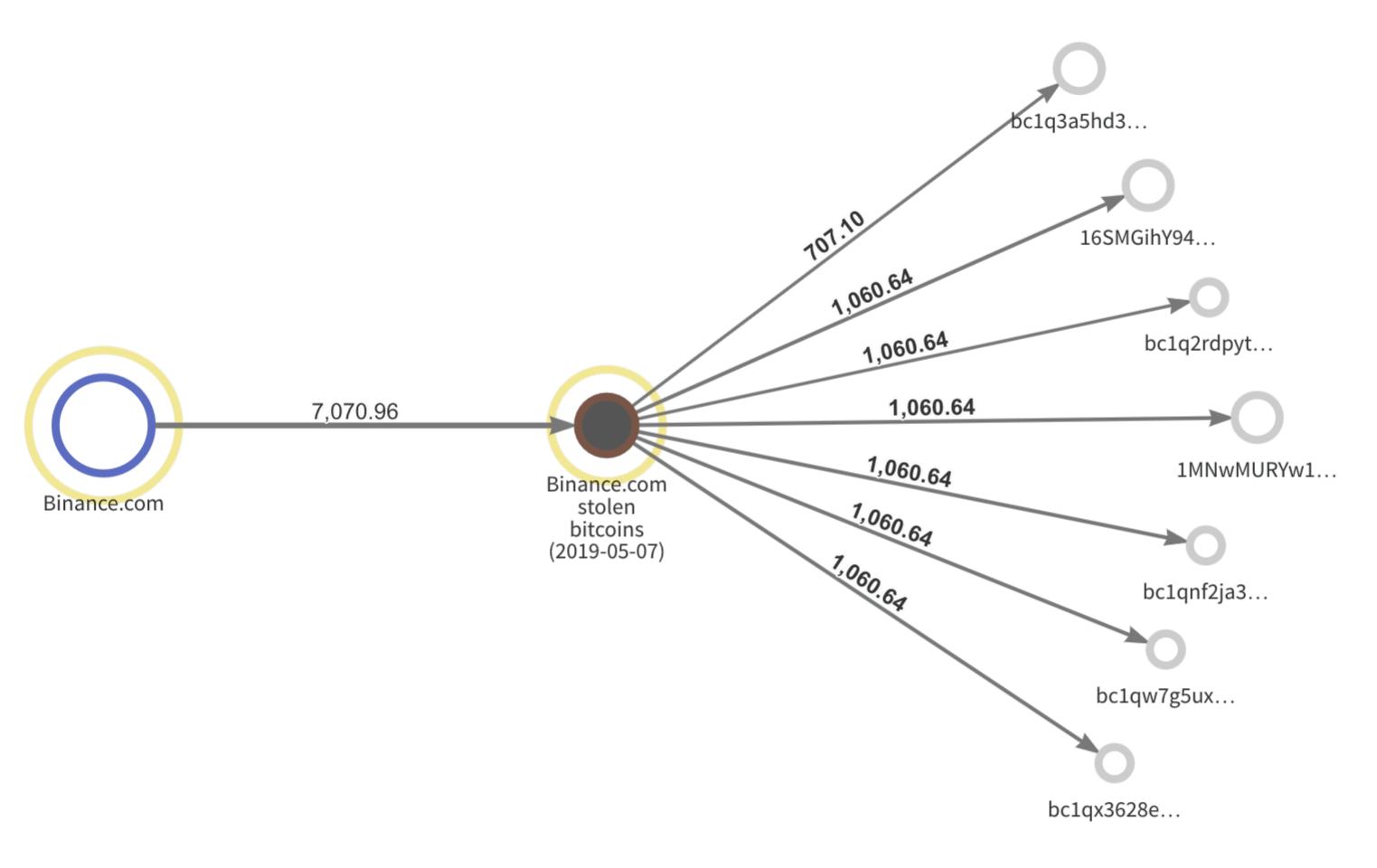 Source: Chainalysis "Visualization of the $40M USD stolen from Binance"

The Twitter-based monitoring channel Whale Alert reported movement of over 700 BTC from one of the hacker wallet addressed to two other wallets. The first transaction that Whale Alert reported was for 707.1 BTC, and the second with only 1 BTC. The overall value of the two transactions is just about $8 million (current BTC value).
Initially, the hackers distributed the 7000 BTC to 26 wallets, which were merged into 7 wallets at a later stage. Chainalaysis also explains that the wallet with smallest sum out of the 7 wallets, was the one involved in the recent transactions of 707,1 BTC - bc1q3a5hd36jrqeseqa27nm40srkgxy8lk0v0tpjtp
Briefly after the attack, Binance's CEO Changpeng Zhao proposed to reverse-engineer the Blockchain and roll it back to an earlier state. In its core, the moves are a white-hat version of the "51-percent attack", found to be taking place on frequent occasions during the early days of cryptocurrencies. Shortly after his proposition, Zhao decided to retract his own idea.
There is not an established or identified step-by-step procedure on how hackers will migrate their funds and what will they do in order to remain untraceable. The entire crypto community monitors the behavior of the seven addresses, utilizing the transparency of the Blockchain and in a bid of tracing and identifying the hackers.
Bitcoin
Binance
wallet
Binance Exchange
stollen
Hacks