14 Apr 2021 Marsha Tusk
The Crypto Sector Is On The Rise, Major Cryptocurrencies Record All-Time Highs
Bitcoin Surpassed $64,000, While Dogecoin Surges 80% In A Day
---
The world of cryptocurrencies saw a massive price surge, with many of the best-performing cryptos recording brand new all-time highs. The primary reason for the price surge is Coinbase's listing on NASDAQ, which makes Coinbase the world's first crypto exchange to be traded on Wall Street.
Indeed, Coinbase's direct NASDAQ listing managed to secure the crypto exchange a valuation of around $67 billion, given a reference price of $250 per share.
"Listing of Coinbase in the U.S. is a big deal for many investors because it somehow sends a signal that the U.S. lawmakers aren't going to ban bitcoin, and the crypto king is here to stay now," Naeem Aslam, chief market analyst at AvaTrade, noted.
Coinbase's listing turned vital for the further development of the crypto industry, as the crypto exchange is mostly used for trading Bitcoin and Ethereum, which make around two-thirds of the total market capitalization of the crypto sector, which exceeded $2.22 trillion.
Bitcoin, the largest crypto to date, surpassed $64,000 to reach an all-time high of $64,758.25. Currently, the price per BTC is $64,321.48, while its market cap reached $1.20 trillion.
Ethereum recorded an 8% price surge, reaching an all-time high of $2,398 per ETH token. The altcoin leader and the second-largest crypto to date, however, is still nowhere near Bitcoin in terms of market cap, as the cryptocurrency only managed to secure $276.2 billion.
However, the recent price pump skyrocketed the crypto past one of the largest tech companies to date - Intel Corporation. The move comes amid the Berlin network update, which aims to alleviate some of the gas fee concerns.
Berlin is designed to prepare the network for the much-anticipated London network upgrade, which will introduce gas fee burning and reduced ETH mining rewards. The Ethereum mining community, however, is against the upgrade and even prepared for a strike. Meanwhile, gas fees on Ethereum's blockchain normalized, dropping to a five-week low to an average of $11.08 per transaction.
Dogecoin (DOGE), on the other hand, may seem to be one of the biggest winners of the Coinbase push, as the now tenth-largest crypto to date soared 80% in the past 24 hours, reaching an all-time high of $0.1425 and a current price point of $0.1375. The "Such DOGE, Much Wow" movement, endorsed by celebrities and influencers, pushed the meme coin to the sky.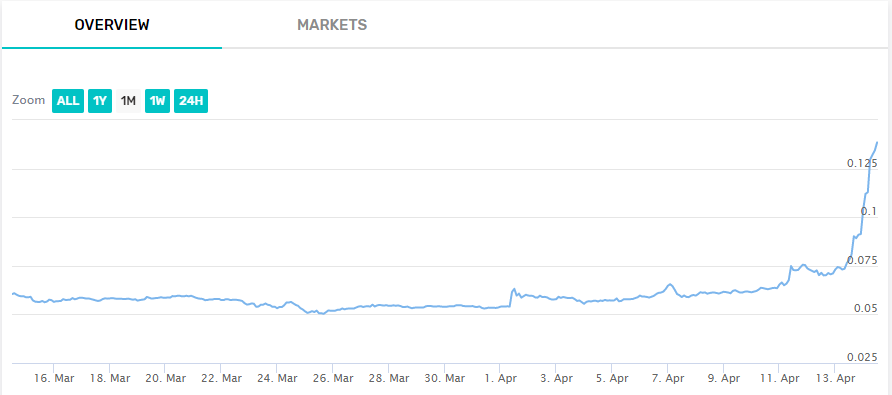 Source: CryptoBrowser.io
Celebrity adoption continues after Dallas Mavericks' owner Mark Cuban stated that a month after the team began accepting DOGE for merchandise and ticket payments, the Mavs have received more than 120,000 DOGE. The adoption wave was also fueled by US restaurateur Guy Fieri who posted a picture of himself in a Shiba Inu space suit with a comment "rolling out to the MOON".
Bitcoin
Ethereum
Cryptocurrency
Crypto Market
btc
dogecoin
crypto market monitoring
Ethereum news
Bitcoin price
altcoins
doge
tokens
Ethereum Price