11 Nov 2020 Marsha Tusk
The DeFi Sector Suffered From Nearly $100 Million In Hacker Attacks In 2020
The Lack Of Regulations Combined With A Low Level Of Security Are The Main Reasons Behind Hackers Attacks
---
Hackers in the DeFi sector have been increasing their efforts in 2020, as the sector gained much-needed traction and recognition. According to a recent report from CipherTrace, as much as 99$ million were allegedly stolen in hacks, thefts, and fraudulent behavior.
In their report, analysts from CipherTrade emphasized the increase in losses from illicit activities in the crypto industry. For example, in 2019 the crypto industry lost $361 million, while from the start of 2020, the sector lost 30% more - $468 million. The data from CipherTrade excluded exit scams and fraud.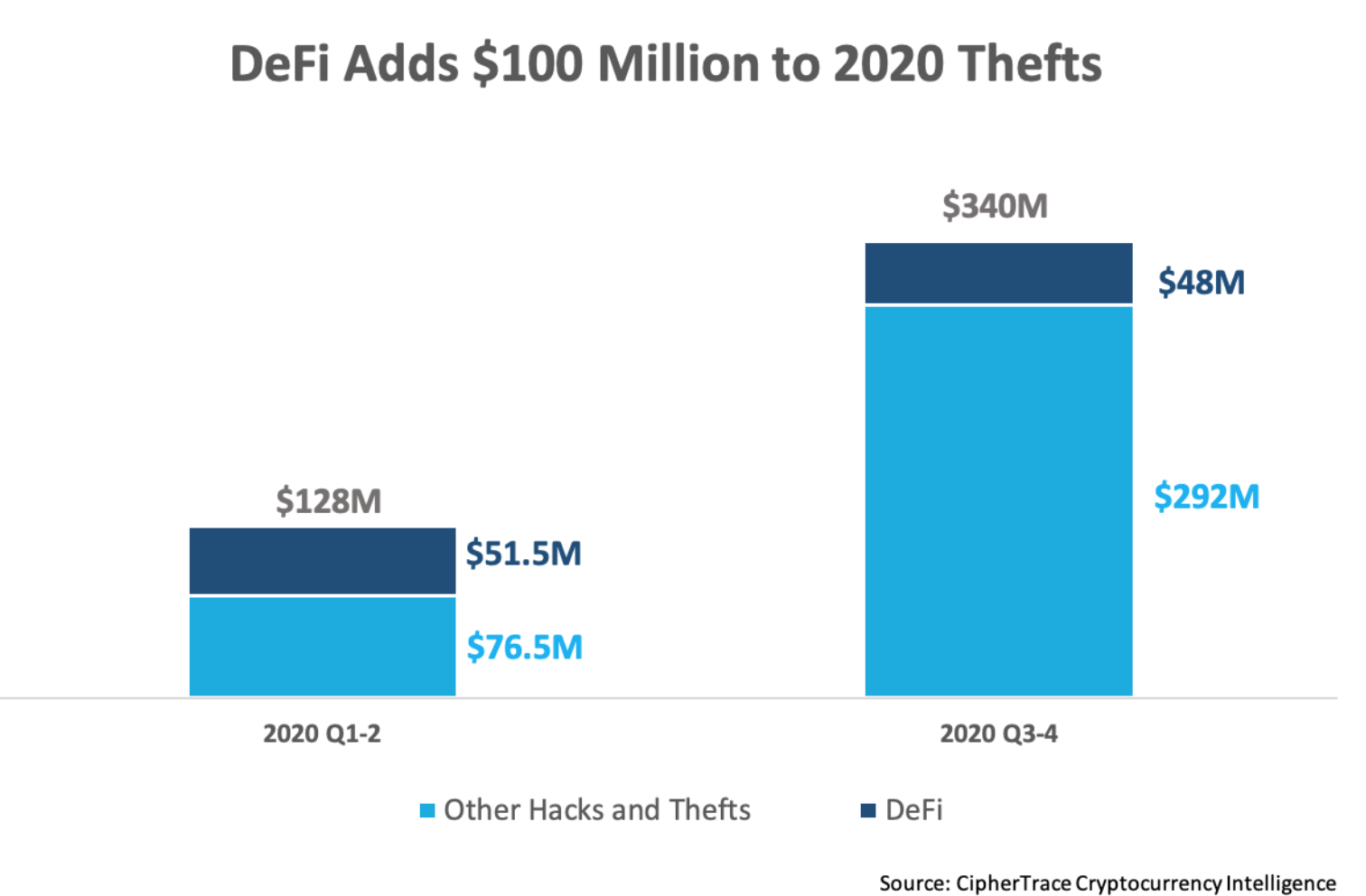 Source: CipherTrace
The share of DeFi-associated hacks and asset thefts is around 20%. However, the total value of crypto frauds in 2020 has decreased - from $4.5 billion in 2019 to $1.8 billion since the start of 2020.
Hackers and scammers focused on the DeFi ecosystem as an easy target for fraudulent activities due to anonymity and regulatory incompliance – traits, commonly found among DeFi protocols. Furthermore, the lack of regulatory compliance and the hassle-free access to the protocols may act as a perfect hiding place for money laundering activities.
CipherTrace's CEO Dave Jevans commented on DeFi's current situation, emphasizing that "companies and individuals have rushed DeFi products to market that have not gone through security verification and validation, which led to people figuring out that there's a weakness here."
However, centralized exchanges and crypto services providers are taking steps toward enhancing security features on their platforms. Most crypto regulatory frameworks include some kind of anti-money laundering (AML) and know-your-customer (KYC) mechanisms that can be implemented by the crypto companies.
"What we have seen is that exchanges and other cryptocurrency players have implemented more security procedures. They have taken the guidance and implemented the procedures to secure their funds better. So, you're going to see less mass-scale hacks," Jevans added.
Meanwhile, as Cryptobrowser reported, the DeFi sector recorded a tri-fold growth since August and reached a new all-time high of $13.45 billion in total value locked (TVL) in DeFi projects. Despite the growth, three DeFi protocols became the latest victims of hackers. The cybercriminals exploited vulnerabilities in both bZx, dForce, and Harvest Finance, resulting in millions of dollars drained from the smart contracts.
BZx, for example, suffered from three separate attacks, resulting in a total of $9 million lost in hacks. Harvest Finance is DeFi's latest victim, with hackers stealing $24 million in USDT and USDC.
Cryptocurrency
Crypto Market
crypto
cryptocurrencies
cryptocurrency news
decentralization
scam
decentralized
Hacks
Regulations
USDT
USDC
Defi
Decentralized Finance