18 Oct 2021 Samantha McLauren
Total Crypto Market Cap Breaches Over $2.5 Trillion, Now Bigger Than Apple
Meanwhile, El Salvador's Bitcoin Adoption Continues, As Citizens Were Increasingly Exchanging Their U.S. Dollars For Bitcoin
---
Bitcoin's ongoing price rally over the past weekend and its reflection over most of the other crypto projects managed to push the overall market capitalization of the crypto sector past the $2.5 trillion milestone, with CoinGecko even noting that the total market cap of the sector surpassed $2.6 trillion.
The milestone breach puts the total crypto market cap on par with its all-time high of May when Bitcoin recorded its highest recorded value. However, CoinGecko reports that the market cap is already at its highest level ever.
Since the start of 2021, the total market capitalization of the sector exploded 233%, from a low of around $780 billion on January 1. Statistics show that during the 2017 bull run, the total crypto market cap only reached $830 billion.
The $2.5 trillion milestone marks yet another achievement – cryptos are now larger than the world's biggest company to date – Apple. As of press time, Apple's market capitalization sits at around $2.39 trillion, according to CompaniesMarketCap. Microsoft is second, evaluated at $2.28 trillion.
Delving deeper into the data, it turns out Bitcoin, when compared to companies, ranks just above Facebook, which has a market cap of $929 billion but sits well beyond Amazon's $1.733 trillion market cap.
Bitcoin's 14% weekly gains managed to bring its price just 3.4% away from its April 14 all-time high of $64,800, according to data from Cryptobrowser.io. Furthermore, Bitcoin's market capitalization of $1.17 trillion brings its dominance over other cryptocurrencies to 46.9%.
Bitcoin's price peaks are usually a driving force of the entire sector, with altcoins also increasing both in market capitalization and in daily volumes.
Ethereum, for example, with its 18.2% market dominance and $449.8 billion in market capitalization, is valued almost equally with Chinese e-commerce giant Alibaba. However, Ethereum made a slight dip from last week's high of $3,962.45 and currently trades for $3,805.54.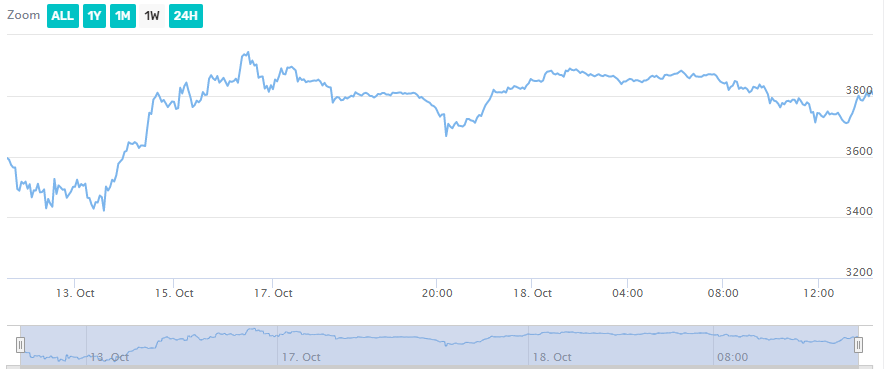 Source: CryptoBrowser
Meanwhile, the altcoin sector continues to grow, as CoinGecko reports a total of 108 altcoins with a market cap of over $1 billion. All of the top-ten cryptocurrencies managed to secure over $30 billion in market capitalization, while all of the top-20 cryptos have at least $10 billion market caps.
And, as Bitcoin continues to be the biggest and most dominant crypto to date, more and more companies, institutional investors and governments turn their eyes towards the "digital gold".
For instance, El Salvador became the first country to accept Bitcoin as a legal tender. Now, almost two months after the adoption, El Salvador President Nayib Bukele stated that the adoption of Bitcoin was gaining momentum as the citizens were increasingly exchanging their U.S. dollars for Bitcoin.
"People are inserting way more USD (to buy #BTC) than what they are withdrawing from the Chivo ATMs (any media outlet can independently confirm this by visiting the ATMs)." El Salvador's President added.
However, the adoption still faces technical difficulties, mainly in the face of the country's in-house wallet service, Chivo. Some users have lost a part of their funds, trying to withdraw from Chivo ATMs.
Nevertheless, Salvadoran citizens and migrants have been using the wallet daily, sending approximately $2 million daily through the service. Nearly a fifth of all of El Salvador's population relies exclusively on remittances, and the government-issued wallet allows them to send and receive money without commission, reducing net costs.
"Today, we received 24,076 remittances, adding up to $3,069,761.05 (in one day)." Nayib Bukele noted.
In the two months since launching, the Chivo wallet now has nearly 6 million people owning a digital wallet and as many as 2.1 million active users.
Bitcoin
Ethereum
Ethereum news
cryptocurrencies
altcoins
bitcoin news
cryptocurrency news
crypto news
Ethereum Price
Market Capitalization
cryptocurrency market