09 Jul 2020 Simon Briggs
Trading Guru Predicts Ethereum Will Outperform Bitcoin
The Trading Legend Believes That A New Altcoin Season Is Finally Coming
---
Peter Brandt, considered to be one of the gurus in trading, showed his support for the second-largest cryptocurrency to date, Ethereum. He welcomed Ethereum holders' decision to keep their ETH tokens, by predicting the price per ETH would likely outperform Bitcoin's price movements.
Brandt also noted that Ethereum's price boom would boost the performance of the entire altcoin sector, which implies that the much-anticipated "altcoin season" may be on its way.
However, for Brandt's predictions to come true, there must be a massive breakout in the ETH/BTC trading pair, which currently sits at 0.02613 BTC per ETH – the highest mark since March. Despite the current level, Brandt set his target at 0.03276 BTC per ETH, which would mean a 23% price increase for Ethereum, given Bitcoin's price remains the same.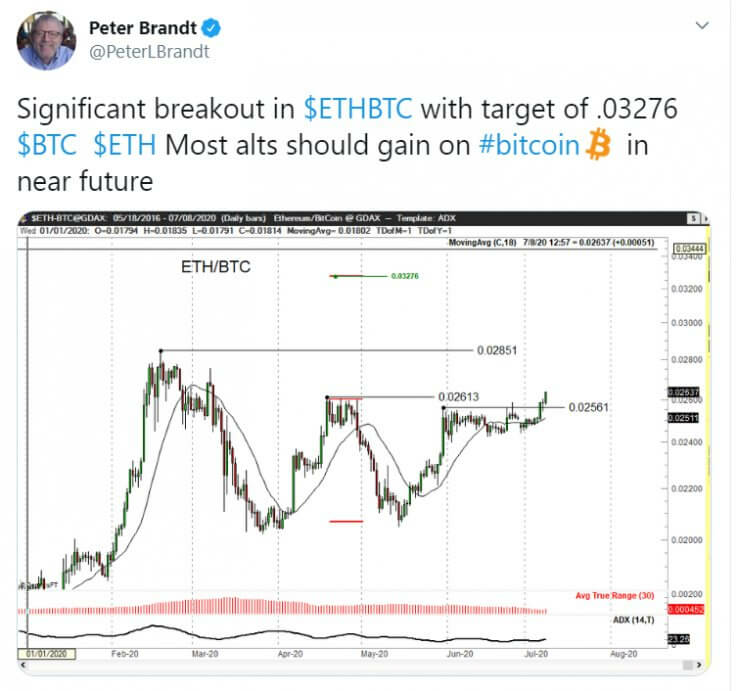 Source: Twitter
Nevertheless, Ethereum is still far behind its all-time high of 0.12396 BTC per ETH token on February 1, 2018, which can be depicted as a 79% overall drop since then.
Other trading experts consolidated around Brandt's opinion, with Adamand Capital investor Tuur Demeester further explaining that the technical picture for Ethereum is bullish. However, the investor still keeps his opinion that Ethereum's fundamentals are wrong, despite the blooming DeFi sector.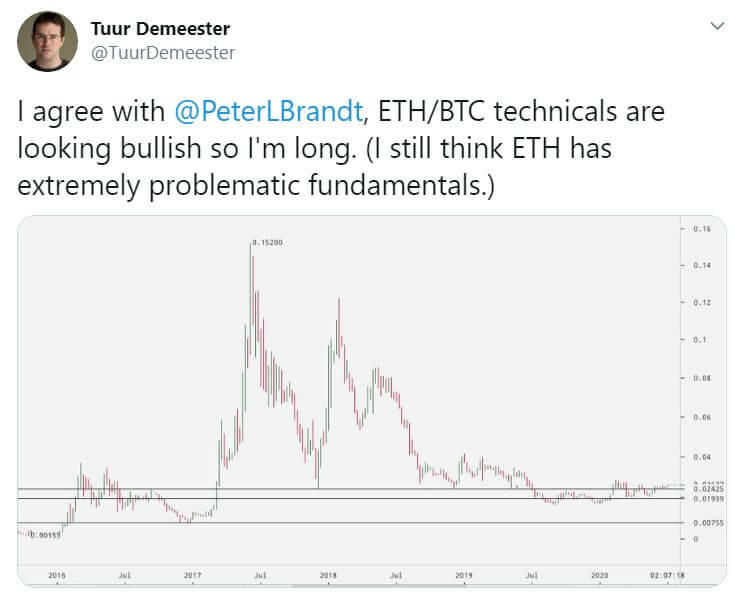 Source: Twitter
On the other hand, Brandt considers altcoins as "pretenders", as opposed to Bitcoin, but his stance on altcoins didn't affect his analysis. Interestingly, the altcoin sector seems to have been on the verge of massive gains, as altcoin projects like Stellar and Chainlink appear to be in the middle of massive bullish rallies, while Dogecoin received a 100% price increase in just several hours, due to mainstream meme creators "exploding" on the news that the avatar of the Doge meme has passed away. Ripple, proclaimed by Brandt as a "scam" also received expectations for an upwards rally.
On the other hand, Tuur Demeester showed that Bitcoin is now ending its re-accumulation phase and soon will enter a bullish run. The investor stated that a re-accumulation stage began a year ago, with an expected massive price breakout after the stage is complete.
Demeester even considered holding as much as 33% of his 'Permanent Portfolio 2.0' for another twenty years, which further cements Demeester's belief in Bitcoin.
Bitcoin
Ethereum
cryptocurrency trading
Cryptocurrency
Crypto Market
Stellar
crypto
eth
crypto bitcoin
dogecoin
trader
Ethereum news
Bitcoin price
trading
bitcoins
cryptocurrencies
cryptocoins
etherium
doge
bitcoin news
cryptocurrency news
bitcoin news today
ether
Ethereum Price
Tradings
Chainlink