17 Mar 2022 Jane Whitmoore
Ukraine Legalizes Cryptocurrencies; Crypto Market Rebounds
Dealing In Crypto In Ukraine Has Existed In A Legal Gray Area Until The Ukrainian Parliament Adopted A Law That Legalizes And Regulates Cryptocurrencies
---
The war conflict between Russia and Ukraine brought cryptocurrencies under the spotlight, as many world leaders spoke about whether or not cryptos can be used as a tool for evading sanctions, imposed by the western countries.
However, the unprecedented military actions against Ukrainians have pushed the Ukrainian government to seek aid in various forms, including setting up state-owned crypto wallet addresses. This move was the final milestone in Ukraine's crypto law, which was set in motion in 2020.
Now, in a nearly unanimous vote, the Ukrainian Parliament adopted a law that legalizes and regulates cryptocurrency usage. Ukrainian residents are now officially allowed to buy and exchange virtual currencies, with the new law also adding a legislative framework for companies and exchanges dealing in crypto.
The crypto law passing switches the stance of local authorities 180 degrees, since the state considered cryptos as a "scam," raiding crypto-related businesses, and "often confiscating expensive equipment without any grounds."
However, the new law and its legislation framework add a certain level of security against frauds and illicit activities. The President of Ukraine Volodimir Zelensky signed the new law, defining terms like virtual assets, digital wallets, and private keys.
Legalized, but not as a legal tender
The new law legalizes the status of cryptocurrencies and adds a regulatory framework, but has no action in making any cryptocurrency a legal form of payments, as with El Salvador's decision to add Bitcoin as a legal means of payment. Nevertheless, the new law is a part of a wider push by Kyiv to lean into bitcoin and other leading cryptocurrencies.
Meanwhile, Jeremy Rubin, CEO of Bitcoin R&D lab Judica, noted that despite the new law being an official announcement, which brings the crypto sector out of the grey area in Ukraine, the law will not amount to much.
"Ukraine's improved legal status for bitcoin is a laudable symbolic measure that we progress towards a world that respects individual rights universally, but it is only symbolic — bitcoin seeks neither permission nor forgiveness in its mission to protect persecuted communities from unjust governments," Rubin added.
Ukraine joins other countries in Bitcoin acceptance
Ukraine's law passing makes the country one of the very few that have recognized cryptos in a legal form. Ukraine joins El Salvador, which was the first country to give Bitcoin a status of a legal tender. Furthermore, countries like Cuba, the United States, Germany, and Panama are all working to create a set of regulatory frameworks for Bitcoin and virtual assets.
Crypto market rebounds
The news about the law passing by Ukraine's government pushed the entire crypto market up, with Bitcoin building a secure support zone above $40,500 with a current price point of $40,986.72 per BTC.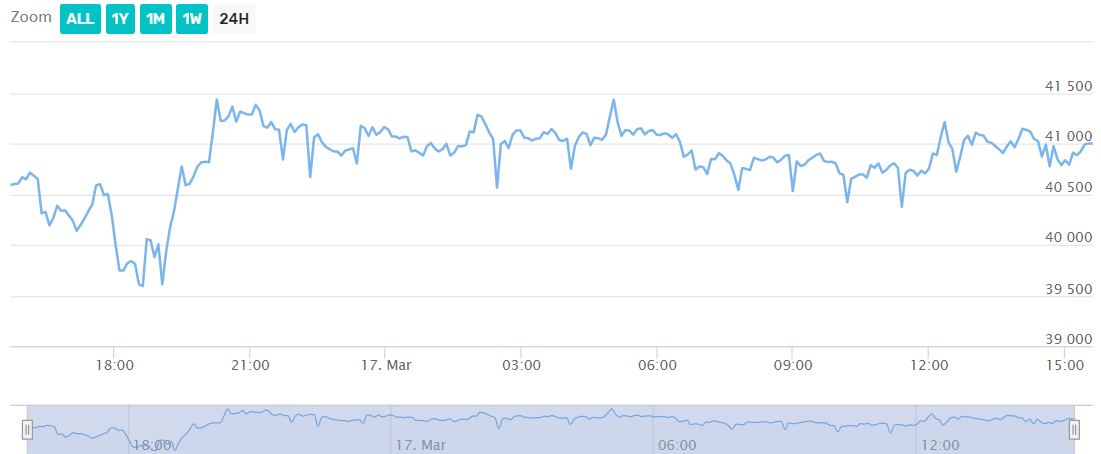 Source: Cryptoken Media
Ethereum made a 4-percent daily spike, with a current price of $2,811.13 per ETH, while the rest of the crypto sector also experienced 2-4% price increases. Avalanche (AVAX) is among the top gainers, adding 14% to its price in the past 24, hours, while Maker (MKR), and Aave (AAVE) are up 11 percent and 15 percent, respectively.
Bitcoin
cryptocurrencies
bitcoin news
cryptocurrency news
crypto news
Crypto Price
Payments