08 Sep 2021 Marsha Tusk
$3.4 Billion Worth Of Long Positions Liquidated Due To An 18% Crypto Market Crash
The Crash Evaporated Nearly $250 Billion Of The Total Crypto Market Cap, Triggering Massive Liquidations
---
After the increased institutional investor interest in Bitcoin, which pushed its price past $52,000, Bitcoin bulls failed to hold the gains, and the number one crypto tumbled down 15%, dragging the rest of the crypto sector with it.
Almost all of the top-100 cryptos recorded 12-25% of losses, with projects like THETA, for example, losing as much as 30% daily, erasing its gains from the past week.
The massive crypto sell-off pushed prices down, which triggered a cascade effect in long positions, resulting in approximately $3.4 billion worth of long trading positions liquidated in the last 24 hours.
Over $1.3 billion worth of long Bitcoin positions, alongside more than $900 million worth of long ETH positions got liquidated, according to Bybt.
Pricewise, it was a real volatility rollercoaster ride for the world's largest crypto to date, as the Asian trading session on 7 September pushed Bitcoin on the foothills of $53,000, but during the US session Bitcoin lost 20% of its price, reaching a low of $43,000. The price went up once again, reaching a level of $46,500.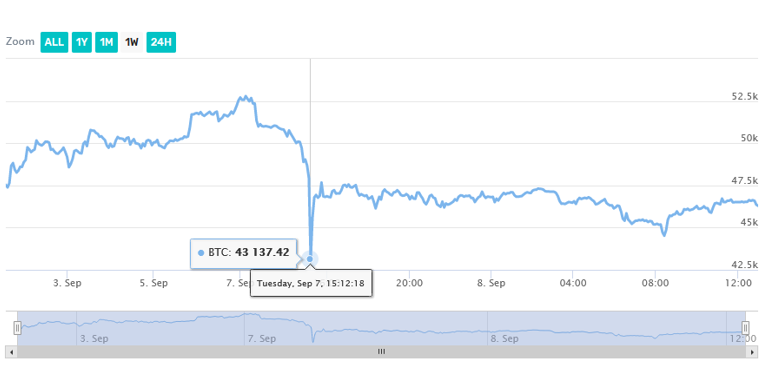 Source: CryptoBrowser
Ethereum's volatility, on the other hand, was much more severe, with the altcoin leader losing a little less than $1,000 after reaching $3,945.31 on the Asian trading session, but tumbling down to a low of $3,062.22 during US hours. Despite the quick recovery, Ethereum is still trading with a 12% daily loss and a price point of $3,422.57 per ETH.
The crypto market sell-off also liquidated massive trading positions in XRP, Solana, ADA, DOGE, FIL, and Ethereum Classic. Nearly $220 million worth of long XRP positions got liquidated, with $80 million worth of Solana (SOL) long trading positions. However, SOL bounced back in the past 24 hours, fortifying its 42.88% weekly gains, despite the dip.
"Largest Bitcoin dip in 4 months, Solana doesn't care. After dropping from $185.66 to $131.82 in under 2 hours, the crypto asset popped right back up to $186.03 at the time of this writing," Santiment, a crypto analytics platform, noted on the topic of the market wipeout, adding that "As is usually the case on market-wide dips, the trading crowd rallied to buy the dip."
"Calls related to buying or bought soared to levels last seen in May. Altcoin assets, in particular, are recovering quite healthily currently," Santiment concluded.
Bitcoin
Ethereum
btc
Ethereum news
THETA
cryptocurrencies
bitcoin news
cryptocurrency news
crypto news
Crypto Price
Ethereum Price