31 Dec 2020 Marsha Tusk
78% Of The Bitcoin Circulating Supply Is Illiquid
Most Of The BTC Is Possessed By Entities That Do Not Want To Sell
---
A recent report by an on-chain analytics firm says that a supply-side crisis is emerging on the world's largest cryptocurrency Bitcoin (BTC). Most Bitcoins remain illiquid, meaning they are out of circulation.
This is making Bitcoin more difficult to buy on exchanges, the analysts noted. Bitcoin's supply is capped at 21 Million meaning there are only 21 million Bitcoins that can be mined in total. Once miners have unlocked this amount of Bitcoins, the supply will be exhausted.
Bitcoin's circulating supply is presently at 18,586,262. This figure alternates about every 10 minutes when new blocks are mined. Due to the last halving, each new block adds 6.25 BTC into circulation.
Bitcoin's recent rally in a broader sense alluded to institutional investors, an analyst noted that the manner institutions are 'gulping' Bitcoin leaves so much to the imagination. A recent addition to Bitcoin institutional investors is Greenpro Capital which recently stated its intention to raise $100 million in debts to purchase Bitcoin.
However, most institutions buying Bitcoin do not have the intention of selling but rather to hodl for future appreciation. HongKong based Green Pro capital touted Bitcoin as "a reliable future store of value".
78% of the Bitcoin Circulating Supply Is Illiquid
Throughout 2020, institutions accumulated more and more Bitcoin, which became attractive due to its fixed supply. As a result, Glassnode found that only 4.2 million BTC were in constant circulation for buying and selling.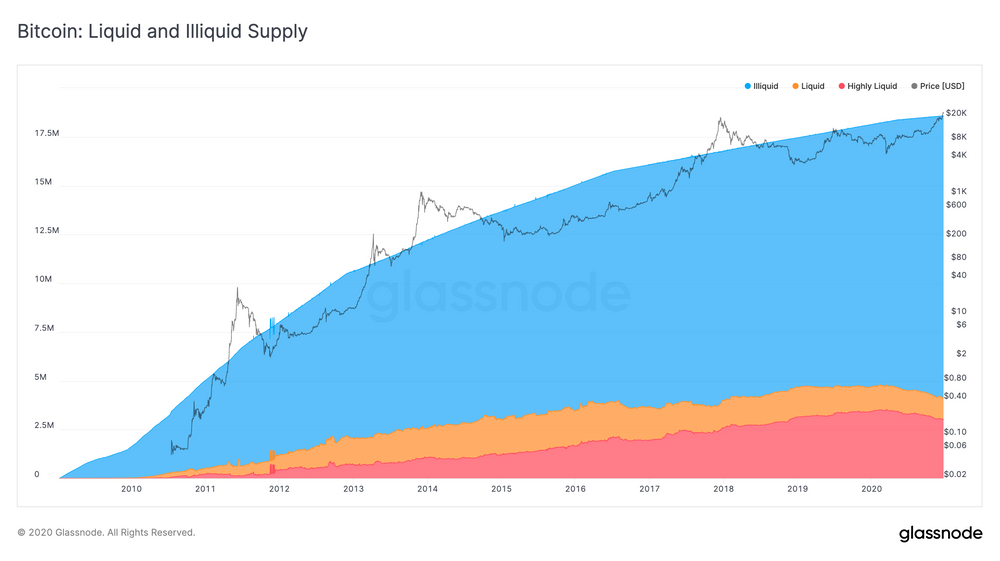 Source: Glassnode
Out of 18.5 million BTC in circulating supply, the onchain analytics firm notes that 14.5M BTC which is a percentile of 78% out of the circulating supply, could be said to be illiquid, leaving barely 4.2M BTC in constant circulation that is available for buying and selling. In the last 12 months, $27.8 billion worth of Bitcoin has become illiquid.
Glassnode analysts also noted that the amount of BTC received and spent among investors is diminishing, which implies decreasing liquidity. Reducing liquidity implies that there is less BTC available to buy and sell. This could affect Bitcoin's price in the medium to long term, as BTC could become even more scarce. Such a trend would push up the value of Bitcoin ultimately as a supply-side crisis emerges.
The stock to flow model by pseudonymous analyst Plan B uses the supply flow of Bitcoin to predict Bitcoin reaching $100,000 by December 21.
Analysts at Glassnode noted the emerging liquidity crisis is a bullish sign for BTC while insinuating that this present bull run has been partly steered by this growing trend.
Bitcoin
Cryptocurrency
Bitcoin price
cryptocurrencies
hodl
bitcoin news
cryptocurrency news
investment
bitcoin news today
Halving
cryptocurrency market