24 Feb 2023 Arjun Agarwal
After The Stacks (STX) Rally In February, Would The Momentum Continue?
Experts Are Claiming That A Price Point Of $1 Per STX Token Is Still An Option Despite The End Of Its Bullish Run
---
With the introduction of Ordinals and its NFT-like operations, the usefulness of the Bitcoin blockchain skyrocketed to a new level with data from Dune Analytics showing that more than 155,000 Ordinals inscriptions have already been processed. The daily inscription chart of the Ordinals also showed an average of 5,000 fresh inscriptions every day.
But how are Ordinals inscriptions affecting the price tag of Stacks (STX)?
A Bitcoin layer called Stacks makes it possible to use smart contracts and dApps. The popularity of Ordinals suggested a potential increase in demand for transactions on the blockchain of Bitcoin. Indeed, the fee for a transaction increased rapidly, from $0.7 in January only to reach a peak of $2.46 on February 15.
The increase in fees fueled the STX token price increase, skyrocketing 127.60% to reach a current price tag of $0.7458 per STX token. However, since January 2022, the price charts were on a consistent downward trend. STX has struggled against a declining trendline resistance since late May 2022. Early in December, there was a false breakout in the downtrend and sequence of lower highs, but these gains were short-lived.
This trendline was once again broken at the beginning of February. The prices then stabilized below the $0.31 resistance. Although prices have been slowing down, the OBV has been increasing since August.
February saw a really powerful breakthrough and surge. Even a $0.4 retracement would likely be beneficial for the market in the long run. If buyers do not give in, a retracement of this kind might not take place.
On the upside, Stacks (STX) could reach as high as $0.91 and $1,06 in the long run.
What about short liquidations?
In the Coinalyze 1-hour chart, experts witnessed trading sessions with over $100k in liquidated short positions. These liquidated positions were compelled to purchase the token, thus raising prices.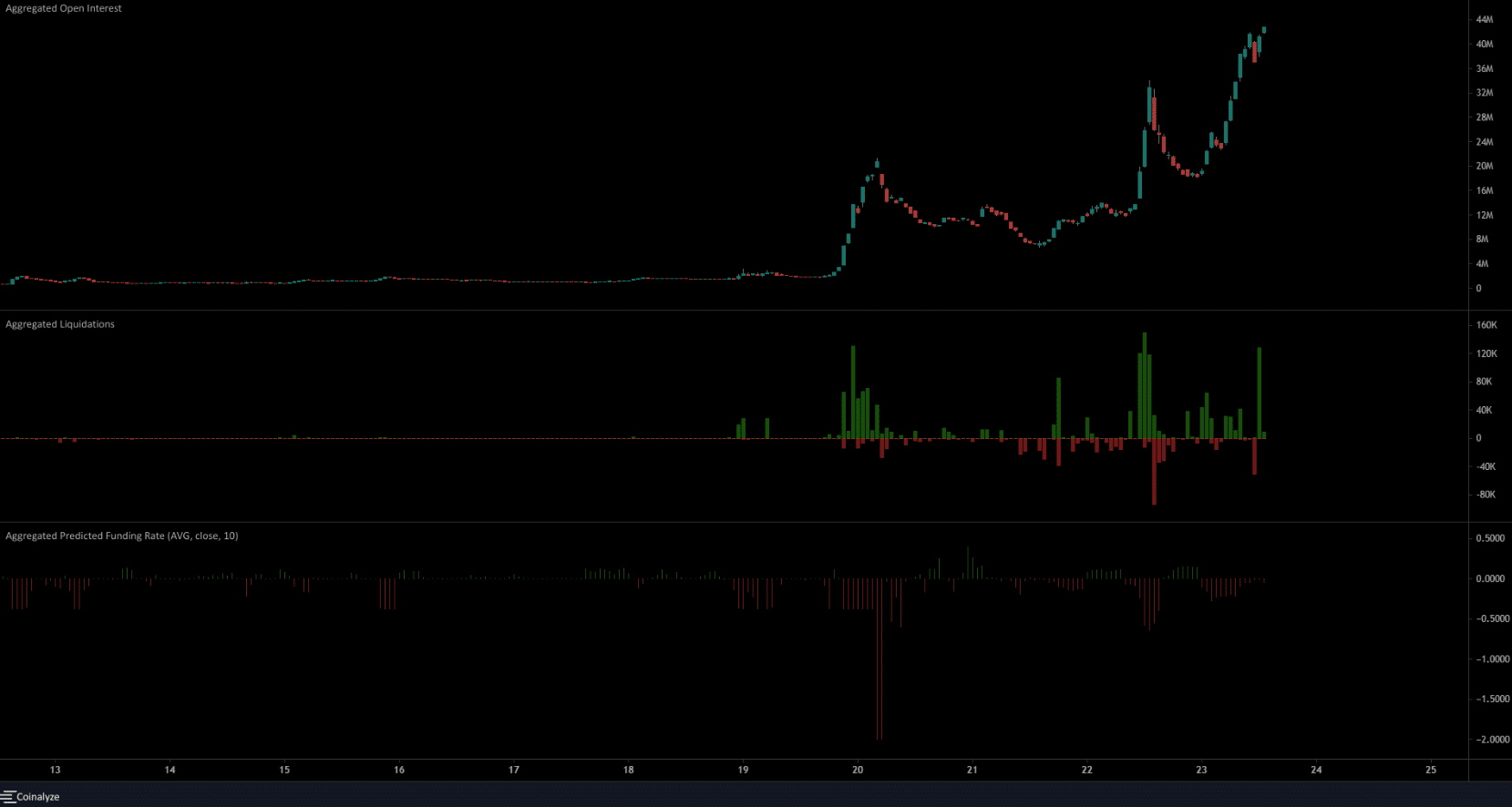 Source: Coinalyze
Despite a generally negative picture for the STX market, more gains are still possible. This occurred as a result of increased Open Interest and rising prices, which led to the conclusion that sentiment remained pessimistic.
Bitcoin
Blockchain
token
cryptocurrency news
crypto news
Crypto Price
Stacks