21 Nov 2022 Samantha McLauren
Asia Has Been Impacted The Most By The FTX Collapse, A Report Shows
It Turns Out That Countries Like South Korea And Singapore Are Among The Hardest Impacted Countries
---
The FTX collapse and its impact shifted the layers in the crypto sector, showcasing how liquidity can both skyrocket and plummet a crypto project. Indeed, Asian customers suffered the most from the Sam Bankman-Fried-owned exchange, since U.S. customers used primarily FTX.US, not the international exchange that melted down.
A recent report from CoinGecko revealed that South Korea, Singapore, and Japan felt the FTX collapse the most, with a combined 15.7% traffic share loss over the past 30 days.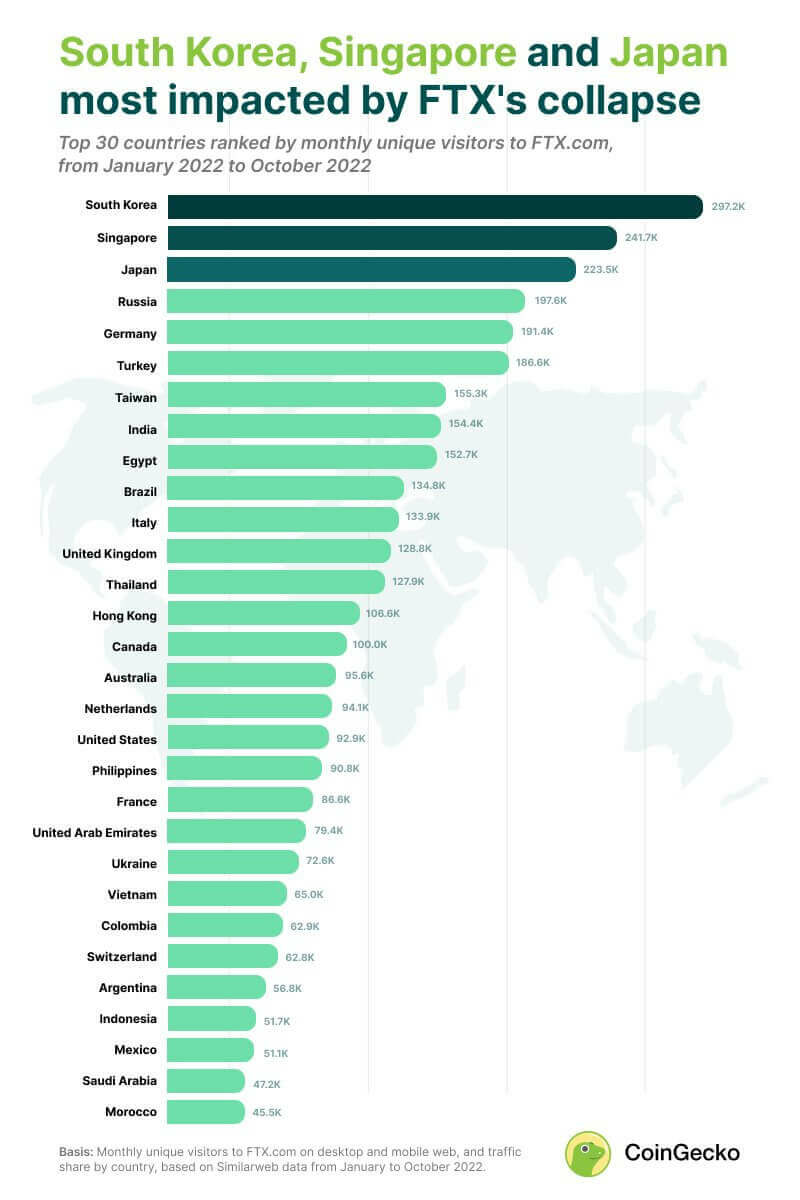 Source: CoinGecko
South Korea leads the pack
The crypto-friendly nation felt the hardest hit after FTX plummeted, as it accounted for a traffic share of 6.1%, representing 297,229 unique users on average visiting FTX.com monthly. The havoc FTX's collapse caused pushed South Korea's government officials to push out the Digital Asset Basic Act, a regulatory framework that is expected to be finalized next year.
Next up is Asia's crypto hub – Singapore. The country represents a total of 5% of the monthly active FTX users or 241,675 unique users. Singapore's story with crypto exchanges, however, is interesting, because in December 2021 crypto users began switching from Binance to FTX after the largest crypto exchange to date pulled the plug on its Singapore trading platform.
Japan, which ranks third in the total FTX user base impact, also had a fair share of turbulence after FTX's demise. Interestingly, Japanese investment giant SoftBank said it has invested US$100 million in FTX, but now announced that it is going to mark down its investment to $0. SoftBank made its investment in FTX earlier in 2022 through Vision Fund 2, joining other large-scale investors like Temasek, Lightspeed Venture Partners, Tiger Global, and Insight Partners.
Taiwan and India were also largely affected, while Asian countries in the top 15 accounted for more than 25% of the users of the troubled exchange.
On the flip side, other exchanges are actually gaining from the FTX havoc, with Binance gaining 7 percent in market share, while OKX added a percent.
Crypto markets are in the red, again
As the FTX saga unfolds and the exchange's bankruptcy filings were unveiled over the weekend, most of the cryptos started the week in the red. Bitcoin (for example) is now dangerously close to breaching the $16,000 support, adding as much as two percent to its weekly losses. Ethereum doesn't seem in a better place, as the altcoin leader wrote off 8% of its price over the past seven days.
However, projects like Dogecoin, Solana, and Polygon are leading the pack in terms of losses, recording double-digit price decrease percentages weekly. It turns out that the only crypto in the top ten rankings that managed to increase its price is Ripple, gaining 3% when compared to last week.
Bitcoin
Ethereum
Cryptocurrency exchange
Crypto Market
Exchanges News
Japan
Ripple
btc
eth
dogecoin
crypto market monitoring
Bitcoin price
XRP
exchange
cryptocurrency news
crypto news
Crypto Price
Ethereum Price
Ripple Price
South Korea
Polygon
Solana