06 Nov 2023 Arjun Agarwal
Bitcoin And Ethereum Fall Behind Gold And S&P500
The Two Main Cryptocurrencies Are Straying From S&P 500 Patterns, But Are Reinventing Market Dynamics. Will Their Upsurge Last Or Will Anything Change?
---
Cryptocurrencies like Bitcoin [BTC] and Ethereum [ETH] have moved this past week apart from both the S&P 500 and gold. Has this pattern continued into this week or has something changed?
The S&P 500 has risen significantly over the last week, surpassing both Bitcoin and Ethereum in performance. Santiment's trend analysis showed that the S&P 500 increased in value by more than 6% in just four days.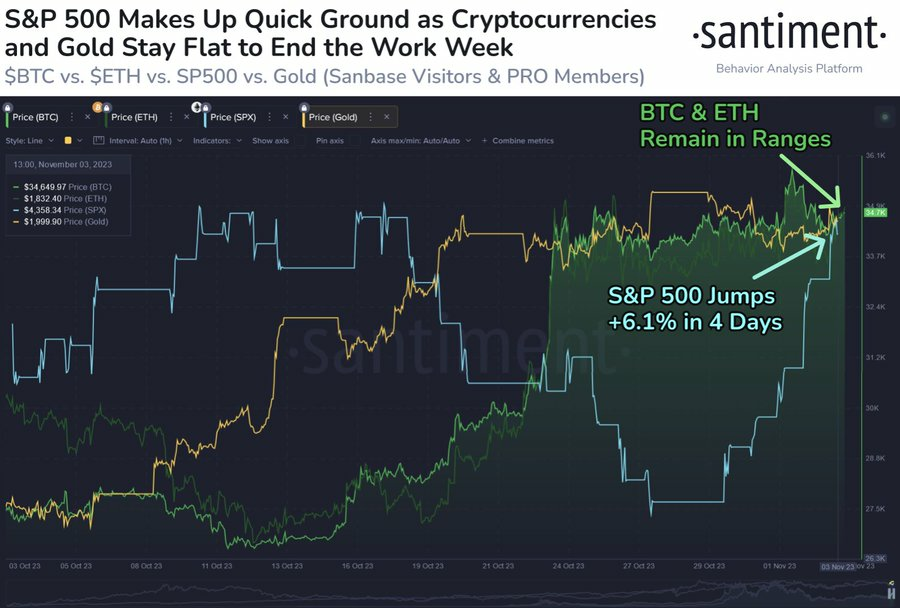 Source: Santiment
"The SP500 had a big week after Bitcoin & Ethereum have cooled down. With the sectors now each having their 'time in the sun', this next week will indicate whether crypto is still tied to#equities, or whether assets can prepare for a bull run." Santiment wrote.
Stock prices rose more than the value of cryptocurrencies like Bitcoin and Ethereum as a result of this spike. Additionally, it appeared that many cryptocurrencies were leveling down following a stretch of rapid price increases.
One possible reason for the recent S&P 500 increase is the most recent Federal Open Market Committee (FOMC) report. The Federal Reserve would keep its existing interest rate in place for a second consecutive month, according to the report, which was noteworthy.
There are rumors that the Fed may have finished raising interest rates as a result of this move. As a result, there has been a significant rise in stock prices during the last week.
According to a trend chart that AMBCrypto examined, the price patterns of Bitcoin and Ethereum have surpassed those of the S&P 500. Even though the stock market was closed for the weekend, ETH and BTC were now higher than they had been.
While cryptocurrency prices kept rising during this time, it was unclear if stock prices would continue rising when the market reopens.
On November 4, the daily period chart showed that the price of Bitcoin had increased by more than 1% at the end of the trading day. It was still trading at over $35,000 at the time of writing, with a minor price increase.
Even in the face of sporadic drops, the price of Bitcoin stayed around $35,000. When compared to the S&P 500, this was a major reason for its rising tendency.
Furthermore, a closer look at Ethereum's daily timeframe chart showed even better results. By the time this article was published, Ethereum's price had risen by more than 2% and had surpassed $1,800.
Additionally, the chart showed that Ethereum has been steadily rising for a number of days.
Bitcoin
Ethereum
btc
eth
Ethereum news
Bitcoin price
bitcoin news
cryptocurrency news
crypto news
Crypto Price
Ethereum Price
S&P 500
Gold