09 Nov 2021 Morgan Hayze
Bitcoin Hits $68,500 Amid Mastercard Deploying Crypto-Linked Cards In The Asia Pacific
The World's Largest Crypto Gave A Push To The Entire Crypto Sector
---
Bitcoin, the crypto leader, managed to hit a new all-time high, fueled by increased institutional demand and further whale accumulation.
Тhe largest crypto to date peaked at $68,500, as daily trading volumes eclipsed $42 billion. In turn, Bitcoin's market capitalization jumped to a current value of $1.268 trillion.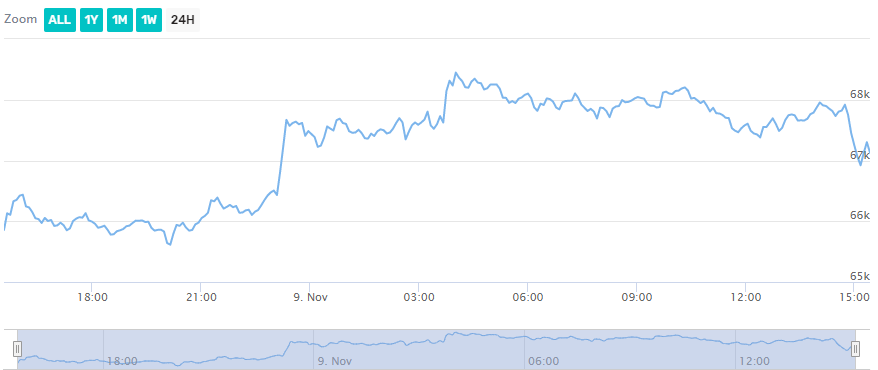 Source: CryptoBrowser
Furthermore, Bitcoin's institutional inflows in 2021 recorded an all-time high of $6.4 billion worth of institutional investments. In just the last two months, Bitcoin institutional inflows secured $2.8 billion.
"Digital asset investment products saw inflows totaling US$174m last week, marking the 12th consecutive week of inflows. This brings year-to-date inflows to US$8.9bn, significantly greater than the US$6.7bn seen in 2020. Total assets under management (AUM) have also reached a new all-time high of US$80bn." data from CoinShares revealed.
Bitcoin's rise to a new all-time high came with the world's largest crypto adding 5% to its price during Asian trading hours on Tuesday. The latest push helped other cryptos too, as most of the coins and tokens recorded substantial weekly growth. Most notably, Solana (SOL), and Cardano (ADA) are on the bullish wave, increasing their value around 20%.
Meanwhile, technical indicators suggest Bitcoin's outbreak is far from over, as MACD, which is created by a short and long-term moving average (MA), is moving upwards, and its histogram is back in the green.
Bitcoin's relative strength index (RSI) is also increasing, currently staying above 50, and is close to moving above 70. And, despite the trend line is going into the overbought area, it is still a bullish sign.
Meanwhile, the 5% increase in the Asian trading session coincides with Mastercard's announcement about launching crypto-funded Mastercard payment cards in the Asia Pacific (APAC) region, in collaboration with cryptocurrency service providers Amber.
"Cryptocurrencies are many things to people—an investment, a disruptive technology, or a unique financial tool. As interest and attention surges from all quarters, their real-world applications are now emerging beyond the speculative," Rama Sridhar, Executive Vice President, Digital & Emerging Partnerships and New Payment Flows, the Asia Pacific at Mastercard noted.
This partnership would open the APAC region users to convert their crypto holdings into a fiat currency.
"Rather than directly transferring cryptocurrencies to a merchant, cardholders will now be able to instantly convert their cryptocurrencies into a traditional fiat currency which can be spent everywhere Mastercard is accepted around the world, both online and offline." Mastercard elaborated.
Bitcoin
btc
Bitcoin price
Cardano
Cardano Price
bitcoin news
cryptocurrency news
crypto news
Crypto Price
Market Capitalization
Solana