13 Nov 2023 Marsha Tusk
Bitcoin Millionaires Triple In Less Than A Year
BTC Worth At Least $1 Million Is Currently Held By Over 81,000 Wallet Addresses
---
This year has seen a more than threefold increase in the number of cryptocurrency wallet addresses holding more than $1 million in Bitcoin (BTC).
From 23,795 on January 1 to 81,925 as of right now, BitInfoCharts data indicates that the number of addresses holding more than $1 million in Bitcoin has climbed by 237% during the last 11 months.
The millionaire wallets are not connected directly to users since financial institutions and cryptocurrency exchanges own many of the addresses holding more than $1 million in Bitcoin.
The number of addresses holding more than $1 million in Bitcoin peaked during the last bull market in November 2021, according to comparative data from Glassnode. On November 9, 2021, a record 112,573 addresses were posted, the day before Bitcoin reached its all-time high of $69,000 on November 10, 2021.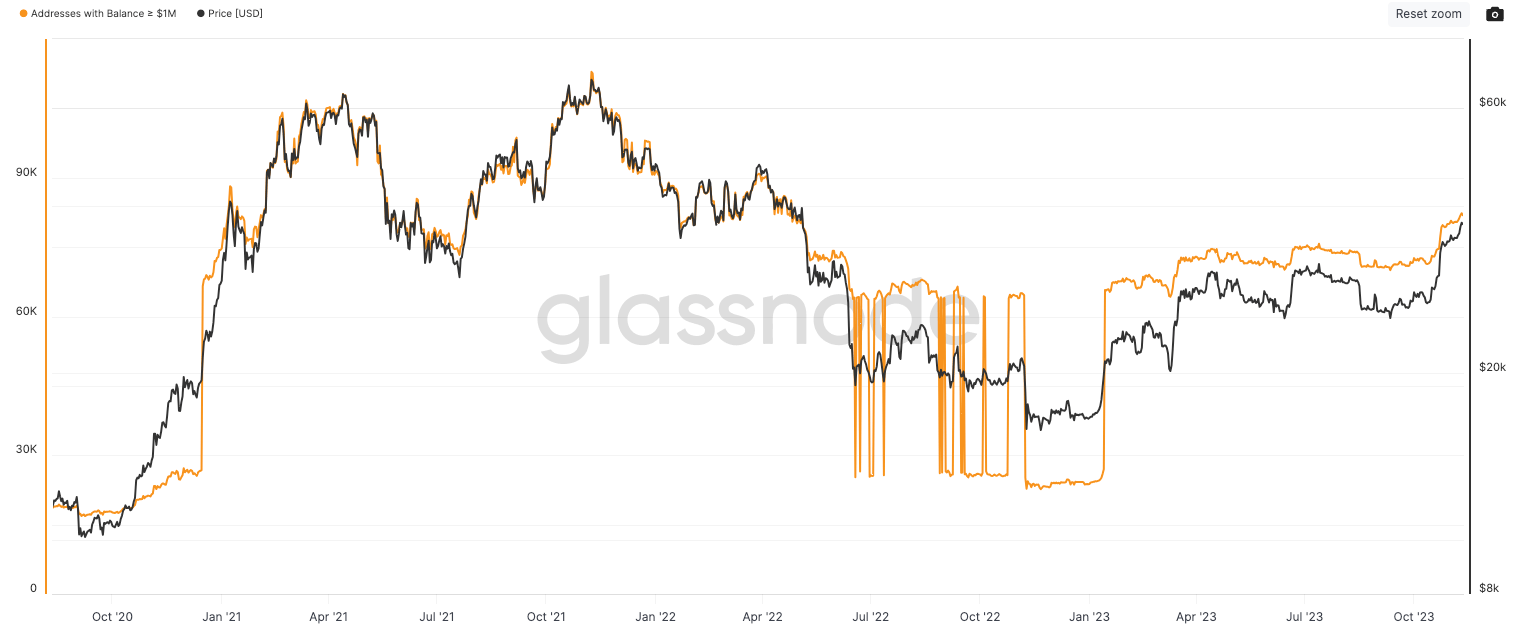 Source: Glassnode
But since the start of the year, there have been a few more so-called "wholecoiners"—wallets having a balance of at least one Bitcoin. There are 1,018,015 of these addresses at the moment, up 4% from 978,197 on January 1.
Between April and December of last year, wholecoiners increased at their fastest rate since 2018. This gain demonstrated a solid accumulation trend in spite of a general price fall brought on by several high-profile meltdowns in the cryptocurrency market.
At present, the price of Bitcoin is close to $37,100, a 38% increase from the previous month. The market's anticipation for several forthcoming spot exchange-traded fund (ETF) products has helped to boost the price of bitcoin.
According to Bloomberg ETF analysts, there is a 90% possibility that a spot Bitcoin ETF will be approved by January 10; many anticipate a large price surge in the wake of this approval.
Even while the market is feeling optimistic, not all analysts think that the approval of a spot Bitcoin ETF would start the next bull run.
Bloomberg ETF analyst, James Seyffart, commented: "I've gotten a lot of questions regarding my current view on Spot #Bitcoin ETFs over the last couple of weeks. This is the first section of the note I put out yesterday with Eric Balchunas."
Although a permission would benefit the cryptocurrency market, according to CMC Markets analyst Tina Teng, neither Bitcoin nor the broader macro environment has the necessary fundamentals to support a complete reversal of the trend.
Bitcoin
btc
Bitcoin price
bitcoin news
cryptocurrency news
crypto news