19 Oct 2021 Jane Whitmoore
Bitcoin Options Explode Amid Preparations For The First U.S. Bitcoin ETF
Open Interest In Bitcoin Options Increased By 107% In October
---
As the crypto sector is eagerly anticipating the first Bitcoin exchange-traded fund (ETF), derivatives markets saw an increase in enthusiasm, combined with Bitcoin's price skyrocketing above $62,000.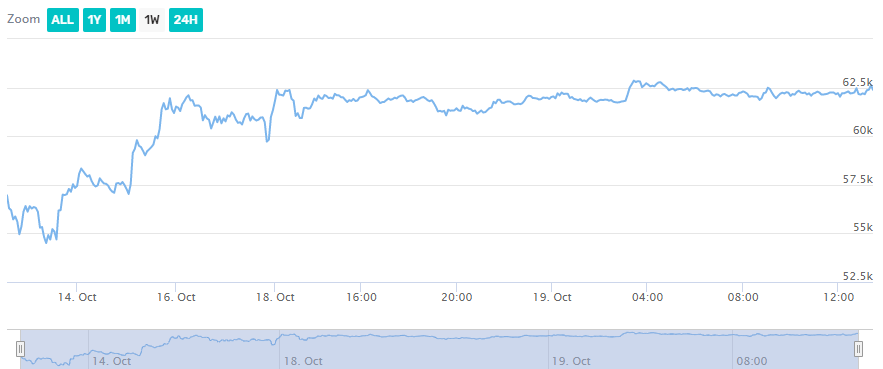 Source: CryptoBrowser
The increased enthusiasm pushed open interest in Bitcoin options to explode 107% just in October, reaching $1.5 billion in weekly volumes. This trend, аccording to Glassnode, is in sync with the overall bullish market in the crypto sector.
"The favored options contracts appear to be call options with strike prices above $100,000 with a typical open interest of $250 million to $350 million for call options expiring at the end of the year. The open interest in call options dwarfs that in the put options, aligning with the overall bullish market sentiment." Glassnode stated.
Bitcoin derivatives are increasingly popular due to their contract nature – it allows traders to buy and sell Bitcoin without actually owning it or having an obligation to buy or sell an asset at a given future price. Futures contracts must be bought or sold at a given price on expiration, which gives options an edge in speculation by placing a call and put options.
Options trading and the increased interest in it also gаve a push to leveraged trading. For instance, Bybit estimated a total of $13.9 billion in open interest for Bitcoin options. Furthermore, Bybit's analysis shows that the majority of Bitcoin options are being traded on Deribit, CME, and LedgerX exchanges.
Another reason for the open interest increase is the much-anticipated Bitcoin ETF approval by the U.S. SEC. If approved, the ETF could boost the total number of participants, entering the crypto market, which could cement the bullish trend the largest crypto to date is experiencing.
Meanwhile, Glassnode shared another piece of insight, showing perpetual market open interest reached 225,000 BTC this week. However, the open interest has sparked fears that the long position liquidations, recorded in April, May, and September may repeat. Indeed, data from Glassnode's analysis suggest a forthcoming large liquidation wave, if the interest wave is not backed by substantial volumes.
"Despite futures open interest approaching ATHs, the volume traded appears to be declining on a macro scale and has been since the sell-off in May. In a high open interest but low volume environment, it could set the stage for heightened probabilities for a liquidation cascade, as volumes may be insufficient to support the flush out once it gets going." Glassnode pointed out.
Bitcoin
btc
Derivative market
Bitcoin price
bitcoin news
cryptocurrency news
crypto news
Crypto Price