01 Nov 2021 Marsha Tusk
Bitcoin Records Its Best Month Of 2021 Amid A Three-Year Low In BTC Exchange Supply
The 40% Gains In October Eclipsed Bitcoin's Q1 Of 2021 Bull Run
---
The month of October saw Bitcoin manage to pull off a 40% bull run, increasing its price from $47,045.00 on October 1, to reach an all-time high of $66,930.39 just after 20 days and recorded its first-ever monthly close above $60,000.
After "Uptober", as many described the past month, Bitcoin bulls are anticipating the trend to continue and BTC to take a further upwards trajectory.
Some crypto experts predicted November to bring a monthly close of nearly $100,000, but others noted that the largest crypto to date may fall back to near $50,000.
It turns out that $61,000 has now become the target to beat for November, looking at monthly closes. But, as with other assets, Bitcoin's price movement is not in an "up only" fashion since the number one crypto fell as low as $59,695.18 in the moments after the monthly close, only to peak at $62,419.00 several hours later.
Nevertheless, Bitcoin's October close of $61,000 was close to crypto expert PlanB's "worst-case scenario" price predictions - at least $63,000 for the end of October.
Meanwhile, PlanB pushed out two more predictions, one being $98,000 for BTC at the end of November.
"Ok ok, 3% rounding error .. close enough for me. Next targets: Nov>$98K, Dec>$135K," PlanB noted on Twitter.
PlanB's notes were echoed by Michaël van de Poppe, who commented on the stock-to-flow model PlanB is deploying for his predictions.
"However, @100trillionUSD's hit rate on the stock-to-flow model is way better than your trading performance, so I wouldn't really roast him at all. Bitcoin at $61K is just as fine and close enough." Van de Poppe added.
Further data insights reveal that Bitcoin network fundamentals like network difficulty are in an "up only" mode since difficulty marks its eighth consecutive positive adjustment. Such an event has not happened since 2018.
Bitcoin mining took a huge hit in May after Chinese miners were forced to stop operations due to the governmental ban on crypto operations in China. However, the mining difficulty increase managed to mitigate the consequences.
The mining difficulty will settle to 21.89 trillion this week, which puts it just 3 trillion below all-time highs.
Hash rates also show a constant and steady increase, floating around 159 exahashes per second (EH/s), which is closer than ever to the 180 EH/s-record from April.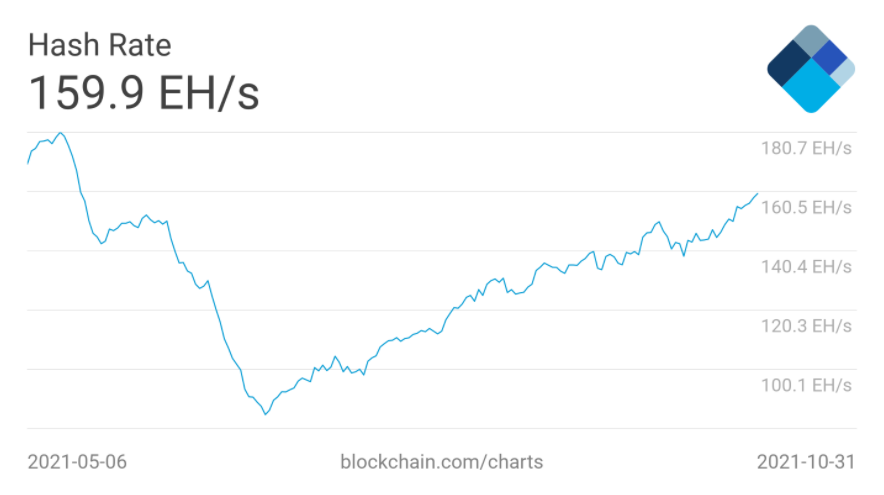 Source: Blockchain.com
On a side note, long-term Bitcoin holders seem to be keen on holding, even with the latest set of brief price retracements, as showcased by crypto exchange Kraken's research paper.
"Notably, while long-term holders were unfazed by the retracement last month and used it as an opportunity to continue accumulating, this trend has not changed despite a significant rebound in price to new all-time highs near $67,000," researchers at Kraken concluded.
The long-term holding and net BTC accumulations led to the amount of Bitcoin on exchanges tumbling down to 2.48 million BTC – a three-year low.
Bitcoin seems to have been on such a trend for most of the year, starting the drop in March and reaching its lowest point since late 2018.
Ethereum is also going in a similar trend, managing to reach a two-year low of 14.4 million ETH, which is yet another positive sign for the overall health of the crypto market.
Bitcoin
mining
btc
Bitcoin mining
Bitcoin price
exchange
bitcoin news
cryptocurrency news
crypto news