14 Sep 2021 Jane Whitmoore
Cardano's Alonzo Hard Fork Is Now Live, However, Price Action Is Negative
Alonzo Brings Smart Contracts And dApp Capabilities, Rivaling Ethereum
---
Cardano's (ADA) long-awaited Alonzo upgrade is finally live, with the final piece of the puzzle – the Hard Fork Combinator (HFC) bringing a new path for the blockchain.
The Alonzo hard fork is already working, with over 50 smart contracts already deployed on the blockchain. Cardano's update introduces the Plutus native smart contract system language, which extends the basic multi-signature scripting language (multisig) used in Cardano Shelley to the Plutus Core language. The update means businesses can now use Cardano's blockchain platform for building smart contracts and decentralized applications (DApps) to work with collectibles, crowdfunding, or auctions, for example.
The developer behind the project, Input Output (IOHK), announced that they would "be working closely with all exchanges to support them through the integration and to swiftly address any issues slowing them down."
"Exchanges have access to the Alonzo Purple testnet and also the Cardano testnet to support their integration work. However, every exchange is different and follows its own integration processes and timelines," the team added.
Despite Cardano's community has so far welcomed the upgrade, the price action and the trading volumes seem to be going downhill. Тhe market seems to have entered in a "sell the news" event since both its price and trading volumes tumbled after the HFC deployment. Some users described the price actions as "buy the testnet, sell the mainnet", which may be interpreted as a massive sell-off for Cardano.
However, according to a report from Cardano, at least 71% of ADA's entire coin supply remains locked up in staking contracts, which translates into 825,755 wallets designated for staking.
Experts have a different reason for the price dip - Cardano's smart contract functionality and dApp deployment may take a while to properly develop into real-life working applications. The price per ADA may consolidate around its current point of $2.34 per token, at least until substantial traffic hits the network. The traffic, and smart contract deployments, in turn, would lead to a rise in decentralized exchanges and finance on the network.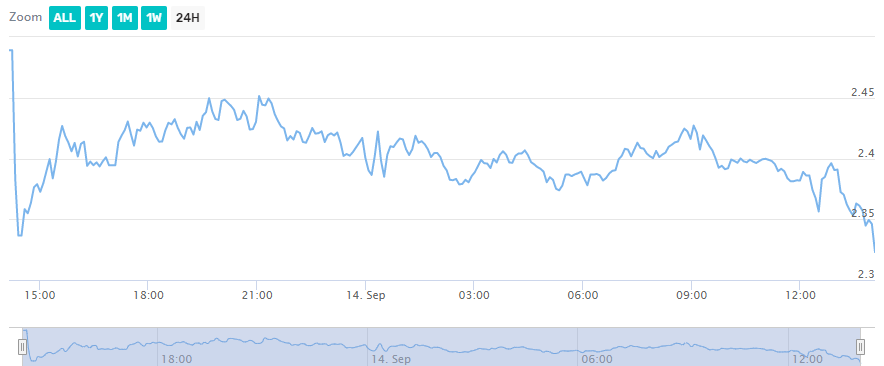 Source: CryptoBrowser
Nevertheless, Alonzo is not the end of the road for Cardano - dApp deployment means Cardano's blockchain has to deal with good and not-so-good decentralized applications on the ecosystem, which could result in security issues. However, the team at Cardano is working with HackerOne, a hacker-powered security platform, to increase security, and offered a $10,000 bug bounty program, for white hat hackers, who expose vulnerabilities.
Blockchain
Smart contract
Cardano
ADA coin
Cardano Price
cryptocurrency news
crypto news
Security
Hard Fork