05 Nov 2020 Samantha McLauren
DeFi Tokens Continue To Dip As Bitcoin Price Keeps Rising
Bitcoin Records Its Highest Price Value Since January 2018
---
The hype around the newly-emerging DeFi sector which skyrocketed some projects to the moon, seems to have cooled off as token prices of some of the hottest assets in DeFi are falling down. However, the total value locked in DeFi still remains bullish, losing only 8% of its total value since its all-time high.
According to DeFi Pulse, the total value locked in DeFi stands at $11.3 billion, but this may be a consequence of Ethereum`s price reaching $400.
Nevertheless, prices in the DeFi sector continue their downfall, while Bitcoin regains some of its market share. Jack Purdy, researcher at Messari, stated that oversaturation of projects, combined with low new capital inflow are among the main reasons behind the DeFi sector price retreat.
"This is what happens when there are too many projects with not enough new money entering the space. For those that are able to provide real value though we'll look back and salivate at these valuations," Purdy tweeted, adding that the "bloodbath continues."
The DeFi ecosystem continues its downward spiral as many investors are reverting back to BTC as the price of the crypto leader continues to climb up. Among the top-performing DeFi tokens, Uniswap's price dropped 5% on November 5 to trade at $1.98 as of press time. However, Uniswap's token suffered from a 76% depreciation since its all-time high in mid-September. Traders are also expecting a further price dump for Uniswap, as the token farming ends on November 17, which would result in millions dumped onto the market.
The second-largest DeFi protocol, MakerDAO, remains relatively stable as its native MKR token is holding under the pressure of market dump in the sector. The third in line, WrappedBTC, however, increased in total value locked, surpassing the $2 billion mark. Other projects like Compound's COMP token, Aave, CurveDAO, and Synthetix record price slippages of 74%, 52%, 94%, and 64% respectively, since their all-time highs.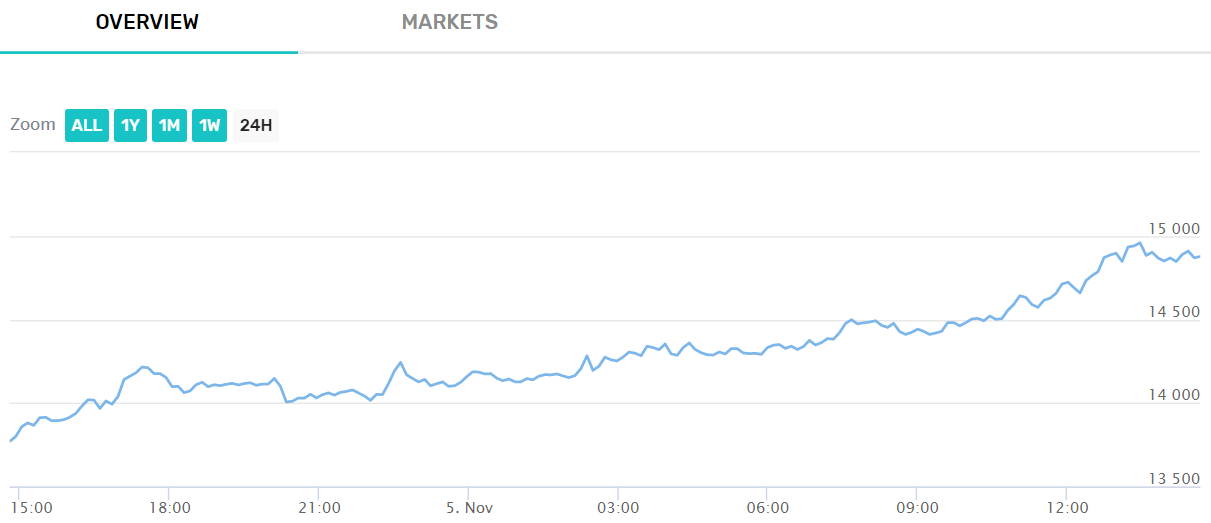 Source: CryptoBrowser.io
Bitcoin continues its price rally, reaching levels just below $15,000. Currently, the crypto leaders trades at $14,849.58. Most of the trading, according to experts, is due to the 2020 U.S. presidential election uncertainty, as Biden and Trump are almost tied for electoral mandates in the White House.
Bitcoin
Ethereum
Cryptocurrency
Ethereum news
price
bitcoin news
cryptocurrency news
curve
bitcoin news today
maker
us economy
Prices
USA
Defi
Compound
cryptocurrency market
Aave