01 Dec 2021 Simon Briggs
ETH Surges 8% Amid Bullish Bias And Indian Crypto Bill Awaiting Approval
Ethereum Reached Its Highest Level Against Bitcoin Since May 2018
---
Ethereum, the altcoin leader, recorded an eight-percent price increase at the start of December, while its most prominent market cap enemies – Bitcoin (BTC) and Binance Coin (BNB) saw negative price gains.
Bitcoin, for example, tumbled 1.22% in the last 24 hours and is currently trading at $57,282.64 after reaching a daily low of $56,597.16. Binance Coin's daily performance also got a downwards momentum but bounced back to trade at around $648.91 per BNB.
Bitcoin's retreat and Ethereum's price increase managed to push the ETH/BTC to its highest level since May 2018 after successfully breaking above the major resistance at 0.077 BTC.
Ethereum seems to be heading on a price rally and the only significant resistance left now is the all-time high of $4,859.50, which happened on November 10, 2021.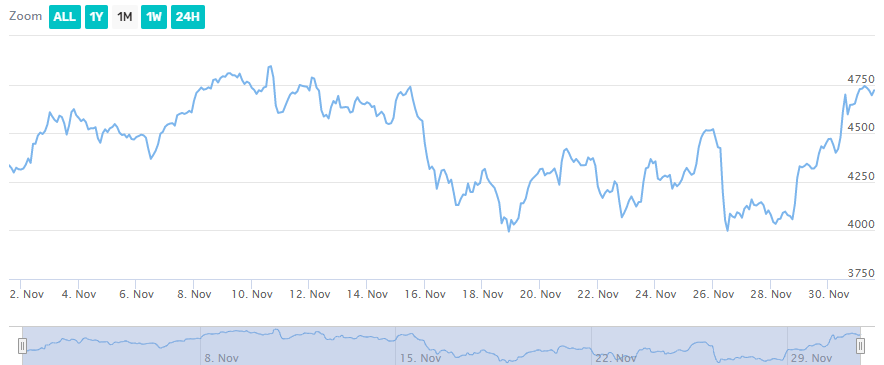 Source: CryptoBrowser
The primary reason behind the increase is the year-to-date returns of both currencies. And while Bitcoin's price increased by almost 100% year-to-date, Ethereum's gains reached 551% since the start of 2021. The gains made crypto experts consider that a flippening event may soon occur, primarily due to the exponential increase in popularity by DeFi platforms and NFT products, running on top of Ethereum.
Some experts even pushed out the deflationary properties of Ethereum, introduced with EIP-1559, or the London update, which could make ETH a greater store-of-value asset over time, when compared to Bitcoin.
The last issue with Bitcoin comes in its consensus mechanism and the concerns about the adverse effects of proof-of-work (PoW) mining on climate after Tesla stopped accepting the cryptocurrency in May, China shutting down mainland mining facilities, and Swedish authorities supporting an EU-wide ban on Bitcoin mining because of its carbon footprint in October.
Ethereum, on the other hand, is already on its roadmap to ETH 2.0, which will introduce a new consensus mechanism – Proof-of-Stake (PoS), eliminating mining and reducing energy consumption by 99,95%, while increasing transaction throughput and lowering transaction costs.
Meanwhile, Indian Finance Minister Nirmala Sitharaman, noted that a crypto Bill has been proposed, taking into account the fast-changing virtual currency space, and incorporating features of the earlier Bill that could not be taken up. However, the bill still awaits approval from the Union Cabinet.
If approved, the new crypto bill would add further regulatory clearance around holding and trading cryptocurrencies in India.
Bitcoin
Ethereum
btc
eth
Ethereum news
Bitcoin price
binance coin
bnb
bitcoin news
cryptocurrency news
crypto news
Ethereum Price
India