07 Jul 2021 Arjun Agarwal
Ethereum Is Up 5%, Following London Hard Fork Announcement
The Long-Awaited London Hard Fork, Or EIP-1559, Is Less Than A Month Away From Deployment
---
The altcoin sector is scheduled for yet another interesting moment, as its leader – Ethereum seems ready for the controversial EIP-1559 update. The so-called "London" network upgrade was among the hot topics in Ethereum's society, as it would introduce a new gas fee model that makes the Ethereum blockchain deflationary.
Ethereum developer Tim Beiko announced the news about London going live in less than a month, adding that "unless someone objects in the next 24h, London should land on August 4th."
"A few client teams have approved it already, but we want to be sure no one has a serious objection," Beiko noted.
However, the final decision for the block at which EIP-1559, as well as other four minor updates, would happen will be taken at the core developer meeting coming Friday.
The hard fork would bring up a "base fee" structure to control the rapid surge in ETH gas fees. However, ETH miners have objected to the EIP-1559 implementation. The reason – the London hard fork implies a gas fee burning mechanism, which would relocate a part of the gas fees in a dead address, which could reduce the miner revenue significantly.
However, Ethereum traders, as well as the DeFi subsector welcomed the update news, as they are most likely to conduct big transactions on Ethereum's blockchain and the London update would reduce costs.
Another notable upgrade to happen is EIP-3554, which delays the pre-set difficulty increase back to December 1. On this date, the scheduled difficulty "bomb" would kick in, effectively freezing the Ethereum Proof-of-Work transaction verification model, as the Ethereum community prepares for the Ethereum 2.0 Proof-of-Stake transition.
The optimistic news pushed Ethereum's price up 5% daily, to trade at $2,383.57, overcoming the strong resistance at $2,300. Both trading volumes and market capitalization increased, climbing up by 20%, and 4%, respectively. However, Ethereum's gains come amid a widespread upwards price push, as the majority of the top-100 cryptocurrencies are experiencing positive price shifts.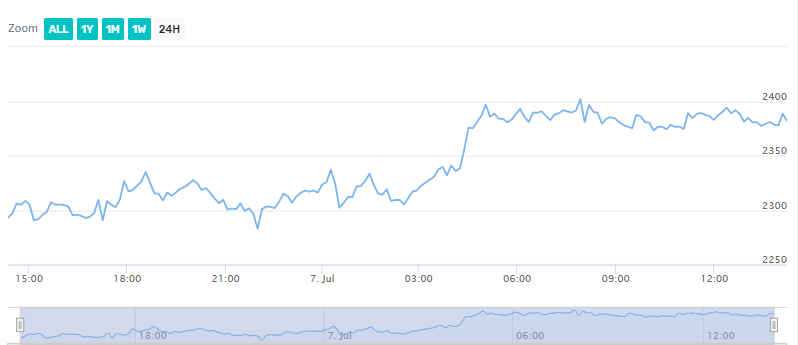 Source: CryptoBrowser
For example, Bitcoin is up 3%, while projects like Solana (SOL), and Terra (LUNA) recording double-digit price increases.
Bitcoin
Ethereum
Altcoin News
Cryptocurrency
eth
Ethereum news
Bitcoin price
altcoin
cryptocurrency news
crypto news
Ethereum Price
Ethereum 2.0